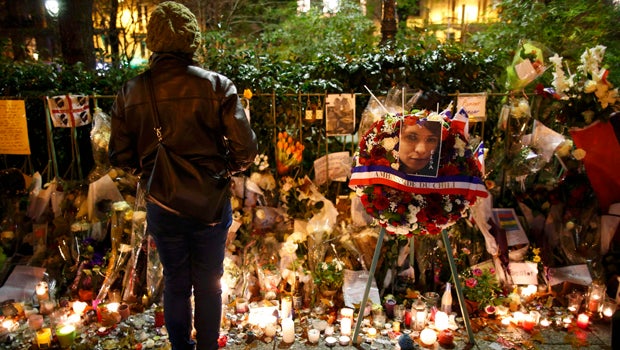 Alleged Paris attacks suspect arrested in Morocco
RABAT, Morocco -- Moroccan police have arrested a Belgian man of Moroccan descent linked to the Islamic State of Iraq and Syria (ISIS) and who had a "direct relationship" to attackers who carried out the Paris attacks just over two months ago, the Interior Ministry said Monday.
The man had traveled to Syria with one of the Paris suicide bombers, where he received military training and built relationships with ISIS field commanders, "including the mastermind" of the Paris attacks, and others who threatened attacks in France and Belgium, the ministry said in a statement.
---
CBSN will debut a report tonight at 8 p.m. ET on the conditions of exclusion and frustration that have contributed to rise of radicalism in France. Watch it here.
---
The statement identified the suspect only by the initials J.A., and didn't explain his suspected relationship to the Paris attackers. Several of the Islamic extremists who targeted a Paris rock concert, stadium and cafes had Moroccan origins and links to Belgium. The attacks on Nov. 13 killed 130 people.
The ministry said in a statement that the man was arrested Friday in the town of Mohammedia, near Casablanca, after traveling through Turkey, Germany, the Netherlands and Belgium. It said the suspect is under investigation.
Belgian prosecutors didn't immediately comment on the arrest.
At least one of the Paris attackers remains at large.
Morocco has emerged as a key ally for European investigators trying to piece together the geography of the Nov. 13 attacks. The head of Morocco's Central Bureau of Judicial Investigations, dubbed the 'Moroccan FBI', told the Associated Press in a recent interview that his country put French and Belgian police on the trail of the network behind the Paris attacks.
Several of the attackers lived in the Brussels neighborhood of Molenbeek, home to numerous Belgians of Moroccan descent.
The most high-profile fugitive in the attacks is French national Salah Abdesalam, who has been the subject of an intense international manhunt since he slipped through the fingers of police in the days after the attacks.
Abdesalam may also hold Belgian citizenship, but it is not believed that he ever travelled to join the fighting inside Syria.
There are also at least three other people still being sought by investigators for their alleged roles in the Paris carnage; two of whom are believed to have been involved at a very senior level in the planning of the attacks. French media have identified them only by what are believed to be false identities, and their whereabouts are unknown.
The third suspect is a man who was caught on security video with Abdesalam soon after the attack. His exact role in the attacks is not clear.
Abdelhamid Abaaoud, who police believed planned the attacks, was killed in a deadly raid on an apartment in the Paris neighborhood of Saint-Denis.
Thanks for reading CBS NEWS.
Create your free account or log in
for more features.