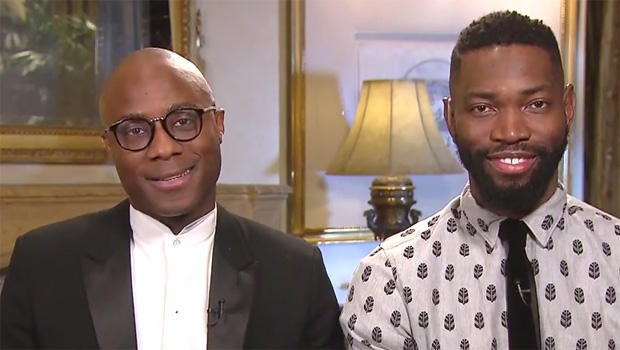 "Moonlight" Oscar winners weigh in on best picture mix-up
Hollywood's top movies racked up honors last night at the Academy Awards ceremony, with "La La Land" taking home six Oscar, and "Moonlight" following with three, including best supporting actor and best adapted screenplay.
And "Moonlight" won the most prestigious award, best picture, after a now-infamous, on-stage mix up, when the wrong envelope was given to presenters Warren Beatty and Faye Dunaway. After announcing "La La Land" had won, the envelope containing the Best Picture winner was brought on stage, and the stunned crowd watched as the "Moonlight" filmmakers were announced the winners.
"Very clearly, very clearly, even in my dreams, this could not be true," said the film's writer-director Barry Jenkins. "But to hell with dreams, I'm done with it, 'cause this is true. Oh my goodness!"
On "CBS This Morning," Jenkins and co-writer Tarell Alvin McCraney were asked if the mix-up diminished their celebration.
"I don't know if it diminished the celebration for us; it just made it much more complicated," Jenkins replied. "As you said, I think the celebration is bound up now between our film and 'La La Land' and the Academy in a very complicated way."
He likened the turn of events to a "Shakespearean tragedy."
McCraney said, "It was difficult to say all the thank-yous we had to say, but at the same time it showed the camaraderie and love we have for both of the films."
"Did you think it was a joke?" asked co-anchor Gayle King.
"I didn't think it was a joke at all," Jenkins said. "I could see in Jordan [Horowitz]'s face that he was telling the truth. The first thing I did was give him a hug. I've probably given him too many hugs at this point because they were so gracious and compassionate in the way they handled it.
"But backstage, it was just -- there were two things. One, we were trying to find each other, you know, to sort of share the moment, but also, two, to find the other side of the aisle, to give them whatever comfort they needed."
Co-anchor Anthony Mason asked, "Did the Academy in any way try to explain what happened to you at that point?"
"I think everybody was just trying to make sure we were all on the same page and safe," McCrary said. "When something like that happens, you want to make sure that everybody is categorically okay, and I think they did a great job of that. At one point this guy, Thomas, held my hand and walked me through the back. I was like, I don't know what's going on, help me out! Once I found Barry, I think everything sort of settled in."
"I thought it was so great how the 'La La' team handled it, too," King said. "There they were on stage in the middle of an acceptance speech and everyone tried to correct the problem right away. I thought your side was gracious, I thought their side was gracious. It was nice to see something good come out of really an awful moment."
"I think that goes back to the award season," Jenkins said. "Typically the award season is very contentious, but we've been spending a lot of time together going through the same trials and tribulations, I would say. And so I looked up at the stage and saw Jordan's face. I could see if I was in his place how they would feel, and I think they looked over at us and they saw how we had felt as well."
"Moonlight," adapted from McCraney's story "In Moonlight Black Boys Look Blue," is a coming-of-age tale of a black man in Florida, told in three stages with three actors of different ages.
Shot in just 25 days for less than $5 million, the film also won the Golden Globe for Best Picture-Drama.
Of Jenkins' film, McCraney said, "I think what Barry did in the film that's so impressive, that's served as a lightning rod, he put his full self in it. He really took a story about memories that I had given to him and made it an experience about those memories, made it an intimate experience. And I think that will (and continues to) be the reason why people have seen the film and will continue to see it. I hope more people see it now. That's really exciting."
He said that the first time he saw the film, "I felt like he had gone into my head and took pictures in my memories and spread them across the screen. So now to have it out in the world and have it be -- it won best picture! You did that, brother! Sort of amazing!"
When asked what the accolades the film has received from critics, the industry and audiences mean to him, Jenkins replied, "In a certain way, everything. Maybe I have to think more of myself. I don't mean that in the sense that the movie won Best Picture, but, you know, I had all these hopes of what I could do with my life, and now the ceiling on that has been radically changed."
Thanks for reading CBS NEWS.
Create your free account or log in
for more features.