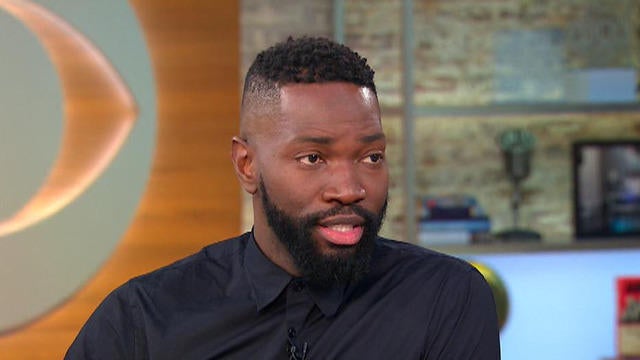 "Moonlight" writer on the inspiration and message of the film
"Moonlight" won best picture in the drama category at last month's Golden Globe Awards and has received eight Oscar nominations, including best adapted screenplay. Despite all the top honors and spotlight, the message of the film is more personal.
The coming-of-age movie is about a boy living with a single mother grappling with drug addiction who comes to terms with his sexuality. It's based on the story "In Moonlight Black Boys Look Blue" by Tarell Alvin McCraney, a MacArthur genius fellow who was recently named head of the playwright department at the Yale School of Drama.
"It's really important for us, in terms of the storytellers, to be able to talk about these intimate details that built our lives," McCraney told "CBS This Morning: Saturday."
The semi-autobiographical tale originated from a life-changing moment when McCraney was just 7 years old. He had just come home when his mother told him the father figure in his life -- a drug dealer in his neighborhood who was dating his mother -- would not be returning home.
"My mother said, 'Blue isn't here anymore. He's not going to be here anymore. You'll never see him again,'" McCraney recalled. "And I remember that day so specifically because it was the first time in my life that I remember saying, 'Don't be so sure that the good things you have in life will be there for you. Don't be so sure about that.' And from that day on, I started sort of counting the moments where you know, things feel like they're great but the shoe's going to drop."
McCraney said this "dangerous" thought that something terrible will happen prevents one from being able to "enjoy the good moments" -- as with all the accolades the movie has earned.
"I feel great about them, but in the back of my head, there's this little voice saying, 'Be careful, be careful,'" McCraney said.
Still, he is able to enjoy it because of the message he wanted to convey.
"Doing the work of writing was about taking that and framing it and saying, 'Understand how you got there Tarell. Understand how you got to the point where you sometimes can't trust the great things happening in life, but also know that there are wonderful things happening,'" McCraney said.
The message also rings personally for the film's director, Barry Jenkins, who McCraney later found out had grown up less than three blocks from the projects where he lived. Both of their mothers had suffered with drug addiction.
"I know Barry Jenkins, the director and screenwriter, really felt like this was a homegrown project -- something that we wanted to build from the inside out and he was really gripped by the story of the complicated... relationship with an addict mother," McCraney said. "Both of our mothers suffered from the ravages of addiction, and so we watched that as children, unable to do anything about it, unable to really have any say in that process and... felt like we needed to tell that story."
McCraney also applauded Jenkins for shooting the film from the viewpoint of the characters, and capturing that "they were always striving for help."
"Someone once said, 'You all humanize these characters,' and I don't know if we actually did humanize them; it's just that we never forgot that they were human," McCraney said.
For both McCraney and Jenkins, the film also carries a message of empowerment for the youth.
"We had to wait a long time to get to this point, so we're trying to make sure that, you know, our families in Liberty City and the people in Liberty City know that we shouldn't wait so long to put a camera in the hands of our young people," McCraney said. "We shouldn't wait so long to put the pens and hear the stories of those young people growing up in that very complicated and beautiful neighborhood."
Thanks for reading CBS NEWS.
Create your free account or log in
for more features.