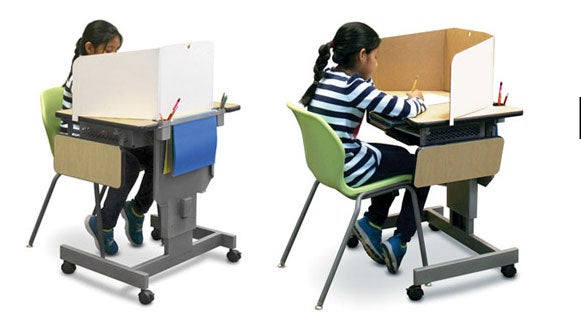 Mom creates desk for children with disabilities
CHICAGO -- A mother's idea for a desk designed for students with disabilities is now becoming a reality.
Nancy Dellamore of Winnetka, Illinois wanted to make learning easier for children like her own son who has dyslexia reports WLS station in Chicago. That's where her idea for the Focus Desk began.
"You can feel their pain. 'My child can't function in a classroom. They are having a tough time. They are being pulled out for this, for that. You know they can't read,'" Dellamore said to WLS.
Dellamore's solution was an adjustable desk.
According to the Marvel Focus Desk website, the desk is designed for comfort while students participate in classroom activities. Students are able to easily adjust the desk height allowing an easy transition between tasks.
Students can stand or sit at the desk, whatever they are most comfortable with, and the desks are on easy-roll casters allowing them to be moved easily and quietly.
In addition, the Marvel Focus Desk website says that sensory stimulation in active classrooms can be a concern for children trying to focus on a given task. The desks therefore include privacy panels for test taking and focusing. The privacy screen is easy to install on the desk and can be tucked away when not in use.
Storage was also high on the priority list for teachers and designers of the desk. The desk includes large storage area that can hold a laptop, books and tablets. The desk even includes a utility hook for backpacks.
WLS reports that the desk is now being used in a second grade class at the Hyde Park Day School in the Chicago area. And as a result of its success, other schools across the country are considering the desks as well.
Thanks for reading CBS NEWS.
Create your free account or log in
for more features.