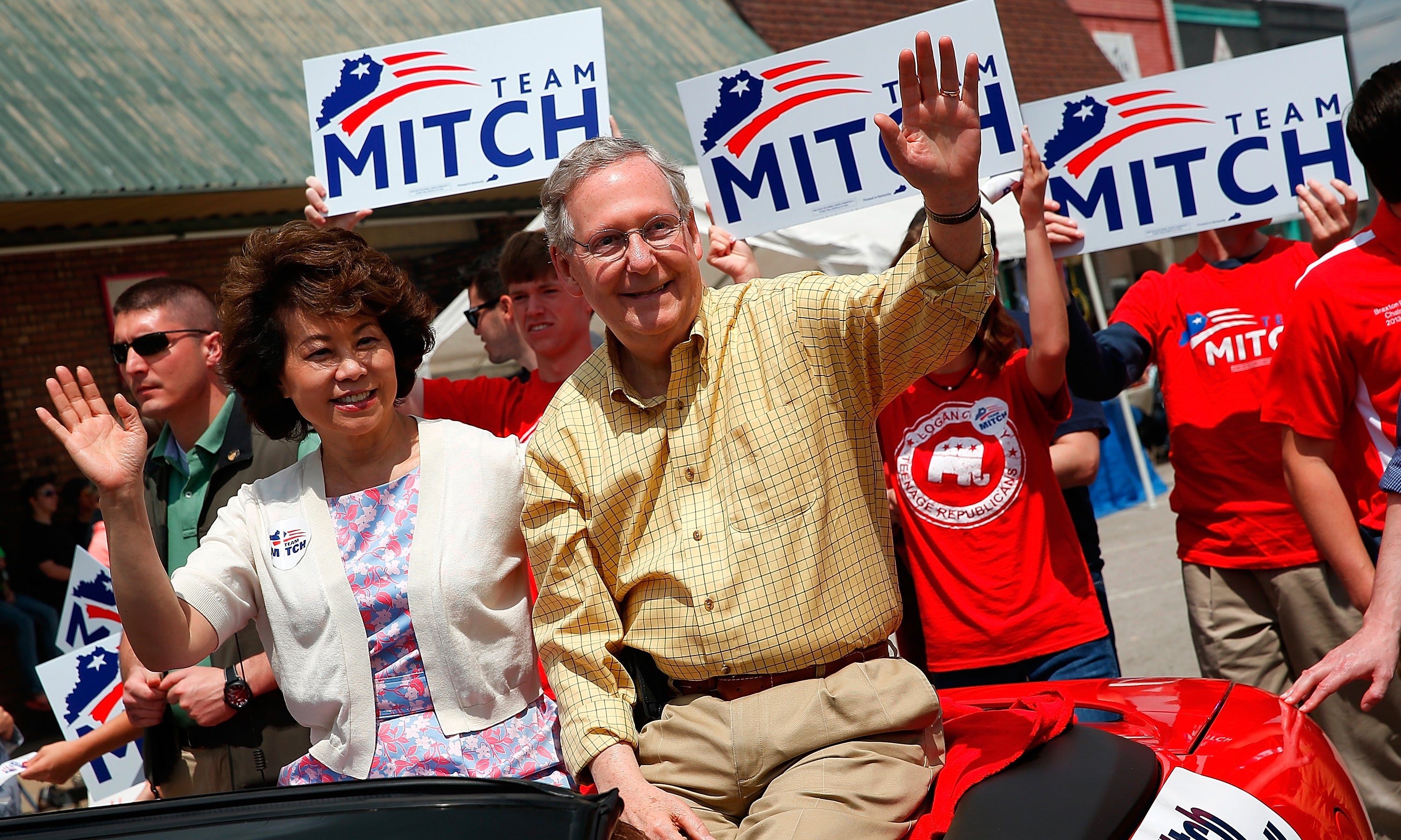 Mitch McConnell wins Kentucky GOP Senate primary
Senate Minority Leader Mitch McConnell, R-Ky., defeated Republican primary challenger Matt Bevin Tuesday, clearing the way for him to focus his attention on the general election race.
Bevin, a local businessman, once seemed like a threat to McConnell because of his support from national tea party organizations. Just four years ago, McConnell watched a local eye surgeon named Rand Paul defeat the candidate he was backing, Secretary of State Trey Grayson, in the Republican primary to replace the retiring Sen. Jim Bunning. But McConnell got behind Paul and helped him cruise to victory in the general election.
The two went on to form a working relationship in the Senate, one that McConnell took full advantage of to shore up his support among the libertarian faction of the party well ahead of his election. At the end of 2012, McConnell hired Jesse Benton, a political operative who ran the 2012 presidential campaign of Paul's father, former Rep. Ron Paul, to run his own re-election bid. The younger Paul endorsed McConnell's reelection bid.
That didn't stop Bevin from mounting a primary challenge and quickly racking up endorsements from tea party groups like FreedomWorks and the Senate Conservatives Fund. McConnell took the challenge seriously, starting to run ads the week Bevin announced his candidacy last year. Early off, McConnell's campaign sought to paint the challenger with the nickname "Bailout Bevin" by highlighting the fact that his company accepted $200,000 in state grants to repair a factory destroyed in a fire.
Bevin had other missteps of his own, including taking part in a rally to support the legalization of cockfighting in Kentucky that his campaign believed was about states' rights. The last polls of the election had McConnell leading Bevin by 20 to 30 points.
The Kentucky senator had a huge monetary advantage to defend himself, raising nearly $21.7 million to Bevin's $3.7 million. McConnell has spent just $11.4 million so far, leaving him with a healthy reserve for the general election.
That's when he'll face a second test, in the form of Democratic Secretary of State Alison Lundergan Grimes. The 35-year-old Grimes, who handily won her Democratic primary Tuesday, has family ties to the state Democratic establishment, and she beat the odds by winning her current position in such a heavily Republican state.
Polling in that race is much tighter, with recent surveys showing McConnell up by just one point, well within the margin of error. Grimes is also a well-funded challenger, having raised $8 million so far. She still has nearly $5 million cash on hand and will have plenty of support from major Democratic groups and figures like former President Bill Clinton, who raised money for her in February.
Grimes has championed some Democratic Party issues like raising the minimum wage, but will also break with them in other areas including coal regulation. She opposes new Environmental Protection Agency (EPA) carbon emissions standards that could hurt coal-fired power plants.
With McConnell diverted with the primary, Grimes has eased into the campaign. She just released her first campaign ad, "Lost in Battle," earlier this month. But McConnell has been on air all year - and in the Senate for nearly three decades.
Thanks for reading CBS NEWS.
Create your free account or log in
for more features.