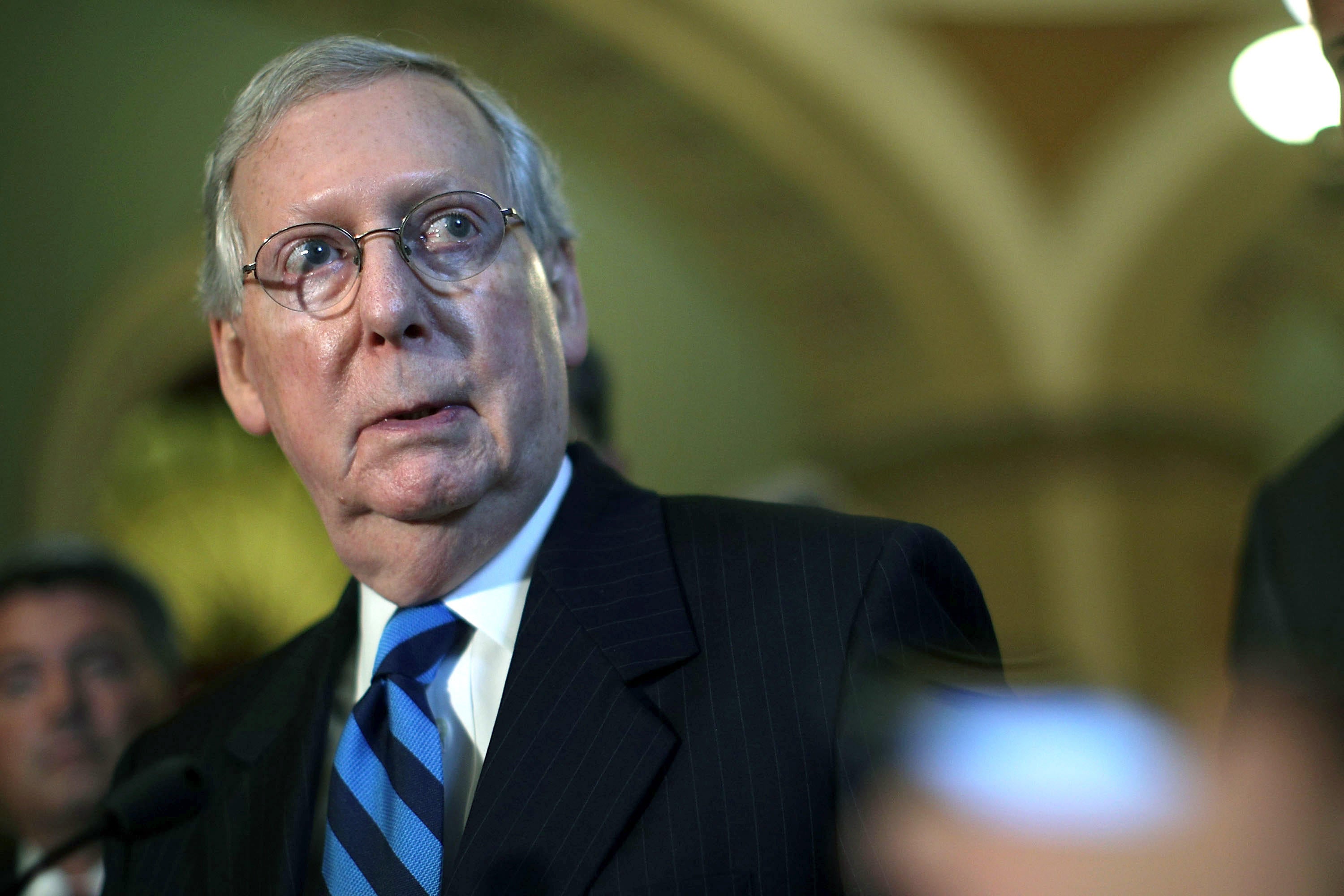 Mitch McConnell says Roy Moore "should step aside"
LOUISVILLE, Ky. - Senate Majority Leader Mitch McConnell says Roy Moore "should step aside" from his U.S. Senate bid in light of allegations that he had sexual contact with a 14-year-old girl when he was a 32-year-old assistant district attorney in Alabama.
McConnell, who spoke to reporters Monday after visiting a plant in Kentucky, says he believes women who have accused Moore of inappropriate sexual contact. The Washington Post reported last week that four women accused Alabama Republican Roy Moore of pursuing them when they were teens and he was in his 30s. One of the women was 14 years of age, and the other three were between the ages of 16 and 18, according to the report.
The Senate majority leader said Republicans are looking at a write-in option in Alabama for the special election next month to fill the vacancy left when Jeff Sessions was named attorney general. McConnell said that "we're looking at whether or not there is someone who could mount a write in campaign successfully." But whether that candidate would be Sen. Luther Strange, who was appointed to fill Sessions' seat and who was trounced by Moore in the primary, McConnell said only, "We'll see."
In response, Moore tweeted that it's actually McConnell who should step aside.
Several GOP senators have withdrawn their support for Moore, in light of the allegations.
In an interview last week with Fox News' Sean Hannity, Moore specifically denied the allegation involving then-14-year-old Leigh Corfman, who says Moore undressed her, moved his hand over her bra and guided her hand over his underwear. Moore claimed he does not even know her.
However, Moore did not deny interactions with other then-teen girls, and he acknowledged that he remembered them. He was also accused in the Post's report of giving underage women alcohol, which he denies.
"I know her but I don't remember going out on dates. I know her as a friend. If we did go out on dates then we did," Moore said of another accuser, Debbie Wesson Gibson, who was 17 years of age when she met Moore.
Moore says he plans to sue the Post over the story, and he accused the Post and establishment politicians of producing " a completely manufactured story meant to defrock this campaign."
"Why would they come now? Because there are groups that don't want me in the United States Senate," he said at a Huntsville campaign event, referring to the Democratic Party and the Republican establishment and accusing them of working together. He added, "We do not plan to let anybody deter us from this race."
A former prosecutor who once worked alongside Moore in the early 1980s told CNN that it was well-known at the time that Moore dated high school girls.
"It was common knowledge that Roy dated high school girls, everyone we knew thought it was weird," former deputy district attorney Teresa Jones told CNN in comments aired Saturday. "We wondered why someone his age would hang out at high school football games and the mall ... but you really wouldn't say anything to someone like that."
This is a developing story.
Thanks for reading CBS NEWS.
Create your free account or log in
for more features.