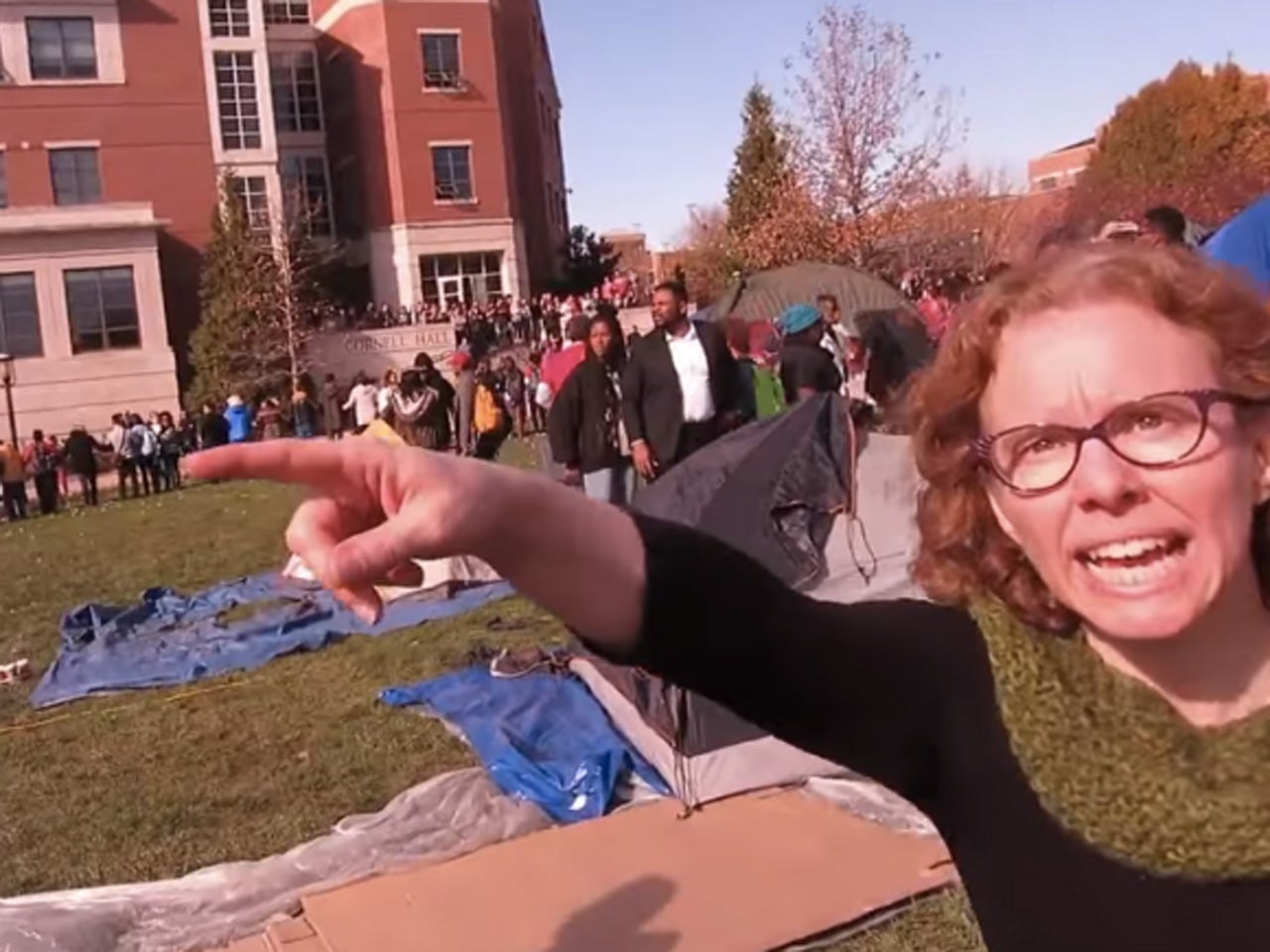 Mo. professor sought "muscle" to stop journalist covering protest
COLUMBIA, Mo. - A video showing a photographer's clash with University of Missouri protesters who tried to block his access in a public section of campus is fanning debate about freedom of the press.
The protests that were sparked by a series of racist incidents on campus apparently saw a spate of hostile activity towards members of the media.
The video involving freelance photographer Tim Tai was filmed the day the University of Missouri system's president and the Columbia campus' chancellor stepped down over what protesters saw as indifference to racial tensions at the school.
It shows protesters arguing with Tai and pushing him away after Tai tells them he has a right to document the event.
A woman identified as communications assistant professor Dr. Melissa Click tries to recruit "muscle" to remove the man filming the confrontation. She didn't respond to messages seeking comment.
The video had been viewed 600,000 times on YouTube as of Tuesday morning.
Mizzou is a public university, so anyone can be photographed anywhere out public without permission, reports CBS affiliate KCTV in Kansas City.
According to Click's biography on the university's website, she specializes in "audience studies, theories of gender and sexuality and media literacy."
The University of Missouri's School of Journalism (the nation's oldest) and communications department are separate entities at the university.
David Kurpius, the dean of the journalism school, stressed that Click wasn't on that school's faculty. Kurpius tweeted Tuesday night that while the J-School was meeting to consider whether to strip Click of her "courtesy title," she resigned her courtesy appointment with the school.
On Tuesday, Click apologized for her actions in a statement issued by the Missouri Department of Communication. She said she had personally apologized to the journalists involved.
"I regret the language and strategies I used, and sincerely apologize to the MU campus community, and journalists at large, for my behavior, and also for the way my actions have shifted attention away from the students' campaign for justice," she said in the statement.
In a news statement, Kurpius praised Tai for how he dealt with Monday's confrontation, saying he "handled himself professionally and with poise."
Click locked her Twitter account Monday afternoon, not allowing anyone to view her tweets. However, just the day before, Click posted on her Facebook page asking for national media coverage of Jonathan Butler's hunger strike, reports KCTV.
"Hey folks, students fighting racism on the MU campus want to get their message into the national media," Click wrote on her Facebook page. "Who among my friends knows someone who would want a scoop into this incredible topic? This story involves the failure of administrators, a student on day 6 of a hunger strike, and creative, fearless students. If you can help, please let me know!"
Thanks for reading CBS NEWS.
Create your free account or log in
for more features.