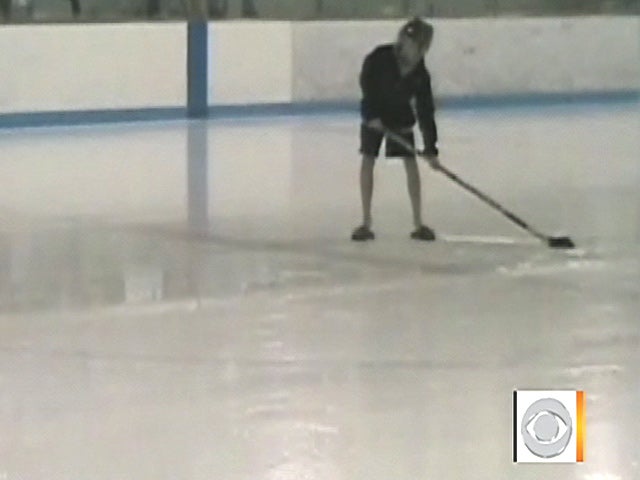 "Miracle" hockey shot boy won't get his $50G
FAIRBAULT, Minnesota -- A boy who made an incredible hockey shot during a charity event won't collect the $50,000 prize associated with it because his twin brother is the one who should have taken the shot.
The company that insured the event, Odds On Promotions, said Wednesday it would instead donate $20,000 to youth hockey in Minnesota in the boys' names.
Eleven-year-old Nate Smith hit the puck through a tiny hole from 89 feet away during a charity hockey game in Faribault on Aug. 11. But it was Nate's identical twin, Nick, whose raffle ticket won the chance to take the shot.
The boys' father, Pat Smith, says Nick was outside and told his brother to try.
Feeling honesty was the best policy, Pat Smith told organizers the next day about the swap.
Pat Smith said Wednesday the boys are disappointed but excited youth hockey will benefit.
"Miracle" hockey shot dad: Honesty still way to go
Boy's $50K in doubt after amazing hockey shot
On "The Early Show" on Aug. 17, Pat Smith explained to co-anchor Erica Hill that, the day after Nate made the shot, "We were getting a lot of phone calls and the boys, we could tell, weren't feeling right about it. So I thought I'd better call over there, and tell them it was Nathan who made the shot.
"There was kind of silence on the phone, and then the event organizer said, 'Well, I'll pass that information on to the insurance company, and we'll have to see what they say."'
But, Pat told Hill, "I think the more important lesson is that you tell the truth and, no matter how much money is involved, it's always more important to tell the truth."
Thanks for reading CBS NEWS.
Create your free account or log in
for more features.