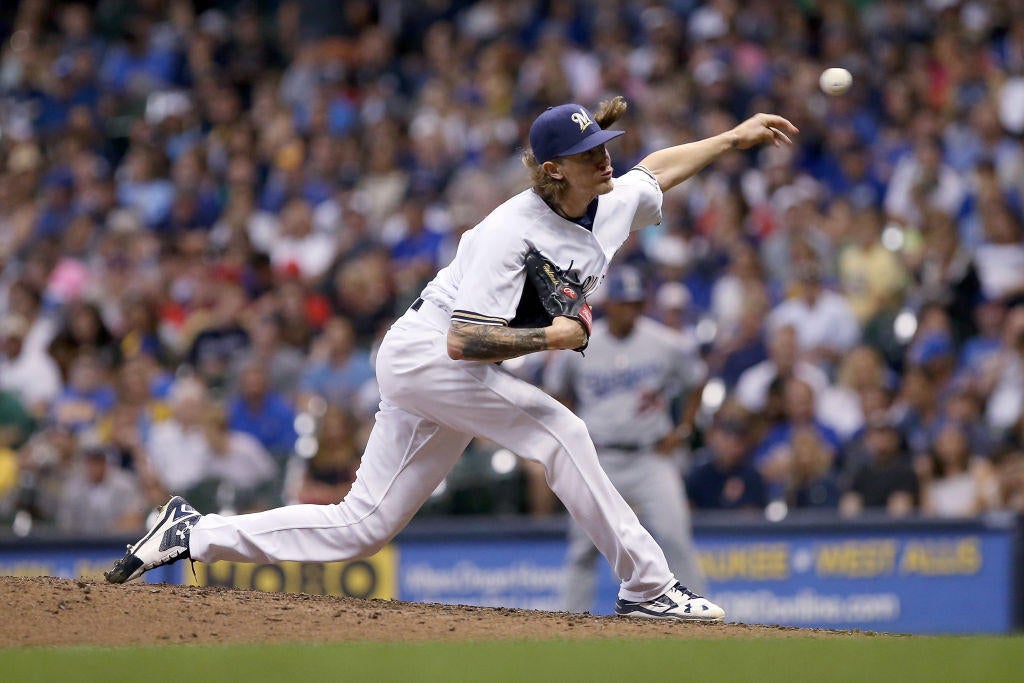 Milwaukee Brewers pitcher Josh Hader receives standing ovation from fans
MILWAUKEE -- Milwaukee Brewers reliever Josh Hader has received a warm ovation from fans in his first appearance on the mound since his years-old racist and homophobic tweets surfaced during the All-Star Game. The left-hander jogged in from the bullpen after the Brewers scored three runs in the bottom of the sixth to take a 4-2 lead over the Los Angeles Dodgers.
Hader took a few warmup tosses before being introduced by the public address announcer.
Most of the more than 36,000 fans attending in attendance were applauding after he was introduced, with many fans standing at Miller Park.
Some sports analysts criticized the crowd reaction by comparing it to fans who have booed players for kneeling during the national anthem to protest racial injustice.
Hader struck out pinch-hitter Logan Forsythe for the first out in the seventh. He allowed a two-out double to Matt Kemp before getting out of the inning when cleanup hitter Max Muncy lined out to first. The Dodgers swept the Brewers 11-2 at Sunday night's game.
On Friday, Hader offered his latest apology for the tweets in front of his teammates. He said the messages were thoughtless mistakes he made as a teenager and said his vile words didn't represent the man he has become, one who has learned to reject the language of bigotry.
Several of Hader's tweets from 2011 and 2012 were unearthed while he was pitching in the All-Star Game last week. Hader learned of the situation when he left the game. The tweets included uses of a slur used to disparage African-Americans and one that simply said "KKK."
"I just want them to know that I'm sorry for what I did back in the day and the mistakes that I made and that they are a family to me and that they (the tweets) aren't me and what I meant," he said. "They were never my beliefs. I was young. I was saying stuff out of just ignorance and that's just not what I meant."
Last week, MLB announced Hader would be required to participate in diversity and inclusion initiatives in addition to sensitivity training.
Thanks for reading CBS NEWS.
Create your free account or log in
for more features.