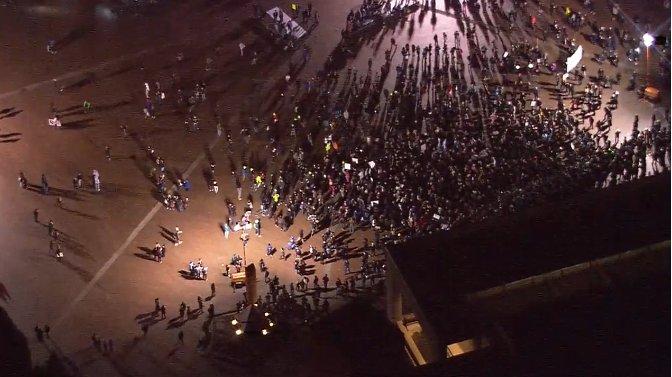 Man shot outside Milo Yiannopoulos event in Seattle, fire department says
SEATTLE -- A man was shot at a University of Washington protest in the campus' Red Square outside an event with controversial Brietbart News editor Milo Yiannopoulos, CBS affiliate KIRO reports.
Seattle Fire Department said that the man has possible life threatening injuries.
The University of Washington tweeted at 10:40 PT that the suspect was still at large.
Yiannopoulos posted on Facebook after the event "prayers are with the victim, whoever he is."
The University of Washington College Republicans invited Yiannopoulos to speak on Friday. People had been waiting outside for the event since around 5 p.m.
Protesters showed up on campus around 6 p.m. and began clashing with police.
Protesters threw rocks, fireworks, and other items at officers. They blocked the entrance to Kane Hall, but Yiannopoulos' speech still started around 8 p.m.
A KIRO chopper caught video of bike officers rushing to a crowd of people at 8:30 p.m. Moments later they started responding to a man on the ground.
UW alert went out to students, telling them to stay out of the area.
Earlier in Seattle, protesters from Capitol Hill and Central District neighborhoods streamed downtown for an afternoon immigrant and refugee rights rally. Carrying signs that said "Fight Racism & Sexism" and "Resist Trump," people from the earlier rallies met at Westlake Park downtown Friday afternoon.
People rallied and listened to speeches before resuming a march Friday evening, blocking traffic in some downtown areas.
Seattle officers at the park had confiscated wooden poles, heavy pipes and hammers, Seattle police said on Twitter.
Police also said officers were investigating reports of people in the crowd with fireworks and rocks.
About 200 protesters gathered on the Capitol steps in Olympia, carrying signs that included "Resist Trump" and "Not My President."
Thanks for reading CBS NEWS.
Create your free account or log in
for more features.