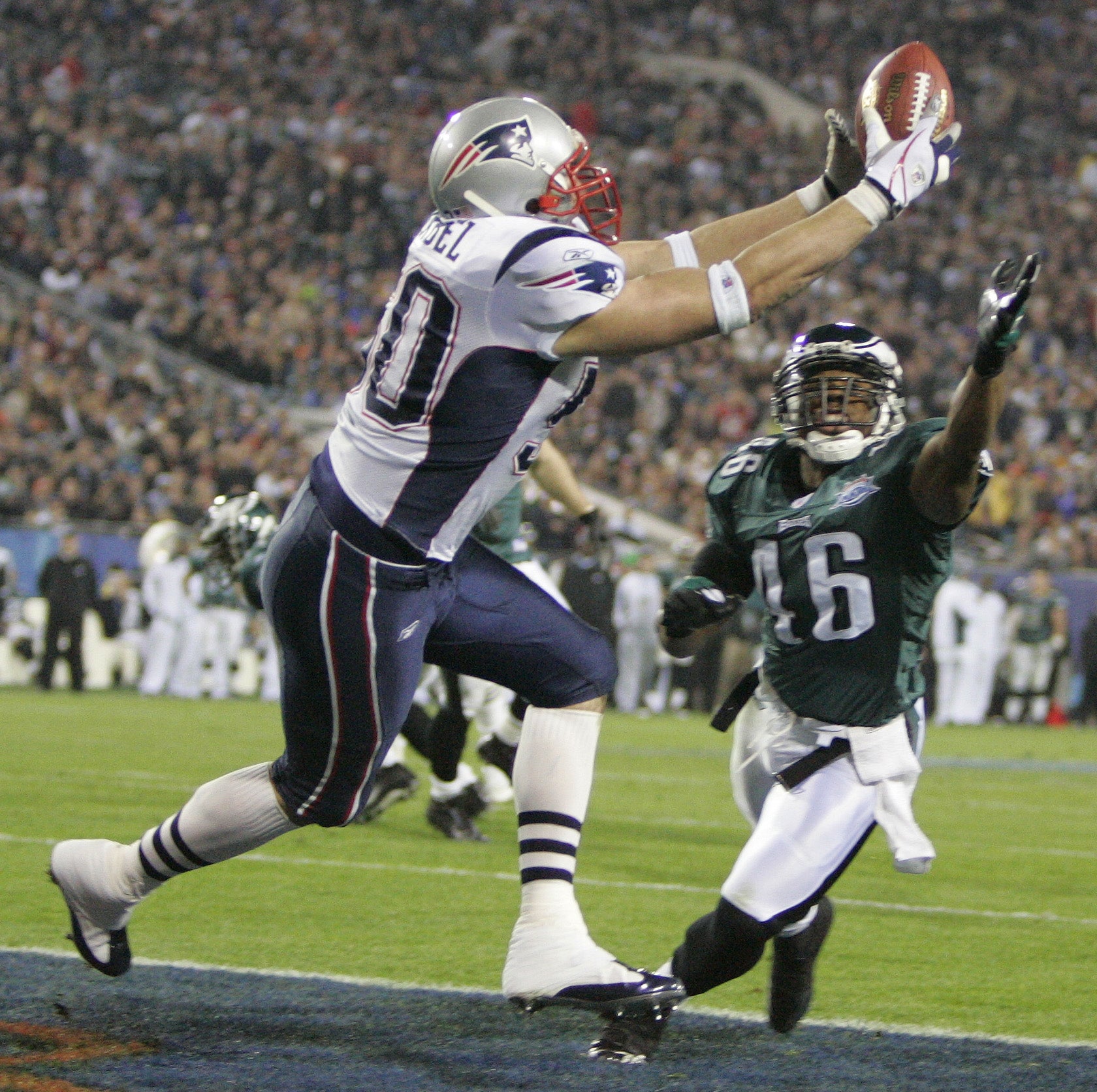 Mike Vrabel retires from NFL, takes Ohio St. job
COLUMBUS, Ohio - Former All-Pro outside linebacker Mike Vrabel believes his 14 years in the NFL will help him as an assistant coach at his alma mater.
After several days of speculation, Vrabel officially retired from the Kansas City Chiefs on Monday and also announced he was returning to Ohio State as a linebackers coach. He'll take the spot vacated by his former roommate and teammate, Luke Fickell, who was elevated to head coach after Jim Tressel was forced to resign on May 30.
Vrabel believes his playing days relate and translate to his new job. But that doesn't mean he'll often be sporting the three Super Bowl rings he won with the New England Patriots.
"I haven't worn them since the day I got them," he said at a news conference on Monday morning in the Buckeyes' practice facility. "Once you win them, you don't really have to wear them. People know that you won the Super Bowl and you helped contribute to a championship team. I don't anticipate, you know, putting three rings on and going out on a recruiting trip."
The 35-year-old Vrabel played four years for the Pittsburgh Steelers, eight seasons with the Patriots and, for the past two years, the Kansas City Chiefs. He said working with so many young players on the Chiefs roster was good preparation for a coaching career.
"I got plenty of practice," he said of coaching. "That's a young football team. It was a great role to go out there and play. And not only help them on the field but help guys in the locker room and film room. I was blessed to have a lot of great coaches. But these last two years, when you're coaching 20- and 21-year-old guys that are fresh out of college, that's probably helped me the most."
Chiefs GM Scott Pioli, who sent a second-round draft pick for Vrabel and quarterback Matt Cassel before the 2009 season, called Vrabel a winner.
"His genuine love for the game, his preparation, his work ethic, leadership and dependability are qualities you want from every player," Pioli said. "He is a champion in every sense of the word and I'm confident all of these qualities will make him a great coach. I cannot overstate my respect for him as a person and a football player."
Vrabel lettered from 1993-96 at Ohio State when John Cooper was the head coach. He was a two-time Big Ten defensive player of the year. As a senior in high school in Akron, his host on his official recruiting visit to Ohio State was Fickell.
"Mike is something that our kids obviously emulate," Fickell said. "They want to be like him and what he's done here at Ohio State, what he's done in the NFL and obviously what he's done later in life as a father and husband. It's a great role model."
Active in the NFL Players Association's executive committee and its negotiations with the league, Vrabel said he was unsure if he would have retired if there were no lockout going on in the pros.
He also conceded that he had grown tired of gearing up for another new season.
"I just came to the point where I couldn't train to prepare for an NFL season. I'm not going to pretend I can do it anymore," he said. "This is where I want to be."
While with the Patriots in 2007 he had 54 solo tackles, 12 1/2 sacks and forced four fumbles and was selected to the Pro Bowl and All-Pro teams for the only time in his career. He finished with 742 tackles and 57 sacks in 206 games.
He was also known during his Patriots days as a short-yardage or goal-line fullback/tight end. He caught 10 career passes — every one going for a touchdown.
Fickell said he consulted several people about the pitfalls of hiring a close friend.
"(Vrabel) said to me, `Give me a reason to retire,"' Fickell said. "I remember going to (Ohio State men's basketball) coach (Thad) Matta and asking him, `Can you hire your best friend?' He knew what I was talking about. He said very clearly, `Yes, you make sure you set the standards and the guidelines of what you need to have done."'
Vrabel has had at least two skirmishes with the law. During his Ohio State playing days, he was arrested along with a teammate for beating up a man in a bar parking lot in Kent, Ohio. They eventually pleaded guilty to the lesser charge of disorderly conduct, paid a fine and performed 30 hours of community service. Their attorney in that case was Chris Cicero, the Columbus lawyer and former Ohio State walk-on who sent emails to Tressel in April 2010 that players were taking improper benefits from a tattoo-parlor owner.
Just this past April, Vrabel was arrested for theft from an Indiana riverboat casino. The charge will be dropped if he isn't charged with another crime for 180 days, according to a diversion agreement signed in late June.
Ohio State has been through a tumultuous last few months. Five players were suspended last December for the first five games of the upcoming season for taking cash and discounted tattoos from a Columbus businessman. Ohio State later discovered Cicero's emails to Tressel. Tressel was required by his contract and NCAA rules to report any possible violations involving his players, yet he did not report anything to his superiors for more than nine months. Shortly after he was pressured to step down, star quarterback Terrelle Pryor — one of the suspended players — gave up his senior season for a shot at playing in the NFL.
In a related matter, a source close to the Ohio State program has disclosed that Dorian Bell, a linebacker from Monroeville, Pa., was also handed a five-game suspension last week by the NCAA. Bell, a redshirt sophomore, had already been suspended for the entire 2011 season by Tressel for an undisclosed violation of team policy.
Thanks for reading CBS NEWS.
Create your free account or log in
for more features.