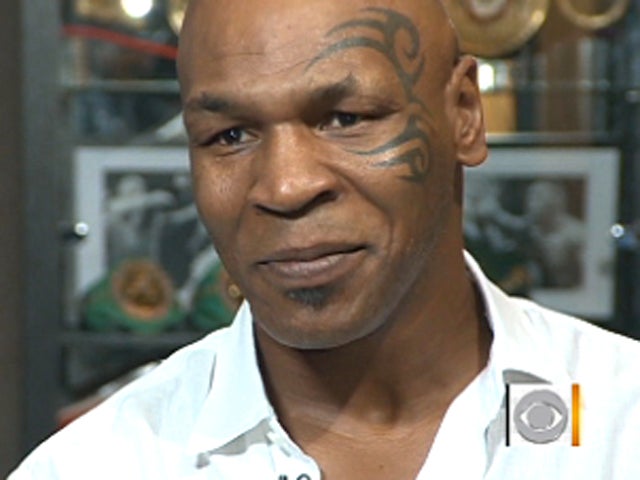 Mike Tyson: I don't want to be an animal anymore
When you've really made it in Hollywood, people call you a big-name star. But what happens when an Ordinary Joe shares that same name? That's the premise of a reality show called "Same Name" that debuts Sunday on CBS.
CBS News Correspondent Bill Whitaker tagged along for the taping of one episode featuring the boxer Mike Tyson - and Mike Tyson, the nurse.
From the peak of his boxing career to the depths of disgrace that derailed it, Mike Tyson's name was synonymous with outrageous excess: money, women, drugs, rage.
But, Whitaker reported, those who know him best - like his longtime barber, Mack Smith - the real man, they say, is more complex.
"Some people think he's crazy or something because of the media," Smith told CBS News. "But he's definitely not that. He's a lot smarter than people think he is."
At 45, Mike Tyson is attempting a comeback of sorts, reclaiming his reputation, his legacy - and even his name.
"I'm a different guy now," Tyson said. "I'm not as charismatic as that guy before. I'm not as reckless as he was before."
Whitaker asked the boxer, "Is it important to you that people know that?
Tyson responded, "I only inform them that way by my conduct. I can't tell them. I've told them that many times and it wasn't true."
When producers from the new reality show came to Tyson with their pitch, he was open. The premise? Pair a celebrity with an unknown person with the same name and let them switch lives.

Mike Tyson, a registered nurse from Michigan, endured ribbing over his famous name for years.
Whitaker asked the nurse, "You got into fights because your name was Mike Tyson?"
He replied, "Couple."
Whitaker said, "Did you win?"
"(Of) course I'm gonna say 'yes,'" Michigan Tyson said.
As part of the switch, regular Mike stepped into the boxer's life, getting a haircut at Tyson's barber shop and even going a few rounds in the local ring where Tyson still spars.
Boxer Mike headed to Michigan to spend a weekend as a hockey player, family man and nurse.
Whitaker asked the boxing great, "How are you going to do that? You're not a nurse.'
Tyson answered, "But I'm an actor. I can act like a nurse."
Acting isn't new to the boxer. With celebrated cameos in the blockbuster "Hangover" films and a deal with HBO for a series loosely based on his life as a fighter, Hollywood seems eager to invest in the once-unpredictable Tyson.
When asked if he would have considered appearing in a reality show years ago, Tyson said, "No, I didn't know who I was back then. I might've thought that guy was trying to play me, make a fool out of me or something. I might've wanted to attack the producer or something back then. That's what I would've done back then."
Whitaker said no producers were harmed in the filming of this show, but Tyson did take a few spills while filling in as goalie with Michigan Mike's hockey team. And he struggled with bedside manners during his time as a nurse - especially when the needles were around. But Tyson's time with low-income patients needing help at a free clinic revealed a softer side that seemed to surprise even Iron Mike himself.
"The old Mike Tyson wouldn't really want to be seen with these people," he said. "When I say these people - these people from the program, because they remind me too much of myself. That's my origin. I come down here and I see my origin. I see who I really am."
"So this brought you back in touch with it?" Whitaker asked.

Tyson said, "A hundred percent. A hundred percent. And it has nothing to do with ethnicity. It has to do with pain. Pain is pain. Black, white, candy stripe."
Whitaker asked, "But you had fun doing this?"
Tyson said, "I had an incredible time. Had an incredible time. ... Man, I'm just trying to be a peaceful guy, man. I don't want to be no animal no more, that's what I'm trying to say."
Whitaker remarked seeing Tyson now is almost like witnessing a man's reinvention.
Tyson told Whitaker, "I keep always thinking about Mark Twain, that human beings have to be taught to be human beings. Some people learn to be human beings faster than others. Some people catch on late. I'm catching on late. I'm catching on a little late, but I'm getting it, though. I'm getting it."
As for the man who's spent years fending off the jokes, he now says it's an honor to share his famous name.
Tyson, of Michigan, said, "I think he's a wonderful person . I mean he's a strong person, he's a passionate person, he's kind, loving, caring. I mean, he really has all the qualities I try to possess myself."
The boxer replied, "I'll take that. I've been called a lot worse. I'll take that."
Sunday's premiere episode of "Same Name" will feature the story two David Hasselhoffs. You can catch that at 9/8c on CBS.
Thanks for reading CBS NEWS.
Create your free account or log in
for more features.