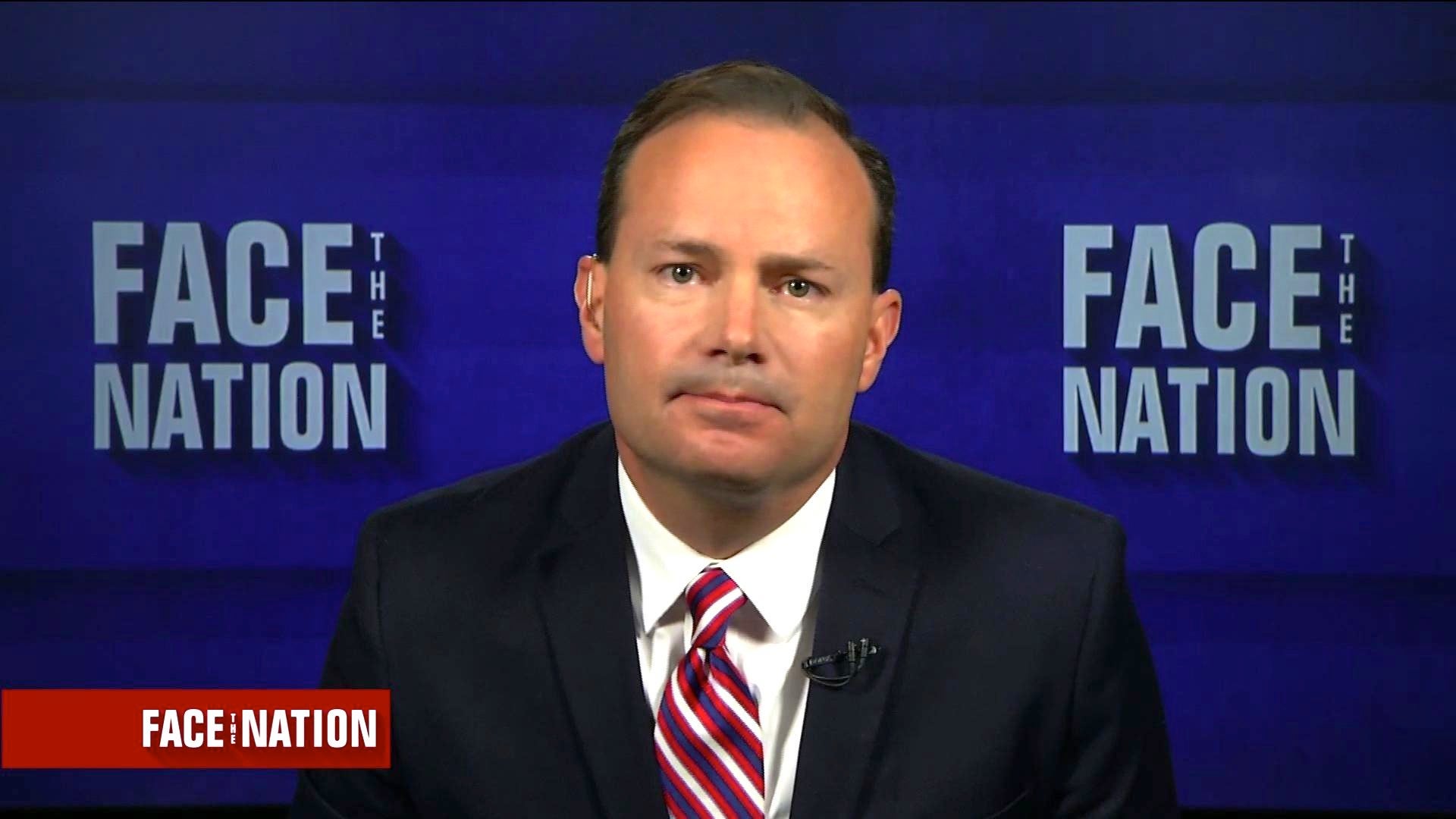 Sen. Mike Lee says if his health fix isn't supported, repeal now and replace later
Senator Mike Lee, R-Utah, who is pushing for a fix to the Senate Republicans' new health care bill, says the Senate's proposed legislation leaves out the "forgotten" man and woman.
"Look this bill, the one we've been discussing in the Senate, has bailouts for insurance companies. It has hundreds of billions of dollars in tax relief for the affluent. It even has some provisions for the poor," Lee said Sunday on "Face the Nation."
"Who it leaves out are the forgotten man and the forgotten woman. Those earning a combined household income of $75,000 or so who have been left behind," he said. "And these are the people who helped propel President Trump to victory last November. We need to do more to help them and to make sure they can purchase the kind of health care they want and the kind of health care that is affordable for their families."
Lee, in conjunction with Sen. Ted Cruz, R-Texas, drafted the Consumer Freedom Act, in order to sway more Conservative members and provide a fix to the bill's current issues.
"By guaranteeing them at least one Obamacare compliant plan, we're guaranteeing them exactly what they have now but giving them more options. Options that would inevitably unleash free market forces, that would in turn bring down the price of health care. That's what we want to do. As to those who would be on the Obamacare compliant plan still, there are ways of funding those. There are ways of making sure that those don't go down into a downward spiral," Lee said of his proposed plan.
He added "We've got to do something to reinject free market forces into this environment. And look if we can't get this done, I have made clear if we can bring free market forces to bear, we can bring down cost for middle Americans."
But Lee urged lawmakers to adopt a full repeal of the Affordable Care Act and a replacement at a later date if politics get in the way of passing his and Cruz's health care fix.
"This is consistent with what basically what every Republican who has campaigned for federal office over the last seven years has promised to do. This is consistent with what we did in December 2015 and this is probably what we ought to be doing now if we can't save this effort," said Lee.
Lee's suggestion echoes a remark made recently by President Trump. After Republican leadership announced a voting delay until after the July 4 recess, Mr. Trump said in a tweet Friday that if Republican Senators are "unable to pass what they are working on now," they should repeal, then replace at a later date.
The comment seemingly contradicted what Mr. Trump previously said. In an interview in November with CBS' "60 Minutes," he said that a repeal and replace effort would be done "simultaneously."
"We're not going to have, like, a two-day period and we're not going to have a two-year period where there's nothing," Mr. Trump told "60 Minutes'" Lesley Stahl. "It will be repealed and replaced. And we'll know. And it'll be great health care for much less money. So it'll be better health care, much better, for less money. Not a bad combination."
Lee and Cruz, along with several other Republican members, including Rand Paul of Kentucky, Ron Johnson of Wisconsin and Dean Heller of Nevada, put the Senate's bill in jeopardy of passing last week, after expressing doubts the bill would ever provide a clean repeal and replace of Obamacare.
In a last ditch effort to sway Republican moderates before the holiday recess, $45 billion was added for opioid treatment. New language was also added to allow for Health Spending Accounts funds to be used for insurance premiums, to quell members' concerns.
Lee said that if Congress instead was to pass a measure to repeal Obamacare, but put in a "delayed implementation measure," lawmakers would then undertake a "step-by-step process" of deciding what comes next.
"Sometimes when you lump too many things into one piece of legislation, you doom its likelihood of success and I fear that that might be where we are today," he said.
Thanks for reading CBS NEWS.
Create your free account or log in
for more features.