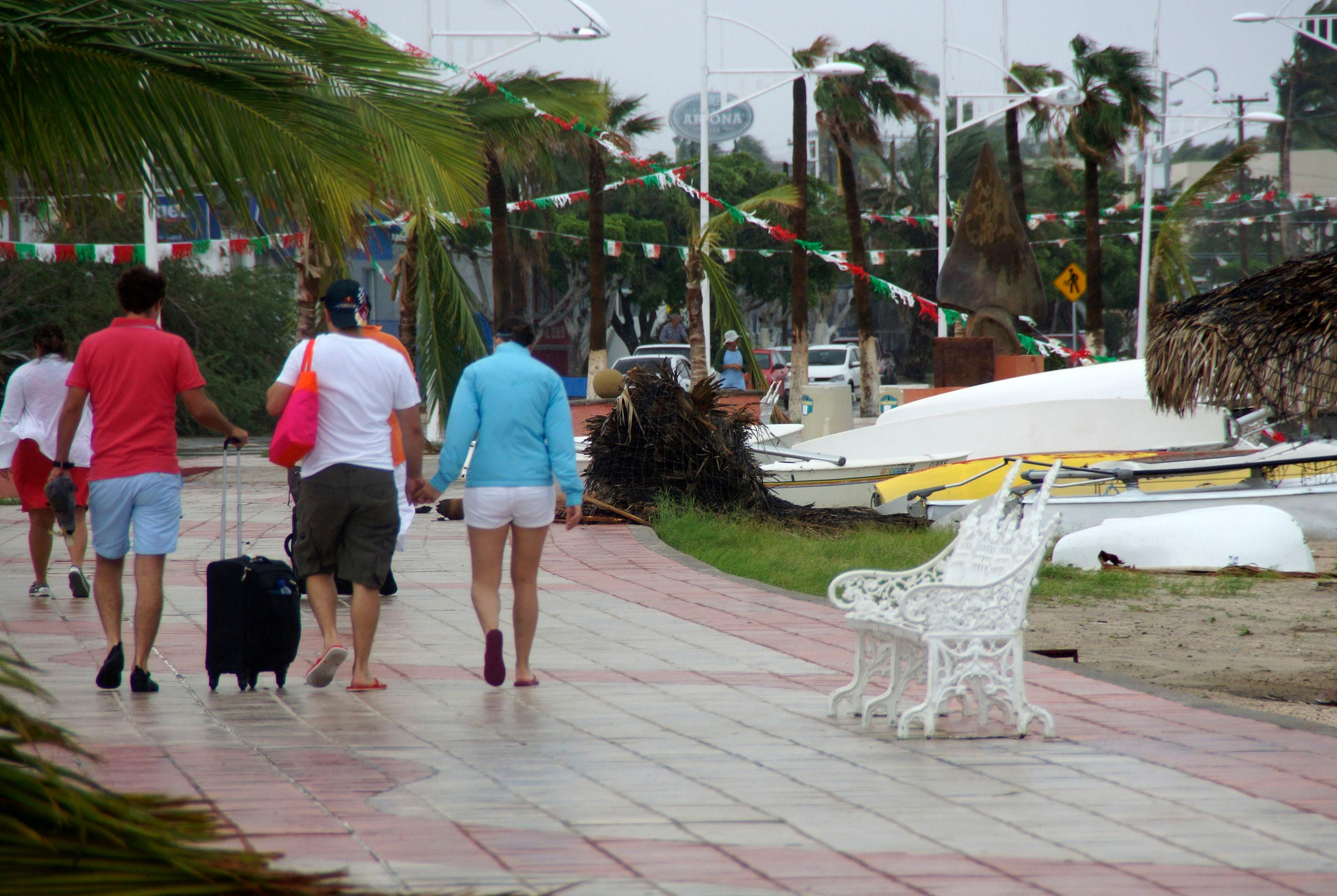 Mexico to fly out tourists stranded by tropical storm
CABO SAN LUCAS, Mexico -- A weakening Tropical Storm Odile pushed up Mexico's Baja California peninsula early Tuesday. While the storm may revive the drought-stricken region, heavy rains could bring dangerous flash floods.
Mexico's government said late Monday night that army and commercial planes would be sent to La Paz and Los Cabos airports to ferry out some of the tens of thousands of tourists stranded in temporary shelters in hotels. Los Cabos international airport was damaged by the storm.
Charly Park, 52, flew in from Los Angeles on Sunday. Instead of checking into his hotel room, he and his wife spent the night at a cramped, hot shelter.
"It's a horrible experience, no air conditioning, no fans ... the power lines all fell down," Park said.
Emergency officials in Baja California reported that 135 people have been treated for minor injuries from flying glass or falling objects. No serious injuries or deaths have been reported so far. About 30,000 tourists were in temporary shelters.
Before moving north late Monday, Odile made landfall near Cabo San Lucas as a powerful Category 3 hurricane, before weakening rapidly. It toppled trees and road signs along the main highway, which at one point was flooded by rushing waters. Windows were blown out of high-end hotel rooms and resort facades crumbled to the ground.
Most of the area's power poles were blown over, leaving 239,000 people in the state of Baja California Sur without electricity, said Luis Felipe Puente, national coordinator for Civil Protection.
"In the seven years I've been here, I've never seen anything hit like this," said Alejandro Tealdi, a 32-year-old resident of Cabo San Lucas whose home was damaged.
Many homes and businesses were reduced to shells with only the core structure intact. The walls of an OfficeMax collapsed into the parking lot. A convenience store was torn apart with the contents of its shelves dumped to the ground
In Colonia Unidad Real, a neighborhood that sprang up years ago in a former creek bed, hundreds of homes were damaged or destroyed with debris scattered everywhere.
After spending a harrowing night with her in-laws, Graciela Castillo Monroy, 44, and her family returned to find the roof of their home gone and all but two of its cinderblock walls collapsed. They piled what belongings could be salvaged atop a soggy mattress and began picking up the pieces.
"Well, time to start over again," Monroy said.
Odile continued to lash the state of Baja California Sur with strong winds and heavy rains as it marched northward, but weakened to a tropical storm late Monday night.
As of 11 p.m. PDT, the U.S. National Hurricane Center said the storm had maximum sustained winds near 65 mph. It was centered about 25 miles south-southwest of Santa Rosalia and moving to the north-northwest at 12 mph.
Odile was expected to drop 6 to 12 inches of rain with isolated accumulations of 18 inches, threatening to unleash dangerous flash floods and landslides.
The center of Odile will continue to move over the Baja California peninsula through Tuesday and move over the Northern Gulf of California on Wednesday, forecasters say.
Meanwhile in the central Atlantic, Hurricane Edouard strengthened to a Category 2 storm Monday night with maximum sustained winds near 110 mph. It is expected to become a major hurricane on Tuesday, although it was expected to remain far out at sea and pose no threat to land.
The U.S. hurricane center said Edouard's center was 520 miles east-southeast of Bermuda and was moving north-northwest at 13 mph.
Thanks for reading CBS NEWS.
Create your free account or log in
for more features.