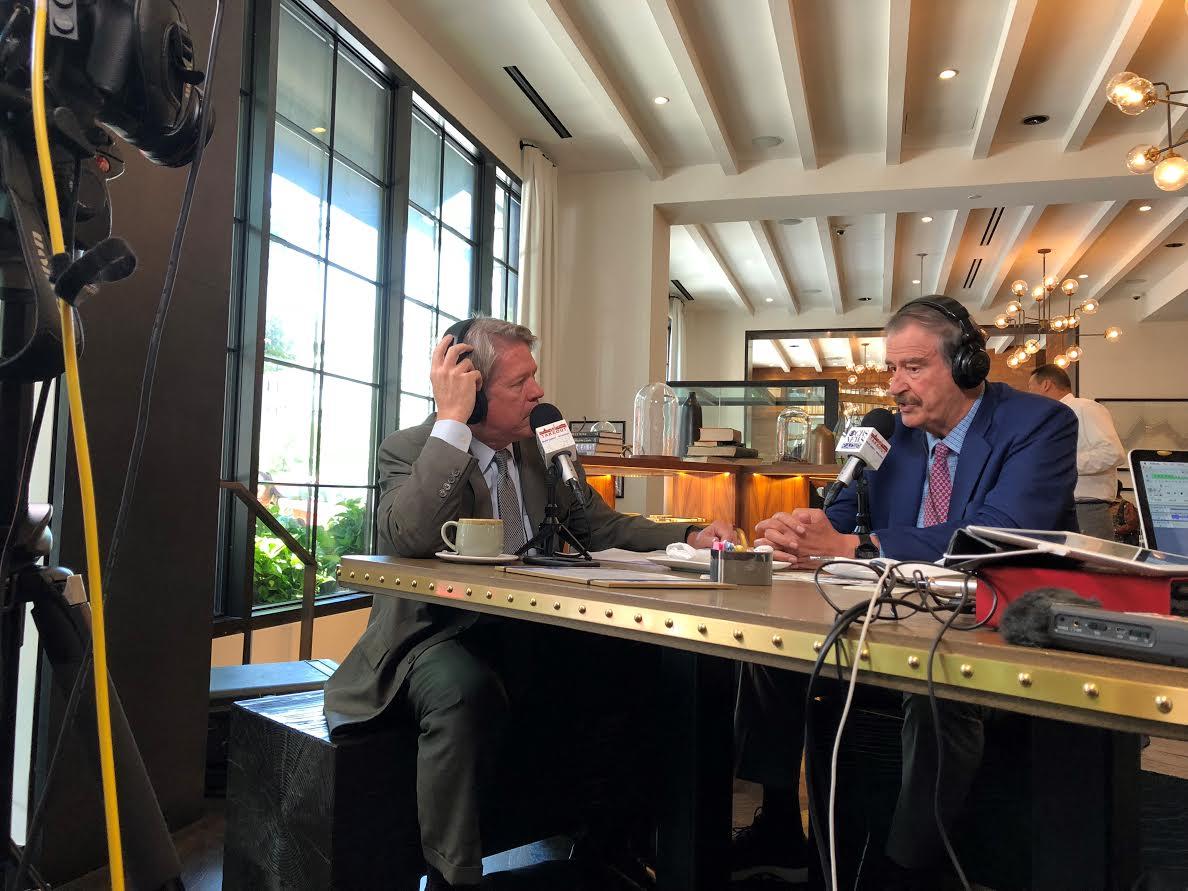 Mexico still isn't going to pay "for that f*****g wall," former Mexican president says
Former Mexican President Vicente Fox "absolutely" stands by what he famously said a couple of years back-- that Mexico is not going to pay "for that f*****g wall" that President Trump frequently touts as the solution to illegal immigration. Fox's indignation about footing the bill for the wall emanates from Mr. Trump's equally frequent claims that that Mexico will pay for it.
He was asked by CBS News' Major Garrett on "The Takeout" podcast whether his sentiment about the wall still stands.
"Absolutely, yes, because it had to be expressed," Fox said, explaining that it's a feeling "when you're offended, when your dignity is pisoteada (trampled), when all Mexicans have been offended that way, but more so because it's not the answer to the problem of migration."
Fox originally sounded off on Mr. Trump's wall proposal during an interview with Fusion's Jorge Ramos in February 2016.
"I'm not gonna pay for that f*****g wall. He should pay for it. He's got the money," Fox said in the interview, referring to Mr. Trump.
Mr. Trump, then a presidential candidate, responded to Fox during a debate in Texas by declaring, "The wall just got 10 feet taller."
Not surprisingly, Fox thinks that Mr. Trump is "absolutely wrong" in his approach to combating illegal immigration, and he mourns the death of civility within previous administrations and Congress' bipartisan efforts -- if unsuccessful -- on the matter.
"You have to use your reason. You have to use your intelligence, and there, seek the answers to the problem of migration," Fox told Garrett. The solution, he continued, is "not investing $35 billion U.S. dollars that you taxpayers in the United States will have to pay for because, of course, Mexicans will not pay for that wall," Fox told Garrett.
Mr. Trump's call for the wall began as a campaign promise and has remained a rallying cry throughout his time in office.
"We've got $1.6 billion dollars— we've already started the wall on the southern border. The wall is started, $1.6 billion. So important," Mr. Trump said at the White House Wednesday prior to signing a bill expanding military veterans' access to health care.
In March, Mr. Trump inspected eight border wall prototypes in California.
Fox also said that Mr. Trump is "just cheating people" with his promises to bring jobs back to the United States, particularly within the coal industry, which he refers to as "carbon."
"The idea of bringing jobs back to communities as Trump promised, in the case of the carbon industry, is false," Fox said. "He's just cheating people. He's just falsely proposing that he will bring back those jobs, when he's going to hurt nature and the environment severely."
For more of Major's conversation with Vicente Fox, download "The Takeout" podcast on Apple Podcasts, Google Play, Stitcher, or Spotify. New episodes are available every Friday morning.
Also, you can watch "The Takeout" on CBSN Friday and Saturday nights at 9pm ET/PT. For a full archive of "The Takeout" episodes, visit www.takeoutpodcast.com. And you can listen to "The Takeout" on select CBS News Radio affiliates (check your local listings).
Producers: Arden Farhi and Katiana Krawchenko
Show email: TakeoutPodcast@cbsnews.com

Twitter: @TakeoutPodcast
Instagram: @TakeoutPodcast
Thanks for reading CBS NEWS.
Create your free account or log in
for more features.