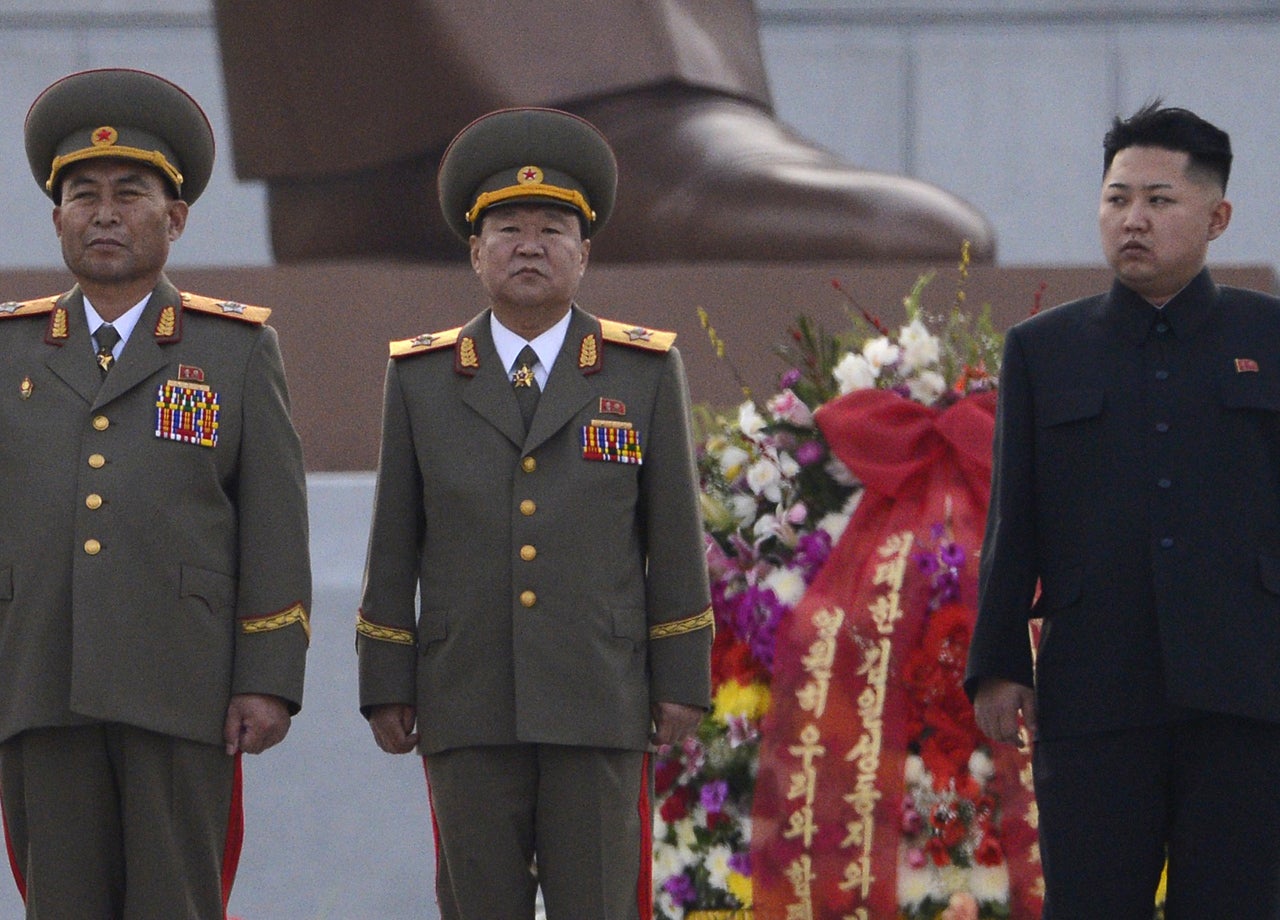 Mentor of N. Korea's Kim Jong Un dismissed
(AP) SEOUL, South Korea - He was the guardian figure always at the side of North Korea's young new leader. As the top army official, his experience and position lent Kim Jong Un credibility with the troops. Now, Vice Marshal Ri Yong Ho is out, dismissed from several powerful posts because of "illness," state media said Monday in a brief surprise announcement just days after he last appeared in public.
Ri did not appear ill in recent appearances, feeding speculation abroad that Kim purged him in an effort to put his own mark on the nation he inherited when father Kim Jong Il died in December. At the same time, there was no sign of discord at Ri's last public appearance at a high-level event, barely a week ago.
Still, Ri's removal, whether for health reasons or political missteps, shakes the core of the authoritarian regime's power structure and may be a sign that Kim is tensing his grip on power, just as his father and grandfather, founding leader Kim Il Sung, did in their eras.
On Tuesday morning, the official Korean Central News Agency announced that the title of vice marshal had been bestowed on Hyon Yong Chol. No other details were provided about Hyon and his military background. It was not immediately clear if he would receive any of Ri's other titles and powers, including chief of the General Staff of the Korean People's Army.
The appointment was made by the Central Military Commission of the Workers' Party of Korea and the National Defense Commission of North Korea, the agency said.
The decision to dismiss the 69-year-old Ri from top military and political posts was made at a Workers' Party meeting, convened uncharacteristically on Sunday, according to the official Korean Central News Agency. It was not immediately clear who would take Ri's place, and the dispatch did not elaborate on his condition or future.
"Whether because of a physical malady or political sin, Ri Yong Ho is out, and Pyongyang is letting the world know to not expect to hear about him anymore," said John Delury, an assistant professor at Yonsei University's Graduate School of International Studies in South Korea.
It's too early to determine "whether Ri's stepping down is a manifestation of civil-military tensions, or Kim Jong Un's attempt to consolidate control" over the army, he said.
North Korea leader Kim Jong Un tries to win over new generation with youth rally speech
North Korea: Drought could worsen hunger crisis
N. Korea ramps up work at nuke site, images show
North Korea's political and military reshuffles are mysterious, with officials sometimes dropping out of sight without explanation. Many top North Korean officials — such as Vice Marshal Jo Myong Rok, who died of heart disease in 2010 at age 82 —stay in their posts until they die.
Perhaps, because Ri arrived on the national scene during Kim Jong Il's final years, "he was always meant to be a transitional regent figure, and his function is played," Delury said.
The dismissal comes as Kim Jong Un makes waves in other ways. State TV showed him appearing at a music concert and visiting a kindergarten recently in the company of a mysterious woman who carried herself much like a first lady. Her identity has not been revealed but her public presence was a notable change from Kim Jong Il's era, when his companions were kept out of state media.
In North Korea, the army chief has been a powerful figure since Kim Jong Il elevated the army's role when he became leader after the 1994 death of Kim Il Sung.
Kim Jong Un has upheld his father's "songun" military-first policy, but in April he also promoted younger officials with economic backgrounds to key party positions in line with his push to build up the nation's economy.
Where Ri's departure leaves North Korea's million-man army, one of the world's largest, remained unanswered.
The Korean Peninsula has remained locked in a state of war and divided since a truce in 1953 ended three years of fighting. North Korea has threatened in recent months to attack South Korea's president and Seoul's conservative media, angry over perceived insults to its leadership and U.S.-South Korean military drills that Pyongyang says are a prelude to an invasion. A North Korean artillery attack in 2010 killed four South Koreans.
Ri was vice marshal and chief of the General Staff of the Korean People's Army. In 2010, he was won top spots on the Central Military Commission of the Workers' Party and the Presidium of the party's influential Political Bureau. That boosted him to the highest political circles — along with Kim Jong Un, Kim's uncle Jang Song Thaek and other trusted members of Kim Jong Il's circle of advisers.
Ri had been at Kim's side since the young man emerged publicly as Kim Jong Il's successor in 2010, often standing between father and son at major events. He was among the small group of men who accompanied Kim Jong Il's hearse through snowy Pyongyang during the funeral procession.
In the months after Kim Jong Un took power, he accompanied the new ruler on his first trips to visit military units in a pointed show of continuity and military support as Kim sought to shore up the backing of the nation's troops.
Daniel Pinkston, a North Korea analyst at the International Crisis Group, was skeptical of the illness claim. He noted that Ri won his major promotions at a September 2010 party conference but received none in April, stirring speculation about his future.
"There's a very high probability that it wasn't health issues, but that he was purged," sending a strong signal to anyone seeking to challenge Kim Jong Un — even if Ri never directly defied the new leader, Pinkston said.
Ri's departure could mean he lost a power struggle with rising star Choe Ryong Hae, the military's top political officer tasked with supervising the army, said Koh Yu-hwan, a professor at Seoul's Dongguk University.
Choe, originally a Workers' Party official, was handed several top jobs and was named a vice marshal in April. Ri had been anointed as Kim's patron during the young man's rise to power, Koh said. "But after Kim formally took power, Choe has emerged as No. 2."
The robust, stocky Ri, who had served as chief of the General Staff since 2009, showed no sign of illness when he spoke in late April at a meeting of top officials marking the 80th anniversary of the army's founding. He was shown in photos on July 6 chatting with Pyongyang residents and two days later joined Kim Jong Un at the Kumsusan mausoleum to pay respects to Kim Il Sung.
Thanks for reading CBS NEWS.
Create your free account or log in
for more features.