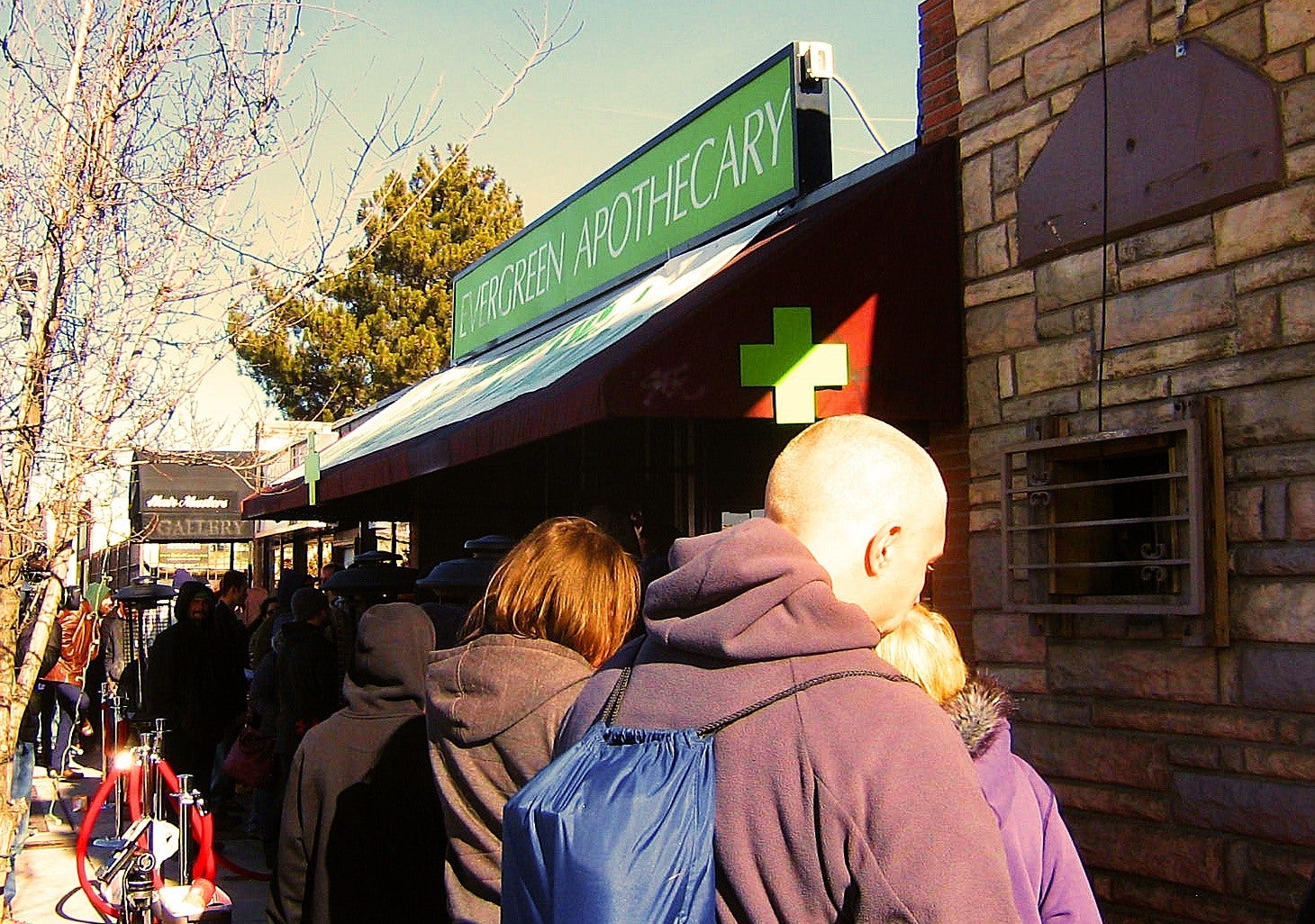 Mellow mobs crowd Colorado cannabis shops
Maybe it was the long holiday weekend, or the bright sunshine and relatively warmer winter weather after a bitter cold and snowy New Year's day. But the good feelings continue across Colorado for the thousands of people who are turning out to legally buy cannabis.
No incidents were reported at the several dozen shops across the state that began recreational sales on Thursday, the first day of a new law allowing such purchases.

Medical use of marijuana has been legal in Colorado for over a decade, and cannabis shops like the Evergreen Apothecary in Denver are simply part of the local landscape in many of the Centennial State's towns and cities. That familiarity also seemed to contribute to the relaxed and festive vibe of the 100 or so people patiently waiting in line outside the Evergreen, some for well over an hour.

"I think it's pretty historical," said 30-year-old Denver resident Nathan, who asked that only his first name be used. "Eighty years ago we also outlawed another substance and then subsequently decriminalized it and made alcohol legal again."

A number of those waiting to buy cannabis were from out-of-state and in a festive mood. James Neilson, 27, and his sister Jacqueline, 22, drove 10 hours from Tulsa, Okla., to Denver, just to take part in the occasion. They waited outside one Denver store on New Year's day in hopes of being among the first people to make a purchase, but had to go to a second store when the first one quickly sold out.

"Honestly, I could get it back home if I wanted to," James admitted,"but the thing is, I'd rather do it legally. And I'd actually rather have my tax dollars go toward this cause in the first few days, so that other states and other governments will wise up and catch on. I think it will help close deficits in a lot of governments' budgets – citywide, statewide and even at the federal level."

Chase Withnell, 21, was in town with a bunch of his friends from Des Moines, Iowa, for a music festival. They giggled and chatted as they waited. "We're just having fun, coming down here," he said. "Figure we'd try it out, wait in line while we could."


Whatever marijuana they purchased, Chase and his friends said, would be consumed in Colorado as well.

Some appeared to be in line not only to make a purchase, but to make a statement. Thirty-eight-year-old Claudia, a systems analyst from Miami, was in Denver for a business conference, "and it happened to coincide with this historic event," she said. "I'm a Libertarian, and I believe that cannabis should be legalized to reduce crime that is associated with the black market."


Several of the people waiting outside the Evergreen Apothecary said they understood the issues raised by opponents of Colorado's new recreational cannabis laws, and concerns about how those laws might affect the rest of the country.

"I think more states are going to go down this path if it's successful here," Nathan said. "I think there's a big question mark on it."

One of those big questions is what Nathan called "the kid thing," referring to controlling sales so that no one under age 21 is allowed to buy pot.


"We don't do that great a job with alcohol with that," he noted. "And [Colorado becoming] a distribution point for the rest of the country -- I'm a little worried that that might transpire."

Sixty-eight-year-old John, another Denver resident, has been smoking marijuana since 1965 and said it was about time that cannabis was legal. "It's a win-win situation for everybody," he said, "especially for the state of Colorado. They fit to make money."

And as for any upcoming legal or political challenges faced by the state now that this historic law is in effect? "I don't know what the issues would be," he deadpanned, "other than helping the lines move faster."
Thanks for reading CBS NEWS.
Create your free account or log in
for more features.