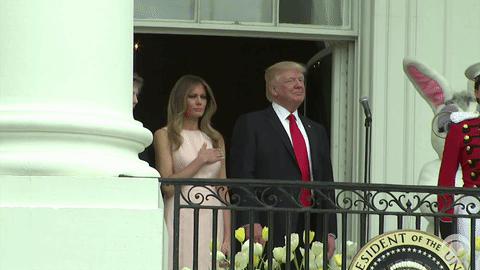 Melania appears to remind Trump to put hand on heart for national anthem
The annual White House Easter Egg Roll allows the nation's leaders to enjoy a fun and sometimes silly spring tradition. The most-discussed moments are often just cute photos of the first family with the Easter Bunny and young children who have come to take part in the fun.
It's generally a tame spectacle mired with little, if any, controversy. But this year, one small, barely noticeable moment caught the attention of reporters and social media users, briefly igniting the trending topics on both Facebook and Twitter.
After President Trump welcomed the crowd on the White House's South Lawn, it was time for the singing of the national anthem. First lady Melania Trump and 11-year-old son Barron both immediately put their hands over their hearts while the president stood with his hands by his side. It appeared that Melania then gave her husband a gentle nudge with her left arm, prompting him to also cover his heart.
The online trolling began almost immediately.
Some people also defended Trump, saying this kind of thing shouldn't be newsworthy.
There was increased public scrutiny of this year's event due to leaked reports claiming the White House had thrown together the festivities at the last minute. Critics who may have been on the lookout for proof of an unorganized event instead found what looked like a relatively routine gathering, although with a smaller crowd and fewer celebrities in attendance than some years.
Still, the reaction to the discreet interaction between the president and first lady is also notable in part because this isn't the first time a president has faced criticism for a perceived lack of respect at such a moment.
Former President Barack Obama was accused of failing to put his hand over his heart during the national anthem based on an old photo circa 2007. And he drew criticism when he saluted a Marine with a coffee cup in hand in 2014. Trump himself chimed in on that controversy.
For the record, the U.S. Flag Code states that individuals in uniform, members of the Armed Forces, and veterans should give the military salute during the national anthem. Anyone else present should face the flag and "stand at attention with their right hand over the heart."
Thanks for reading CBS NEWS.
Create your free account or log in
for more features.