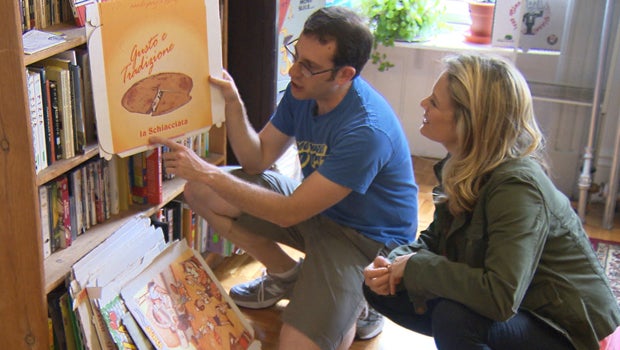 ​Meet the world's biggest collector of pizza boxes
When it comes to pizza, one man is constantly thinking outside the box -- thinking not so much about the contents of the box, as the box itself. Here's Serena Altschul:
Whether you like it with extra cheese, no anchovies, thin crust, or deep dish, America's crazy about pizza!
On any given day, about one in eight Americans will be eating a delectable slice, or two, or three.
But once the pie is gone, do you ever pay attention to the box?
Most people toss their pizza boxes, but Scott Wiener isn't most people. He is a pizza aficionado who gives tours of notable New York City pizzerias. While Wiener always craves a good pie, he's fanatical about the boxes.

He explained the differences between a paperboard box ("pretty soft") and what he deemed an upgrade ("corrugation is important because it's much sturdier").
Wiener collects pizza boxes. "Right now, I have around 750, maybe a few more," he told Altschul. "It's a serious collection."
His collection has pizza boxes from 50 different countries -- everywhere from Australia to Thailand to Kazakhstan.
There are variations of familiar classics, and out-of-the-box boxes -- a George Clooney look-alike, a jigsaw puzzle, a racy delivery girl, and a collectible, limited edition.
There's even a high-tech one that works with your iPad so you can play a video game with your pizza box, in which you must protect a pizzeria from zombies.
Wiener's (some might say "cheesy") obsession started when he was traveling in Israel seven years ago.
"When you're in a different country, you kind of expect, 'Oh yeah, the money's different. The language is different, different customs.' But you don't expect to look on the wall of a pizzeria and to see this bright yellow box with blue writing on it. Totally rocked me."
Then he started collecting box after box -- including the world's largest usable pizza box, for a 54" by 54" Sicilian pizza.
Pizza wasn't always transported in boxes. Wiener says, in the 1800s metal vessels called stufas were used to carry around pizza in Naples, where pizza as we know it originated.
In the late 19th century, pies made their way to America with the wave of Italian immigrants, and they were wrapped in cheap newsprint or paper bags. It wasn't until the 1950s that pizza boxes were actually created.
Domino's was said to be the first to design the corrugated box that was durable and kept cheese from sticking to the top.
Freeport Paper on Long Island produces about 10 million pizza boxes a week, and ships all over the world.
Altschul asked, "What's the most popular design?"
"In the early years, there was always an old-fashioned pizza guy with a big mustache in front of the box," said Gil Korine, the president of Freeport Paper. "In more recent years, it kind of went into more of a cafe design."
"So, which is more important? The pizza inside, or the box?"
Korine laughed: "I love the box! The first thing you see is the box. And then you get to enjoy the pizza."
And for less than 60 cents a box, pizza locations big and small are able to market themselves, using graphics created by people like Holly Del Re, the main designer at Freeport Paper. She has crafted more than 10,000 different box designs.
"It's silly, but even when I'm driving around and I see them sticking out of garbage cans at the side of the curb, I'm like, 'There's my box!'" she laughed. "So, yeah, that makes me feel good. And I hope that people enjoy the product that's in the box -- and the outside of the box, too."
Scott Wiener sure does. He holds the Guinness World Record for the largest pizza box collection, and has written a book about his passion: "Viva la Pizza!: The Art of the Pizza Box" (Melville House).
"Do people ever say, 'He's nuts, what is he doing?'" Altschul asked.
"Maybe not to my face," Wiener replied. "But I know when I tell somebody that I collect pizza boxes there's almost a moment when I have to take a deep breath and prepare myself for the look I'm going to get."
"Are you hungry for pizza right now?
"Yes, absolutely! I haven't had a slice in ... a day!"

For more info:
Thanks for reading CBS NEWS.
Create your free account or log in
for more features.