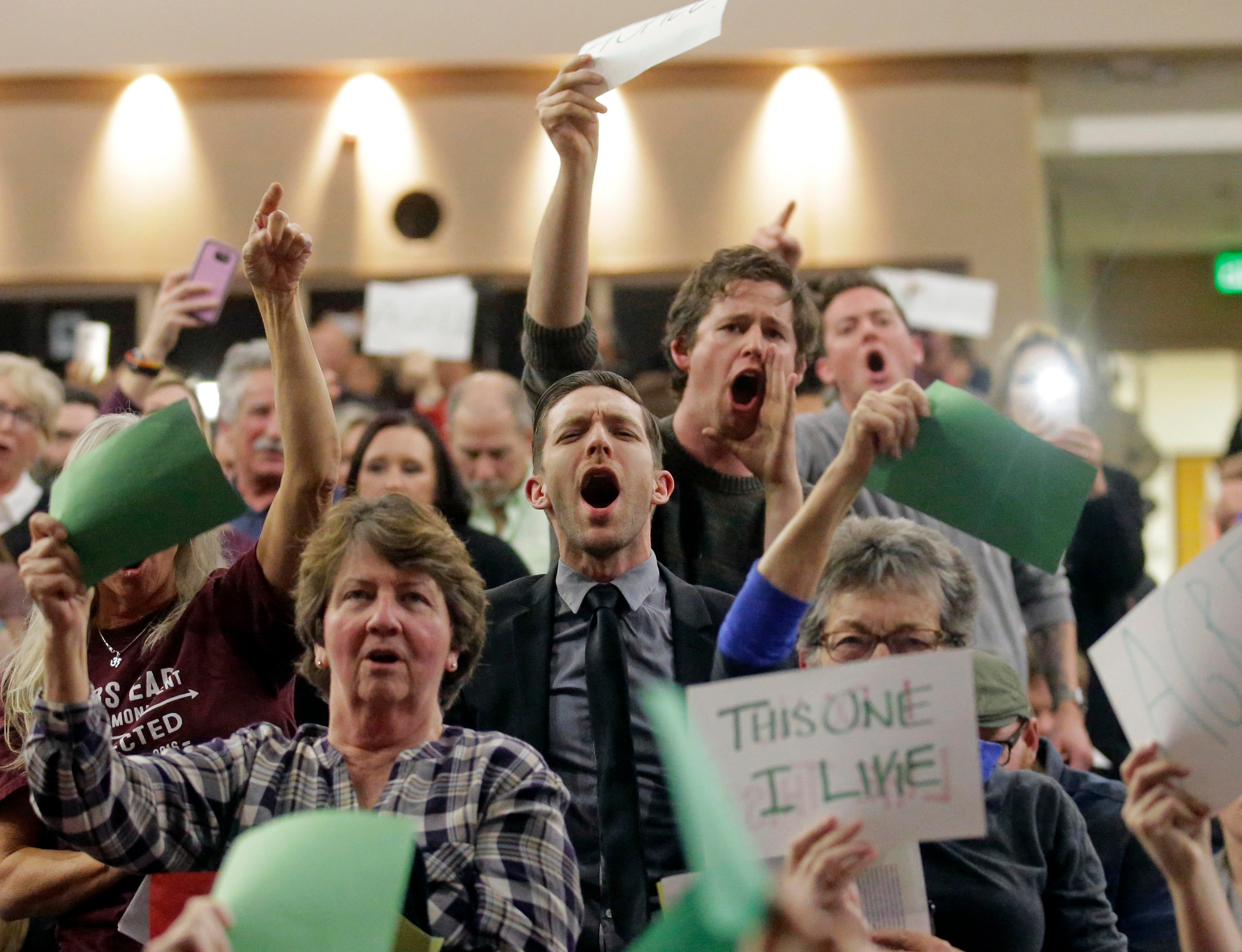 Meet the protesters flooding politicians' town halls
For some, the road to resistance proves long. For Kristin Moline, it stretched 800 miles.
The full-time nurse crossed Oregon by car to ask her Representative a question during this week's Congressional recess. With the day off from work, Kristin woke in the early hours of Friday morning to fulfill a civic duty and a 12-hour road trip. En route to brick red Gilliam County, the navy veteran tweeted a 30-second introductory video from her passenger seat to Republican Congressman Greg Walden.
"I have just one favor to ask you," Kristin chirped. "Could you please call on me today?"
Incidentally, Kristin and her husband arrived first to North Gilliam Co. Fire Hall, and voluntarily cleared the foot of snowfall lining the town hall entrance ramp. "We just happened to have a snow shovel in the car," Kristin recounts.
The member of District 2 Oregon's "Indivisible Group" positioned herself in the second row with cell phone in tow. She recorded the entire event in 15-minute increments, applauding politely at times and interrupting twice when the Congressman dodged questions.
"It felt rude," Kristin later says. "But what is even more rude is a member of Congress not answering our questions."
When her turn came, Kristin apologized for reading aloud from her phone. "I've never been to a town hall," she says.
She fidgeted in her seat, rising to shake Rep. Walden's hand. "This is the first time I've met a member of my Congress," she told him before carefully reciting a question about individual mandates under the Affordable Care Act.
Kristin updated followers in a "lessons learned" video recorded back home in her driveway. "Don't let go of that microphone, and just persist." She quickly posted the message to her month-old twitter account.
Concerned constituents who are not called by long road trips may sign up to be called Sunday nights at 8 p.m. Weekly "Ready to Resist calls" sponsored by the progressive group MoveOn draw participants from a handful of grassroots groups and all 50 states.
Two days after her road trip, Kristin recounted her story on the call to 46,475 recorded listeners and watcher. Some dialed in, while others live streamed the event — complete with PowerPoint presentation.
Also on the call was Ezra Levin, a former Congressional staffer who created the "Indivisible Guide," a 26-page "practical guide for resisting the Trump agenda." After brainstorming with friends over Thanksgiving dinner, he and his wife fleshed out a bare-bones instruction manual to feed a brewing movement of hungry activists.
"It all started as a Google doc," Ezra says. "We released it online with an embarrassing number of typos." Indivisible, the group they helped found, released a more carefully crafted PDF, which has since been downloaded 1.789 million times.
"This is not a rainbows and butterflies document," Ezra says. "During the rise of the Tea Party, we saw a relatively vocal group of constituents have a huge impact on the national government."
Despite what he calls its "backwards agenda," Ezra concedes the Tea Party struck the right balance, steeping local tactics in a defensive kettle. "They recognized that the power of the president resided in constituents."
Virginian Maureen Hains voted for insurgent Tea Party candidate David Brat in 2014. "I was not well informed of what the Tea Party was truly about," she says. Less than a week after President Trump's inauguration, Maureen created a Facebook page entitled "7th District Town Hall Meeting." Her first post? "The constituents of the 7th District would like Congressman Dave Brat to please answer our question: When is the next Town Hall meeting?"
Two days later, someone sent her a video of Rep. Brat speaking at a private event. "Since Obamacare and these issues have come up, the women are in my grill no matter where I go," he told audience members. "They come up — 'When is your next town hall?"
Maureen shared the video on her Facebook group wall, and watched it take off. Dozens of women joined forces to organize a "#Grilling with Bratwurst" event. Participants attested "I'm not a paid protester!" on a Facebook livestream of the event outside Rep. Brat's local office. Also featured was a barbecue lit by paper flames, which served up constituent concerns written on index cards, later delivered to the Congressman.
These eye-catching tactics mirror antics unseating incumbents back in 2014, ultimately electing Tea Party symbols like David Brat. Maureen says that while she does not subscribe to the law of retaliation, she appreciates the irony of spoon-feeding the Tea Party its own medicine.
Six states northwest, Sen. Chuck Grassley met over 100 constituents in Iowa falls this week, the same venue he confronted nascent Tea Party members eight years ago. Back in the summer of 2009, participants protested government-controlled healthcare. This time around, Obamacare recipients urged their senator not to repeal.
Although 95 percent of incumbents were reelected last November, Congress averaged an approval rating of just under 17 percent in 2016. "The reason for the gap between the two is that representatives in Congress are very good at crafting their local image," Ezra Levin notes.
"What we know about individual members of Congress is that they are extraordinarily responsive to constituents," he explains. "That disposition means they wake up every morning thinking about re-election."
Wendy Garcia, a full-time Arizona mom who oversees her husband's construction company, also wakes up thinking about the midterms. "I start my morning with a pot of coffee at 6 a.m., and immediately start calling my DC representatives' offices," Wendy recounts. "Then I wake my children, get them off to school, and begin calling my local offices in Phoenix."
"This is my life now," she says, owning her newfound reality of last-minute rallies and homemade press releases. The astonishment in her voice befits her new title as Director of Indivisible's chapter in Surprise, Arizona. When she is not asking for a town hall meeting, Wendy enjoys telling Senate staffers about her "special interests", which she describes as 9 and 15 years old.
This week, she is organizing a missing persons event held in honor of Republican Senator Jeff Flake — the second this month. "We're calling it 'Searching for Jeff Flake 2,'" she laughs.
Wendy is not the only one pushing back on President Trump's description of "so-called angry crowds" as hardcore liberal activists.
Nelini Stamp scoffs when asked about professional protesters. "We've estimated 30,000 people participate in 'Trump Tuesdays'," says the New York Working Family Parties organizer. "We doubt all of them are professionally paid activists given the little money these organizations get."
The Trump Tuesday events are modeled after Moral Mondays, the protests against then-Governor Pat McCrory in North Carolina. In 2013, sit-ins there turned into walk-ins at the state legislature building, resulting in the peaceful arrest of hundreds.
Nahini is one of thousands to appear outside the Democratic Sen. Chuck Schumer's Brooklyn walk-up in late January. Megaphone-toting New Yorkers sang and chanted on the street, dropping off energy bars on their Senator's front steps to help him "bulk up" for the fight ahead.
In purple Virginia, Trump Tuesday encounters outside Democratic Sen. Mark Warner's Vienna offices also feature snacks. The treats are provided by staffers who shake hands and take notes as constituents cycle through in groups of eight. According to the Senator's office, last week's event grew the largest crowd, with a headcount of 160.
Two hundred miles south, organizer Ivonne Wallace Fuentes prepared a "people's town hall" for constituents of GOP Rep. Bob Goodlatte. Ivonne says the Congressman turned down her invitation to join, so her team printed out his talking points to address constituent concerns. "So for example," she explains, "if people have questions about where Sen. Goodlatte stands on the EPA, we can pull out his press release."
But measuring the resistance movement is no small task with no good ruler. Groups like Indivisible have reported 5,000 chapter organizations, and 1,307 events and meetings totaling over 20,000 RSVPed participants. MoveOn has separately reported 22,000 attendees RSVPed for "resistance recess" activities.
In another budding project intended to track and facilitate the resistance, the ACLU has budgeted $13 million dollars of the over $24 million it raised in the weekend following President Trump's immigration executive order. National political director Faiz Shakir told CBS News the ACLU partnered with former Bernie Sanders' team members Becky Bond and Kenneth Pennington to create a "People Power" database set to launch on March 11, with the first town hall event held at the University of Florida Basketball Arena in Miami.
The ACLU hopes to lend its "collective brainpower to sustain a movement that is lasting and influential," and calls funding and manpower behind the project "organic."
That is a departure from Press Secretary Sean Spicer's comments this week on disrupted town hall meetings. "There is a bit of professional protester, manufactured base," he told reporters.
Attributing activism to a larger machine is nothing new. Then-White House press secretary Robert Gibbs had a similar message in 2009 after Tea Party protests hit summertime town halls. "Well, I think what you've seen is they have bragged about manufacturing to some degree that anger," he said in a press briefing.
Yet for those dipping their toes into the activism ocean, support in the form of online calendars and instruction manuals are welcomed with open arms. After sharing her Oregon road-trip excursion to fellow activists on the "Ready to Resist call," Kristin Moline listened to instructions from national organizers on how to "go-live on Facebook," which she later put to the test at a "Where's Walden" search party held in her hometown.
For Kristin, live streaming is a first, along with attending a town hall and shaking hands with her representative. "Like this is insane. I'm a nurse," she says through choked laughter.
She pauses to collect herself. "But you know what? People like me are stepping up."
Thanks for reading CBS NEWS.
Create your free account or log in
for more features.