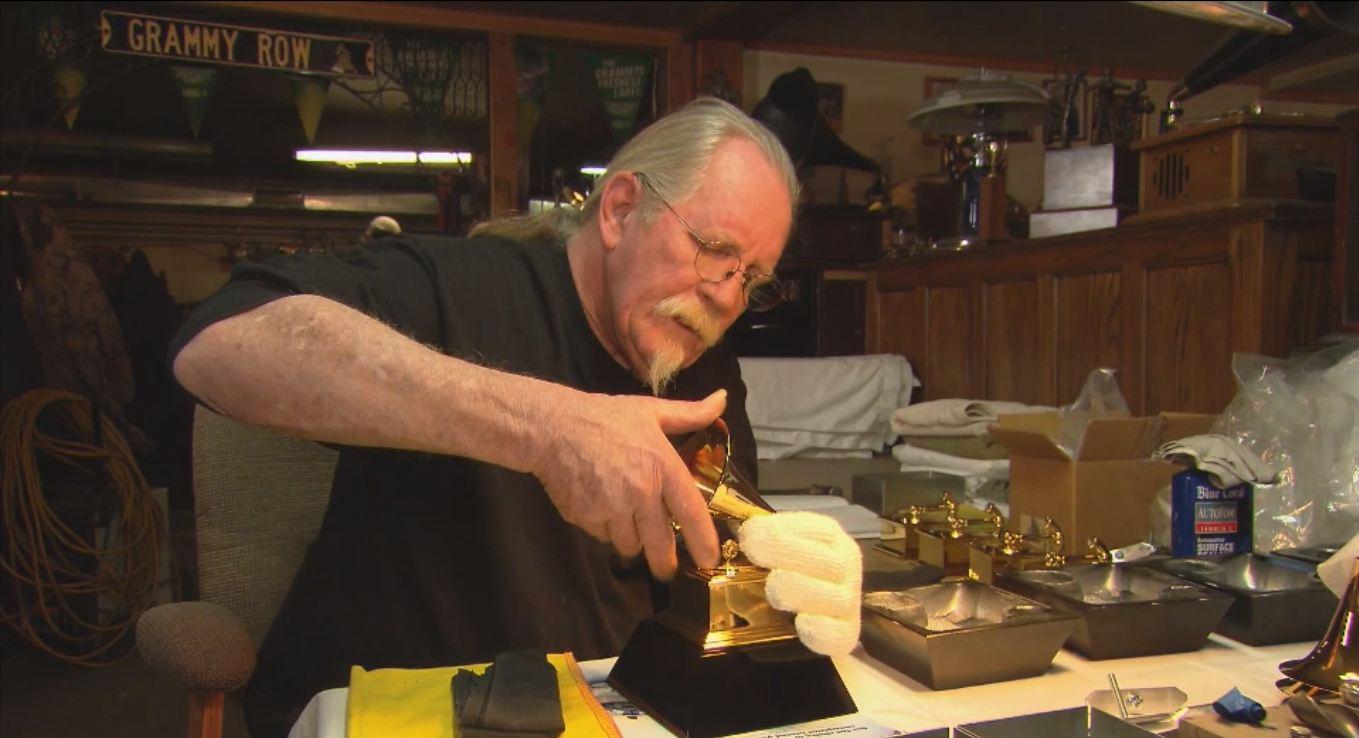 Meet the man who crafts each Grammy award by hand
On Grammy night, a fortunate few go home with an armful of excess baggage, but it's a burden they're more than happy to bear.
Most have no idea that the shiny piece of hardware — the music industry's biggest prize — takes shape far from the luster of Los Angeles. And it's the only major entertainment award trophy still poured by hand, reports CBS News correspondent Mireya Villarreal.
Eight hundred miles away, surrounded by snow-capped mountains, lies tiny Ridgway Colorado, with a population of 945.
"It's quiet, we have no crime, people look out for one another," said craftsman John Billings. He came here in 1993 to build light fixtures for a client. He never left.
"When you came to visit Ridgway, did you just know, 'This is where I want to be'?" Villarreal asked.
"In an instant," Billings replied.
He set up shop and brought his most famous work of art with him.

"How many Grammys do you do in this workshop?" Villarreal asked.
"All together we're making 600 Grammys in a year's time," Billings said.
Growing up in Los Angeles, Billings apprenticed for Bob Graves, who crafted the very first Grammy statue in 1959. On his deathbed in 1983, Graves passed on his legacy.
"He asked me to promise that I would not let another company get the Grammy awards, that I would keep them," Billings said.
Each Grammy starts with the base. Six-hundred-fifty-degree molten metal is hand-poured into a custom mold. It solidifies almost instantly into a shape recognized around the world.
"This is a special mixture of metals?" Villarreal asked.
"Yes, it's a mixture of zinc and aluminum and it has some trace elements in it and I can't tell you what those are," Billings said.
"That's the secret?" Villarreal asked.
"Yes," Billings said.
He even gave it his own name: "Grammium."
It takes 15 meticulous hours to assemble each statue, piece by piece, finished only when the familiar gold-plated horn is screwed into place.
"We don't know each Grammy, who's going to get that Grammy but we imagine in our minds, it's going to our favorite person," Billings said.
And one time, it actually did.
"It was when Bob Dylan was handed his Lifetime Achievement Award," Billings said. "And then I realized that, my hero! I made something for my hero!"
Over the years, Billings, 72, has turned minor mishaps into treasured memories.
"This was the one that Taylor Swift dropped when she was holding an armload of them. And it broke and we got her to autograph it for us!" Billings said.
And he's turned a lifetime of craftsmanship into a simple nickname: the "Grammy Man."
"I don't know if making the Grammys defines me, but it certainly fulfills my needs," Billings said.
"How long will you continue to do this?" Villarreal asked.
"As long as I can," Billings said.
After all, he has a promise to keep, to the mentor who asked him to keep the Grammy in the family over 30 years ago.
"Do you feel like you've lived up to that promise?" Villarreal asked.
"I do. I think he would be proud," Billings said.
Thanks for reading CBS NEWS.
Create your free account or log in
for more features.