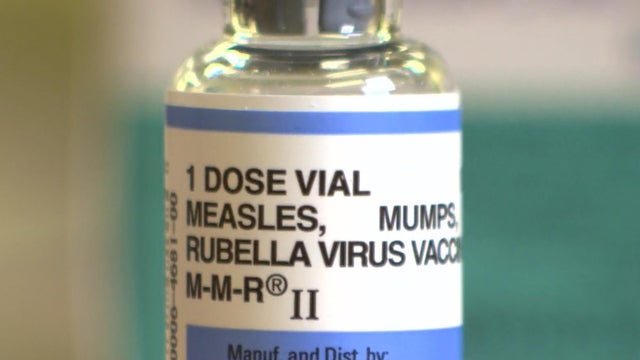 Poll: Childhood disease outbreaks raise support for vaccines
Sometimes a crisis can spark a shift toward safety.
A new nationwide poll from the University of Michigan, C.S. Mott Children's Hospital, says that more parents express positive views about vaccines following the resurgence of some common childhood diseases in the past year.
"Media coverage of outbreaks over the past year, accompanied by messages about vaccines for whooping cough and measles, may be swaying parents' opinions toward stronger beliefs in the positive aspects of vaccines," Dr. Matthew M. Davis, M.D., professor of Pediatrics and internal medicine in the Child Health Evaluation and Research Unit at the University of Michigan Medical School said in a statement.
The questions focused on the risks of contracting measles or whooping cough, opinions of vaccines and support for school requirements. Multiple-choice options rated their change in positive feelings towards vaccines as "more," "less" or "about the same."
Parents were asked about their perceptions of both the benefits and safety of vaccines. One-third of parents surveyed said they recognized more benefits to vaccines in the past year. One-quarter viewed the vaccines as safer.
Those more positive assessments translated into higher support for school vaccination requirements, as well. One-third of parents said they were now more supportive of school and day care vaccination requirements.
The survey, funded by the University of Michigan Health System, included 1,416 adult parents of minor children, who were selected to mirror the U.S. population.
Researchers say the poll was designed to determine whether parental views are affected by outbreaks, since parents are critical to the discussion of public health and vaccine requirements.
"Outbreaks of disease can safely be prevented through childhood vaccination, but there are deeply held convictions about parents' autonomy and remaining concerns among some parents about vaccine safety," said Davis.
A CBS News poll earlier this year showed nearly 9 out of 10 Americans believed measles vaccines were safe and two-thirds said parents should be required to vaccinate their children.
The outbreaks -- and recent death from measles -- in the past year may have also affected how parents view the risks for contracting illnesses like measles or whooping cough. Now, 40 percent believe the risk of American children catching measles is higher than it was a year ago. Forty-five percent say the risk is about the same and 15 percent say the risk is lower.
Despite protests from parental choice advocates, California signed a bill into law on July 1 that will require more people to comply with school vaccination requirements.
A large outbreak of measles at Disneyland last year, as well as outbreaks in Washington state, Michigan and New York have also fueled debate about vaccine requirements.
Statistics on how many children are vaccinated are hard to gauge accurately because some states report only a fraction of their vaccination records and percentages of children who have exemptions. According to the self-reported numbers of vaccine exemptions collected by the CDC, Oregon has the highest percentage of kindergartners with exemptions at 7.1 percent, followed closely by Idaho, Vermont and Michigan, all around 6 percent.
Though this survey indicates that parents may be on higher alert for vaccine-preventable illnesses and are increasing their trust in vaccines, researchers say their true attitudes will be reflected in what they do.
"The impact of such shifts in perception will ultimately be measured by whether more parents vaccinate their kids," said Davis.
Thanks for reading CBS NEWS.
Create your free account or log in
for more features.