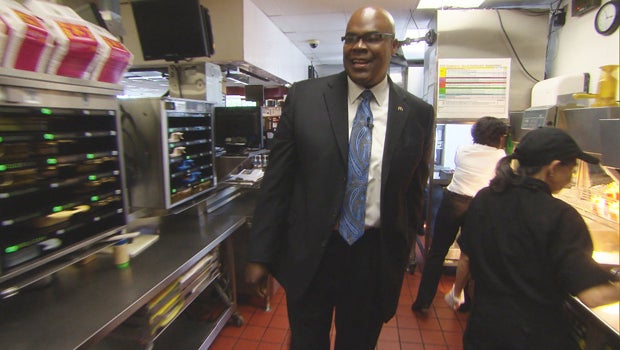 ​McDonald's CEO Don Thompson is still lovin' it
Ask the company's top man how his job is going and he'll tell you he's lovin' it, despite recent drops in sales. So does he have the recipe for putting McDonald's back on track? Our Cover Story is reported by Lee Cowan:
It was a day like any other at a McDonald's near Oak Brook, Ill., recently -- until, that is, Ronald McDonald's boss got hungry. That's when McDonald's CEO Don Thompson - the man in charge of the biggest restaurant chain in the world - stepped inside.
If you think having the "Big Cheese" on site might make employees a little nervous, well, you're right, except that McDonald's CEO Don Thompson -- the man in charge of the biggest restaurant chain in the world -- is disarmingly down to Earth.
"So can you still do every one of those positions?" asked Cowan. "Can you still go cook fries, you can still cook a burger?"
"I can still cook fries,' he replied. "I can still cook burgers. I offer quite a bit. Most of the time, they'll tell me, 'Get out of the kitchen Don! Go back out there and do what you do!'"
In the kitchen, Thompson is as happy as a Happy Meal -- and he seems just as blissful back at headquarters. He actually whistles while he works.
His meetings often begin with man-hugs ("Hey, hey, hey, what's going on, buddy?"). We even found him humming to himself at his desk.
It's tempting to think he doesn't have a care in the world, but you'd be wrong.

"We have 35,000 restaurants," he said. "We're a big target. If you attack McDonald's, you'll get press. And so, you know, just about any and everyone will attack McDonald's for something."
Thompson took the reins at McDonald's two years ago, as its first African American CEO. His charge: to make the Golden Arches golden again.
A recent Consumer Reports survey of fast food restaurants ranked McDonald's as the worst-tasting burger in the industry.
Sales have been in a downward spiral, with competitors like Chipotle, Wendy's and Taco Bell eating McDonald's profit share for lunch (and breakfast).
Cowan asked, "Do you think expectations were any higher for you when you took this job?"
"The fact that I'm African-American probably calls it out more," Thompson said. "If the bar is a little bit higher in some regards, it's always been a little bit higher. It's not a new thing for me to be an African-American. It's new to be an African-American CEO."
Thompson grew up in the shadow of Chicago's Cabrini-Green, the nation's most notorious public housing project.
Growing up, "I think there was one McDonald's in our neighborhood," he said, "and I do remember my grandmother, who raised me, walking by the McDonald's and I'd go, 'I'd like to have a McDonald's!' And I remember her distinct words: 'We're going home. I'll make you a McDonald's!'"
Eating out was a luxury.
Liz, his wife of 26 years, grew up nearby, just across the street from the Cabrini-Green high rises, that everyone called "the projects" -- a word they don't like to use: "Nobody wants to feel like they're part of a project."
They both made it out of the "neighborhood," as they call it. They met studying engineering at Purdue University.
"I do remember he had on a blue polyester jacket with tan polyester pants," said Liz. "It was the only jacket I had!" he laughed.
He doesn't have that suit anymore, but Cowan did find Liz's old row house. It's long since been abandoned.
She said she wouldn't trade the way she grew up for anything: "That was pure. That was life, and that was love all on that street right there."
"This was a beautiful childhood, you know," said Don. "Money doesn't solve all the problems."
But hard work, he says, can solve a lot.
He started at McDonald's 24 years ago as an engineer -- robotics and the like -- helping keep the kitchen equipment, like the French fryers, high-tech.
Although he never went to business school, something about management struck him. So one day he decided to put his engineer's pocket protector aside and picked up a spatula instead.
"At McDonald's back then, it didn't matter what degree you had; if you didn't understand mustard, ketchup, onion and pickles, you didn't understand business -- you didn't understand McDonald's," said Thompson. "You had to know how to make a hamburger. You had to know how to clean out a fry vat, clean a restroom, wipe a table, take an order."
"What did you think in doing all that -- you've got this degree in engineering, and you're cleaning out the bathroom?" asked Cowan.
"You know what? I never looked back. It's interesting that you ask it now, Lee. I never looked back at the time."
No wonder: He now makes upwards of $9 million a year as the McDonald's CEO.
But that kind of executive pay has become one of the focal points in the nation's minimum wage debate. Recently, thousands of hourly employees staged sit-ins to claim their share of the fast-food profits. They're demanding McDonald's (among other fast-food chains) super-size their wages, from around $8 or $9 an hour up to $15.
"I think there are probably a lot of folks who would think that you could be more sympathetic, I guess, with the plight of folks who say they want to get paid more," said Cowan.
"Yeah?"
"Are you?"
"I can't bemoan anyone for saying, 'I want to make more money so I can take care of my family.' I admire it," Thompson said. "I don't want any of our employees at McDonald's to be of a mindset that, what I am is a minimum wage anything."
In a recent meeting at the White House, Thompson told the President he would support a federal minimum wage hike, as long as it was phased in slowly.
In the meantime, he says McDonald's will continue to invest in its people if THEY invest back in the company.
"Today at McDonald's 60 percent of our franchisees -- those that own restaurants in the U.S. -- started as hourly employees," he said.
But his biggest battle is the oldest battle: the perception that fast food is junk food.
It's not all healthy, to be sure. But the menu isn't what it used to be.
"I don't believe that there is junk food," said McDonald's executive chef Dan Coudreaut. "I don't believe that there is a forbidden food."
Coudreaut came from the fine-dining world of the Four Seasons hotels.
He's the brains behind McDonald's Oatmeal and Egg-White Delights, just two of nearly 2,000 menu ideas he and his team come up with in the McDonald's test kitchen every year.
"It has to hit a very rigorous process to get from this kitchen to the restaurant," said Coudreaut.
"No one has done more to make changes relative to adding milk, fruits. We've tried vegetables," said Thompson. "We still will try them here and there. We've got a couple other things that'll come out. No one has done more in that arena than McDonald's."
To prove it, Thompson is turning to social media. A new PR campaign has professional skeptic and former "Mythbusters" host Grant Imahara answering some of the grossest online questions sent in by consumers, such as, "At what point in the process do we inject the pink slime?" or "Are there lips and eyeballs in there, Jimmy?"
Cowan asked Liz, "What's it like for you when there are slings and arrow that come his way?"
"It's tough," she replied. "They don't know him, right? They don't know the man that I know."
With 35,000 restaurants in more than 100 countries, there's no denying McDonald's' influence. It affects everything from agriculture to animal welfare to food safety.
But when it comes to the man responsible for it all, Don Thompson doesn't think of himself as the head of some iconic brand.
He sees himself-as his wife does -- as the same guy who started on the grill all those years ago.
"It doesn't matter what job you do," he said. "If you're the greatest maintenance person at McDonald's for 30 years, but you are that person that makes everybody happy, you enjoy what you do, how you do it, everyone loves you and you love them, you're a blessed person, you know?
"And so that's the way we've lived our life, and it's a little too late to change!" he laughed.

For more info:
Thanks for reading CBS NEWS.
Create your free account or log in
for more features.