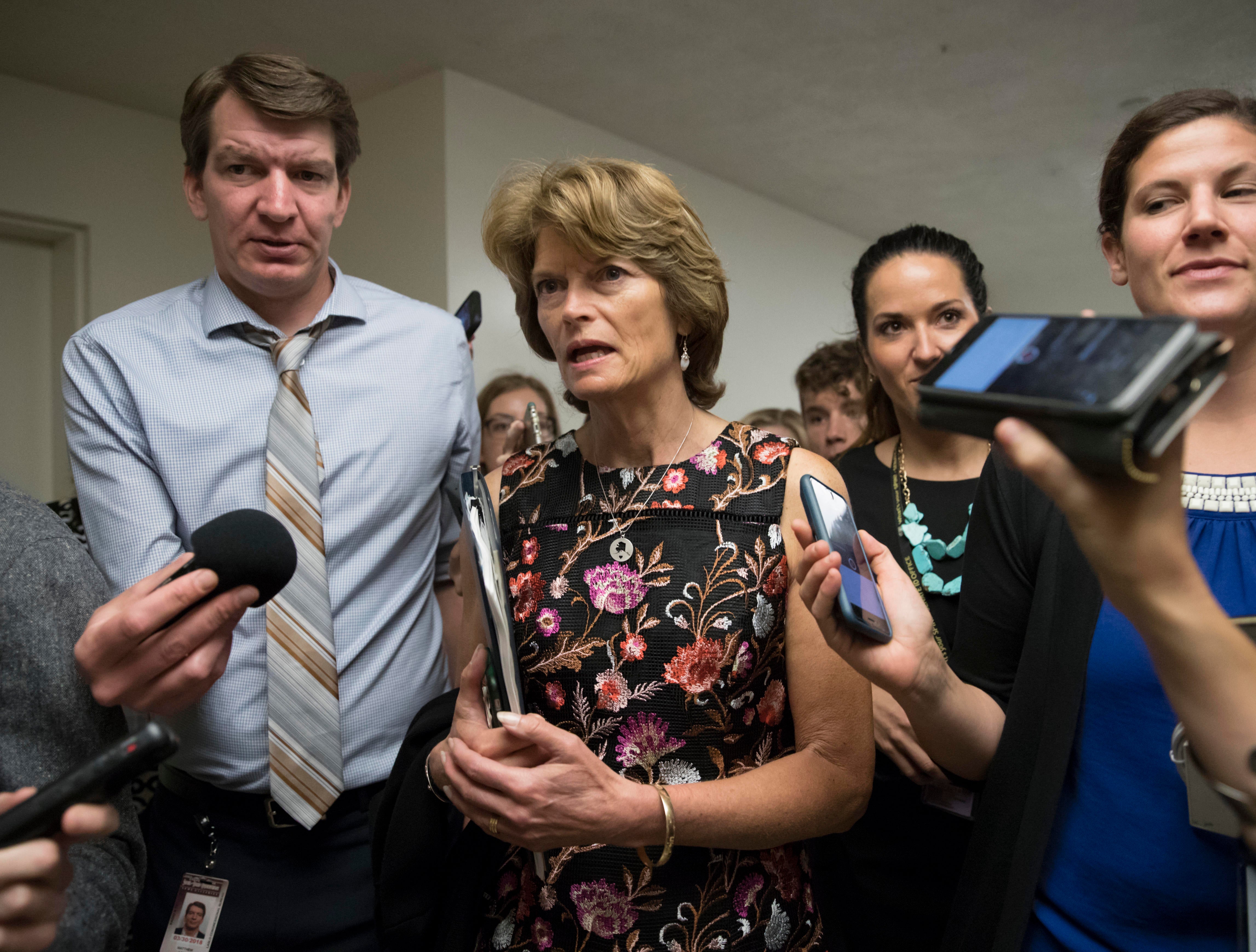 McConnell's latest Obamacare repeal strategy dies in Senate
Senate Majority Leader Mitch McConnell's plan to vote on a bill from 2015 that would repeal Obamacare with a two-year delay to find a replacement plan died in the Senate Tuesday.
In rapid succession, three Republican senators signaled that they would vote against a motion to proceed on the measure: Susan Collins of Maine, Shelley Moore Capito of West Virginia and Lisa Murkowski of Alaska.
Despite their opposition, McConnell said that the Senate will still hold a vote on the legislation in the "very near future." Senate Majority Whip John Cornyn, R-Texas, told reporters that he expects a vote on the motion to proceed to the bill this week.
"It's pretty obvious that we don't have 50 members who can agree on a replacement," McConnell told reporters at a press conference following a closed-door Senate GOP Conference lunch that Vice President Mike Pence attended.
Collins, Capito and Murkowski, however, have signaled that they would block it from advancing.
"I'm going to oppose the motion to proceed," Collins told reporters. "I voted against this approach in 2015 and I do not think it's going to be constructive to repeal a law that at this point is so interwoven within our healthcare system and then hope over the next two years we will come up with some kind of a replacement. I think that would create great anxiety for individuals who rely on the ACA, I believe it would cause the insurance markets to go into turmoil."
While Sen. Shelley Moore Capito, R-West Virginia, said in a statement, "I cannot vote to repeal Obamacare without a replacement plan that addresses my concerns and the needs of West Virginians," she then made her position even clearer on Twitter.
As Murkowski boarded an elevator at the Capitol, she told reporters she is a "no" on the motion to proceed.
Asked what these failed efforts say about the GOP's ability to govern, Sen. Pat Roberts, R-Kansas, said "Not much."
Sen. Richard Shelby, R-Alabama, expressed frustration at this own Republican colleagues.
"We ought to vote and people ought to be recorded up or down because a lot of promises were made when they ran and some people seem to be nervous about keeping their promise," he said.
As news of the doomed strategy unfolded on Capitol Hill, President Trump said at the White House Tuesday, "let Obamacare fail."
"It will be a lot easier. And I think we're probably in that position where we'll just let Obamacare fail. We're not going to own it. I'm not going to own it. I can tell you, the Republicans are not going to own it," he said.
This comes after a second version of the Senate Republican plan to repeal and replace the 2010 health care law hit a dead end late Monday, as two more GOP lawmakers came out against it, effectively blocking the legislation from advancing.
While it's unclear how Republican leaders in both chambers plan to move forward on health care, a number of GOP senators are already calling for bipartisan negotiations.
CBS News' Kathryn Watson contributed to this report.
Thanks for reading CBS NEWS.
Create your free account or log in
for more features.