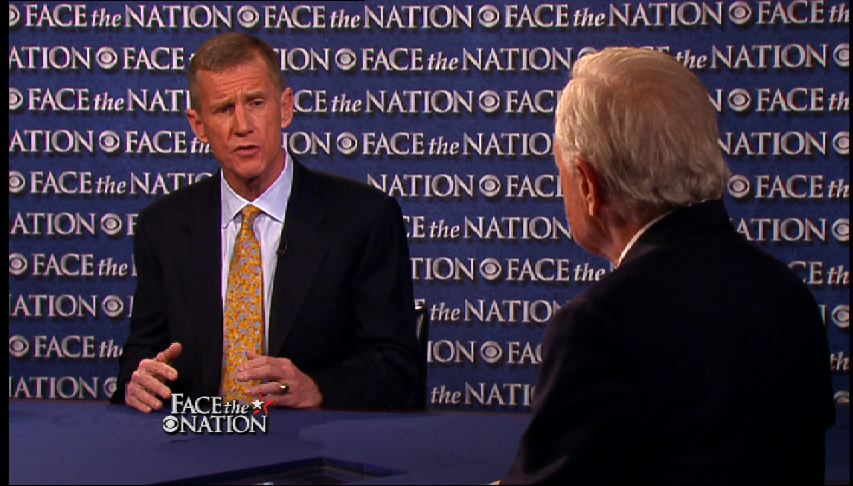 McChrystal: I regret not finishing the job in Afghanistan
(CBS News) Amid news that the White House is pushing for a full withdrawal of U.S. troops from Afghanistan, retired Army Gen. Stanley McChrystal said today on "Face the Nation" he regrets that he didn't get to finish the job there.
"I have regrets that some of the things I was responsible for, I didn't finish," he said, referring to his forced resignation in 2010 over a Rolling Stone article that quoted members of his team making disparaging remarks about President Obama. "I didn't finish the job in Afghanistan. I let down a lot of people that worked for me, 150,000 troops worked for me, the Afghan people, many of them believed deeply in me."
McChrystal said he doesn't believe the Rolling Stone piece "was particularly accurate in the way it represented my team but, you know, I was in command. And the simple elegance of command is, you assume responsibility." In his new book, "My Share of the Task," he said he chose not to devote time pointing fingers over the incident because "I'm not sure Washington needs another book like that."
Though he wouldn't comment on how many U.S. troops - if any - should remain in Afghanistan, McChrystal said while Afghan forces are "improving," they've "got a long way to go."
"When I got [to Afghanistan] in 2002, the country was physically devastated, and morally and mentally traumatized. The society was in tatters," he said. "There's been an awful lot of... progress, but Afghanistan is hard. It's always hard. If you study their history, it's complex and difficult. [Now] there are females in school, there are opportunities, there are places that are secure that were not secure just a few years ago.
"...My question on the future is what do we want in the region; this is not just a case of, al Qaeda was in Afghanistan, and now they largely are not," McChyrstal continued. "I believe Afghanistan can be stable. I think they must take responsibility for their security, the vast lion's share, but I think the strategic partnership that President Obama offered to President Karzai is critical. Not just physically. It's not how many troops and how much money, it's the idea in the minds of Afghans that they have a reliable partner."
As for former Sen. Chuck Hagel, R-Neb., who will face immediate decisions about troop levels in the region if he is confirmed as Defense Secretary Leon Panetta's replacement, McChyrstal said while he's only met him once, "I certainly have no problem with him."
Hagel, a Vietnam War veteran, "certainly has a great record, not just as a soldier, but as a senator," he said.
Thanks for reading CBS NEWS.
Create your free account or log in
for more features.