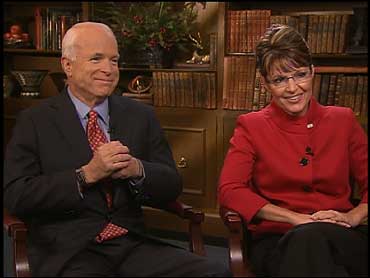 McCain: Sarah Palin is Not Inciting Violence
Sen. John McCain is defending his former running mate Sarah Palin against charges she is inciting violence against Democratic lawmakers.

Earlier this week, Palin unveiled a so-called target list of the Democrats she is focused on defeating in the November midterm elections. On her Facebook page, she also offered a graphic showing where the lawmakers are located -- with targets over each of their districts.

That angered liberal bloggers and Democratic officials who are sounding alarms about threats to Democratic lawmakers in the wake of passage of the health care reform bill. House Majority Leader Steny Hoyer said Wednesday that more than 10 members of Congress have received threats in the wake of the vote, prompting FBI and police investigations.

"Republican leaders are themselves engaging in actions and rhetoric that previously would have been limited to fringe elements of the Republican Party," Democratic National Committee chairman Tim Kaine said in a statement Wednesday. "Sarah Palin has invoked health care 'death panels' and has now placed gun sights on 20 Members of Congress who supported reform."

Palin was also criticized for inciting violence for writing this on Twitter: "Commonsense Conservatives & lovers of America: 'Don't Retreat, Instead - RELOAD!'"

On NBC's "Today Show" Thursday, McCain was asked about what host Ann Curry described as Palin's "incendiary language."

Ann, I have seen the rhetoric of targeted districts as long as I've been in politics," he replied. "Please. This is -- any threat of violence is terrible, but to say that there is a targeted district or that we 'reload' or go back in to the fight again, please...Those are fine. They're used all the time."

"Those words have been used throughout of my political career," McCain added. "There are targeted districts, and there are areas that we call battleground states, and so please, that rhetoric and kind of language is just part of the political lexicon. There is no place for threats of violence or anything else, but to say that someone is in a battleground state is not originated today."

After a testy back-and-forth, Curry said, "I think it is the 'reload' and 'crosshairs' that's caused a lot of people to be concerned, senator."

"Maybe it has, and we condemn any violence, any threats of violence," responded McCain. "But I've heard all of that language throughout my political career."

The Arizona senator said that anger about the bill "should be channeled into voter registration and go continue the struggle that we're in to regain America and stop mortgaging our children's futures."

CNN.com reports that Palin's team is also contesting critics' claims. An unnamed Palin adviser pointed the site to instances of Palin pushing for civil debate and said that Palin "has been vocal about condemning violence."
Thanks for reading CBS NEWS.
Create your free account or log in
for more features.