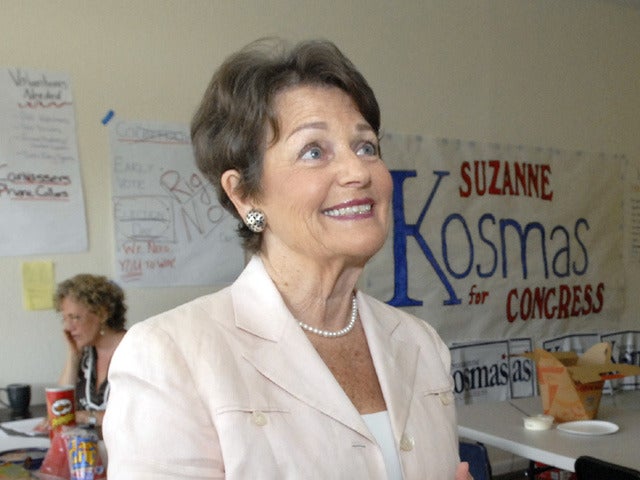 McCain Districts Come Back To Haunt House Democrats
When I met Republican congresswoman-elect Sandy Adams last month in Orlando, the four-term state legislator and former deputy sheriff was on message.
"Like so many other Americans, many Floridians, and people in the district, I'm concerned that Washington is broken," she told me in an interview. "Their tax and spend policies are mortgaging the future of our children and grandchildren."
Adams was challenging Freshman House Democrat Suzanne Kosmas in Florida's 24th district, which sprawls from the Orlando suburbs out to what's called the Space Coast - Cape Canaveral and the Kennedy Space Center.
"If you look at the pieces of legislation that have been passed - the stimulus, you have bailouts," Adams continued, "It's not we're not taxed enough, we have a spending problem in Congress."
Adams articulated national campaign themes - repeal Obama health care reform, extend the Bush income tax cuts to all brackets, link her opponent to House Speaker Nancy Pelosi.
Even before outside groups allied with Republicans, like the U.S. Chamber of Commerce, splurged a couple million dollars in negative TV ads against Kosmas, the incumbent was already a special kind of vulnerable Democrat.
Why Democrats Lost the House to Republicans
Ominous Signs For Obama In 2012
Why Key Midwest Swing States Flipped to the GOP
How the Party of No Became the Party of Yes
Like 47 other House Democratic candidates entering Tuesday, Kosmas was trying to hold a Democratic seat in a congressional district won by Republican presidential candidate John McCain in 2008. Though Kosmas had won her seat easily with 57% of the vote, McCain beat Obama by 2% in FL-24.
Looking at those "McCain 48," it turns out that 2010 Republicans won back 75% of those districts - perhaps as big a set of Democratic losers as any other grouping. This subset of geographically disadvantaged losing Democrats accounted for more than half of the GOP pickups, and close to 60% of their gains.
Adams handily beat Kosmas 60% to 40%.
Those five unseated Ohio Democrats? Three of them were McCain 48ers - Zack Space, Charlie Wilson, and John Boccieri. Because of this very vulnerability, I visited with Boccieri in Canton, Ohio, in August and his challenger, Jim Renacci.
"At the end of the day, my constituents vote for me to be their congressman, they don't vote for the President, they don't vote for a congressman from San Francisco," Boccieri told me, referring to Pelosi's hometown. "They vote for me."
Ohio's 16th gave Boccieri 55% of the vote two years ago, but his vote sunk to 41%. Rennaci unseated him with 52%.
In Pennsylvania and New York, two of the five Republican pickups were McCain districts. Republicans gained another pair in each of Arizona, Arkansas, Colorado, Florida, Indiana, Mississippi, and Virginia. In Tennessee, the Democrats lost three such districts.
In all, Democrats lost 36 of the "McCain 48" seats they held going into Election Day.
Perhaps that makes John McCain feel a little better about the outcome of the 2008 presidential race?
Thanks for reading CBS NEWS.
Create your free account or log in
for more features.