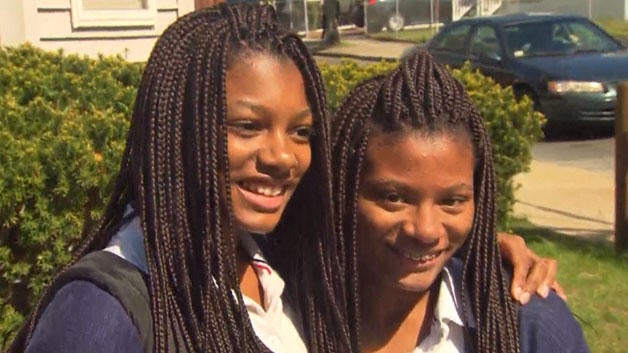 Mass. attorney general tells charter school to end ban on braided hair extensions
BOSTON -- The Massachusetts attorney general says a Boston charter school's policy that bans braided hair extensions is discriminatory, violating state and federal law, CBS Boston reports.
Maura Healey's office sent a letter to the Mystic Valley Regional Charter School on Friday, ordering the school to immediately stop enforcing its hair and makeup policy.
Last week, two sisters, Deanna and Mya, said they were punished and kept from school events because they wore braided hair extensions.
School administrators say the braids are a violation of their dress code. The girl's parents claim that policy is discriminatory and racist, which sparked an investigation by the attorney general.
Despite having more than 15 hours of detention, Mya Cook has been able to keep a positive attitude. "You know, no rain, no flowers, so when there's bad things that happen, of course good things are going to happen too," Mya Cook said.
In a letter to the school, the attorney general's office says the hair and makeup policy "includes a number of prohibitions that are either unreasonably subjective or appear to effectively single out students of color."
The letter goes on to say, "there appears to be substantial evidence that the [hair and makeup] policy is -- at best -- inconsistently applied."
The attorney general asked that the twins are immediately allowed back into all school events.
The twin girl's father, Aaron Cook, says he's grateful for the letter.
"We really appreciated the position of that the AG and the author laid out," Aaron Cook said.
Alexander J. Dan, the Interim School Director at the Mystic Valley Regional Charter School said, "We are in receipt of the letter from the attorney general's office and it will be reviewed by the board of trustees at a meeting that has been called for Sunday night."
The investigation into the policy's legality is ongoing.
Thanks for reading CBS NEWS.
Create your free account or log in
for more features.