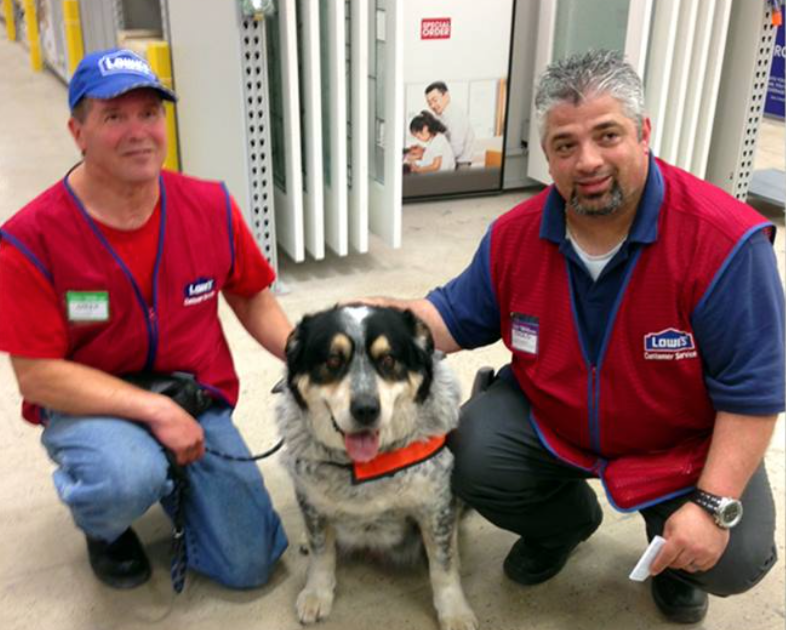 Man with brain injury cries tears of joy after Lowe's store gives him this
Owen Lima was expecting a swift rejection when he explained during a job interview at Lowe's that he suffers from a brain injury that requires him to have a service dog.
To his surprise, the store said he could keep his canine companion, Blue, by his side -- on one condition: The dog has to wear a vest like any other employee.
"It's so hard to find a job where people can accept me for the way I am and the fact that I have a service dog with me," Lima recalled tearfully telling Lowe's staff.
When the store manager in North Regina, Canada, Paul Gallo, heard about Lima's struggle, he reassured him: "We don't care about your past, what you are -- we care about what you can do."
Gallo quickly found a position that's just the right fit for Lima: He's going to be the store's new customer service associate, greeting customers and managing carts in a red vest right alongside 10-year-old Blue.
A photo of the tail-wagging dog that was posted on the Facebook page of Lowe's Canada on Tuesday went viral with more than 11,000 shares.
"We're overwhelmed," Gallo commented on the attention the story received on social media. "We never intended for this to happen. We listened to an individual and we took him on board like we would anyone else."
Because of his brain injury, Lima can have a hard time understanding people, especially when they talk fast. Whenever he gets frustrated Blue is there to calm him down and prevent anxiety attacks.
"[Blue] being in the store has made my job easier to do," Lima said.
As the dog's handler, Lima is expected to control the animal and ensure that it doesn't distract other employees from their duties. But from what Gallo's seen of the well-mannered pup so far, he's sure that won't be a problem.
The only problem may be resisting the urge to shower the dog with love while he's working, Gallo joked.
Thanks for reading CBS NEWS.
Create your free account or log in
for more features.