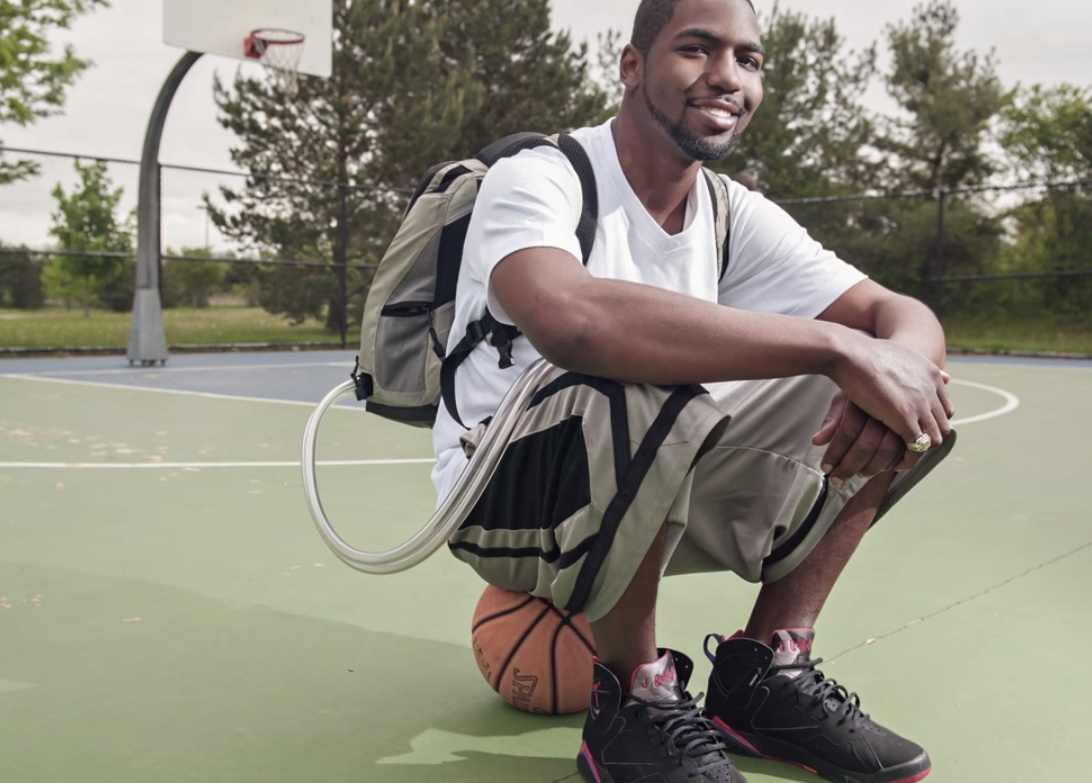 Man lived 555 days without a heart before transplant
Stan Larkin lived for 555 days without a heart while he waited for a transplant.
Then this May, his doctors at the University of Michigan Frankel Cardiovascular Center found him a matching donor heart and took the 25-year-old off of the artificial heart device which had kept him alive for more than a year and a half.
Larkin's heart specialist, Dr. Jonathan Haft, an associate professor of cardiac surgery at the University of Michigan, said when he first saw Larkin, the young man was very sick.
"When I first met Stan, he was dying in our ICU, and on lots of life support. He was skeptical of the artificial device -- of always being tied to the device components -- but he knew this was the best possible way of giving him time and getting him in shape for transplant," Haft told CBS News.
Larkin was the first patient in Michigan ever discharged with a SynCardia temporary total artificial heart. He had to carry part of the life-saving system around with him in a backpack.
"It was an emotional roller coaster," Larkin said at a news conference, describing what it was like to live with a total artificial heart, implanted to keep him alive until a donor heart became available.
Haft said most heart failure patients don't need a device like the one Larkin wore, which required a 13.5 pound Freedom portable driver to keep the artificial heart pumping.
"About 80 to 85 percent of patients mostly can be supported with a left ventricular assist device," he explained, like the one former vice president Dick Cheney used before he received a heart transplant in 2012.
"A smaller percentage of the population have failure on both sides [of the heart]. There have been lots of advances in both devices," Haft said.
The total artificial heart allowed his patient to be well prepared for his transplant surgery, performed in May by Haft and colleagues, the physician said.
Historically, patients who had advanced heart failure and were on the transplant list would get sicker and sicker, growing more debilitated the longer they waited, and that meant the chance of death was greater. But devices such as Larkin's are helping to shift the outlook.
"Having this device allows patient to live longer and become better transplant patients. People who are sick and dying are often in intensive care units and end up on mechanical ventilators and all these things to support them, and expose themselves to potential complications and become more debilitated. But when you can offer them mechanical support and functionally rehabilitate them physically and mentally and psychological, they are in a much better place at the time of transplant," Haft said.
Larkin, who first learned of his heart condition when he collapsed at age 16 on a basketball court, was even able to shoot hoops while wearing the device and awaiting his transplant.
At a press conference last week, Larkin, "I got the transplant two weeks ago and I feel like I could take a jog as we speak. I want to thank the donor who gave himself or herself for me. I'd like to meet their family one day. Hopefully they'd want to meet me."
The story is especially unique because Stan's older brother Dominique also relied on a total artificial heart before a heart transplant in 2015. The two brothers were diagnosed as teenagers with familial cardiomyopathy, a type of heart failure that can strike seemingly healthy people without warning. The condition is linked to sudden death among athletes called arrhythmogenic right ventricular cardiomyopathy.
"We wanted to get them heart transplants, but we didn't think we had enough time. There's just something about their unique anatomic situation where other technology wasn't going to work," Haft said in a press statement.
"He really thrived on the device," Haft said. "Stan pushed the envelope with this technology."
The physician said the patient's wide support net -- including family and friends -- also helped him and his brother through the months and years.
While it's a happy story, it's also bittersweet. The median survival after heart transplant is 11 years, meaning approximately half of patients will live longer and half will live less.
"Certainly many patients survive 20 years and beyond," Haft noted.
But transplant is not a cure. Basically, the patient trades in one disease for another and requires longterm medication and health monitoring. They'll always be susceptible to health issues -- including cancers, environmental toxins, and heart conditions.
"It's wonderful but not a lifelong cure," Haft said.
Thanks for reading CBS NEWS.
Create your free account or log in
for more features.