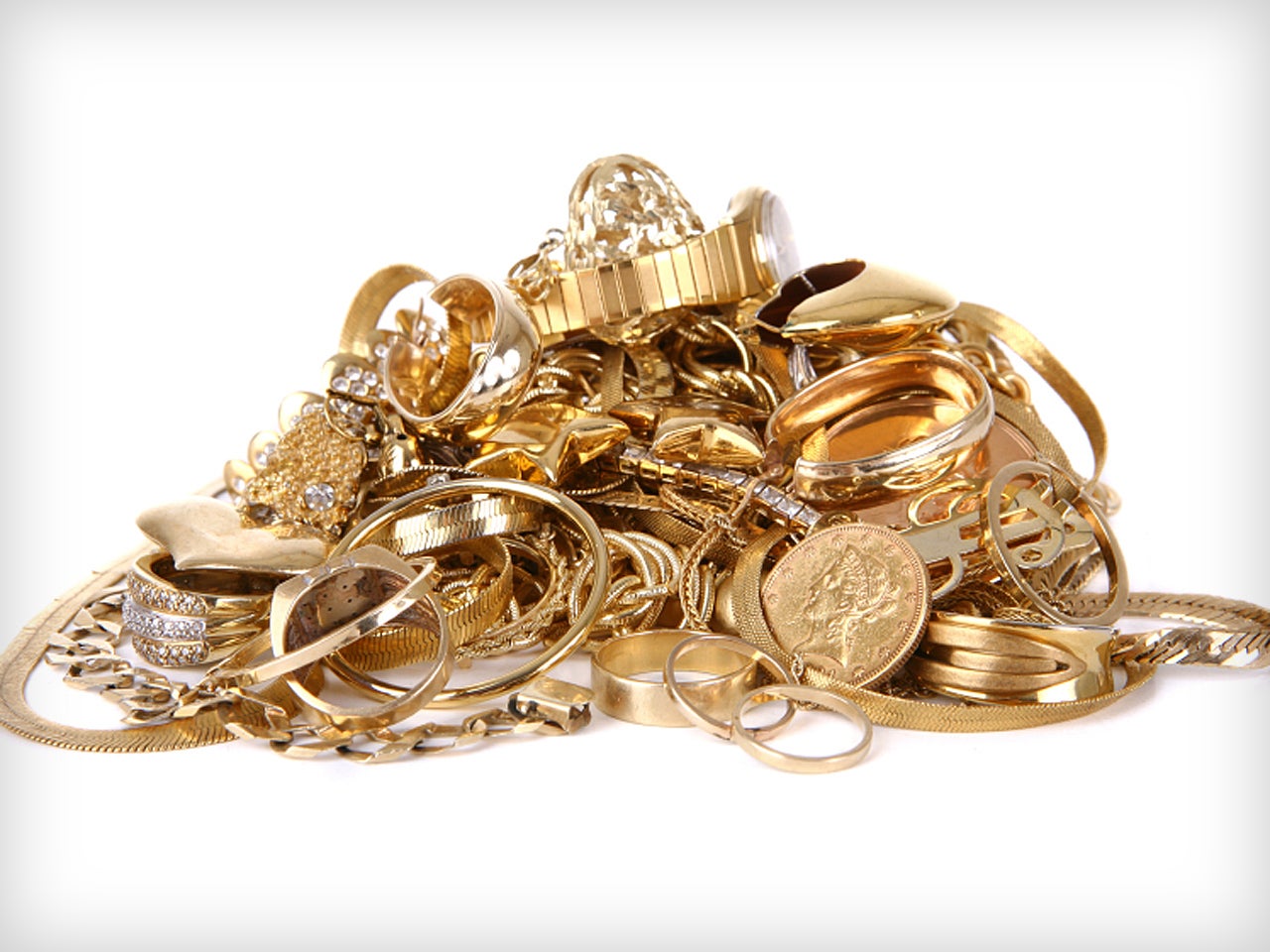 Major gold buyer cheating consumers?
(CBS News) The price of gold has doubled over the last three-and-a-half years, to more than $1,500 an ounce.
Many Americans who need quick cash are selling family heirlooms and other jewelry.
But when they do, they may not always get a fair price.
Six of our CBS stations took part in an investigation led by Julie Watts, of the CBS San Francisco station, KPIX.
The probe discovered one of the largest gold-buying operations in the country, THR & Associates, promises "top dollar," but offers just "pennies" on the dollar.
And while that may be legal -- lying to you about the quality of your gold is not.
In a video made during an undercover gold buy in Santa Cruz, Calif., a man is seen asking whether the seller has "ever seen a scratch test done?"
"I won't damage your pieces," the jeweler promises. "Basically, what I need to do is just confirm the gold content."
The Ohio Valley Gold & Silver Refinery travels around the country promising the "best value" for gold.
Marlene Powell and Karin Engle saw an ad for the same company in a Folsom, Calif. paper, under the name "Treasure Hunters Road Show."
"I had a piece of 18 karat gold that I know for a fact was 18 karat gold and they told me, no, it wasn't," Engle says.
We compiled complaints from across the country, mostly from senior citizens.
A 71-year-old grandmother in West Virginia and an 88-year-old on the Canadian border were both desperate for cash and willing to sell heirlooms for pennies on the dollar.
After jeweler Tom Broadwin heard similar complaints from his customers, he went to the same road show, which was traveling under yet another name, "Premier Estate Buyers."
"I had a gold bracelet filled with coins, unmistakably gold coins," Broadwin says. "The individual looked at it for a few moments and told me they were (gold-)plated. ... That was fraud right to my face."
Broadwin agreed to lend us $8,000 worth of gold, checking each piece for karat count and weight.
Three separate, independent jewelers confirmed that 13 of the 15 pieces were 18 karat gold.
Then, at the Santa Cruz road show, a manager carefully examined each item.
"Believe it or not," a man is seen saying on an undercover video, "half of what you have on the table here is copper."
He came to that conclusion after checking 18 karat stamps, and performing an acid test.
We then sent our gold to CBS stations in Sacramento, Boston, Philadelphia, Chicago and Dallas, asking them to go undercover.
In two cities, the company got the karat count right.
But in Santa Cruz, Dallas and Philadelphia, CBS producers were told 18 karat pieces were only 14 karats.
And three of the five initial offers we received, the ones in Dallas, Boston and Santa Cruz, were for less than a quarter of the gold's value.
"We're not in the business of lying to people," says Matthew Enright, a spokesperson for THR & Associates.
It turns out that the company operates 120 traveling shows a week, under at least eight different names.
Enright confirmed the value of the gold, saying it was indeed 18 karat.
But that's not what THR buyers said in the undercover video.
In an undercover video, one claimed some gold was 10 karat. It was 18 karat.
"It's obviously a concern for me, seeing that," Enright said.
Told it has happened on five different occasions across the country, so it wasn't an isolated incident, Enright said, "Well, it's a very small percentage compared to 140 managers that we have."
But the company's own buying guide does instruct employees to make a first offer of $1.50 per pennyweight. The going rate was more than 30 times that.
Isn't that excessive?
"Ahh, Ya know, it's absolutely legal," Enright replied.
Does he feel guilty?
"Do I feel guilty?" Enright repeated the question. "I'm not the one out there buying and doing those types of things."
Despite bringing in more than $300 million last year, THR recently stopped clearing checks when the bank closed its account.
The company says it's now scrambling to reissue checks out of a new account.
One of those checks is ours, and we're still waiting for the money.
As a result of our investigation, THR says two of its employees are no longer managers, but won't confirm they are no longer buying at road shows.
To see the Julie Watts report, click on the video in the player above.
Thanks for reading CBS NEWS.
Create your free account or log in
for more features.