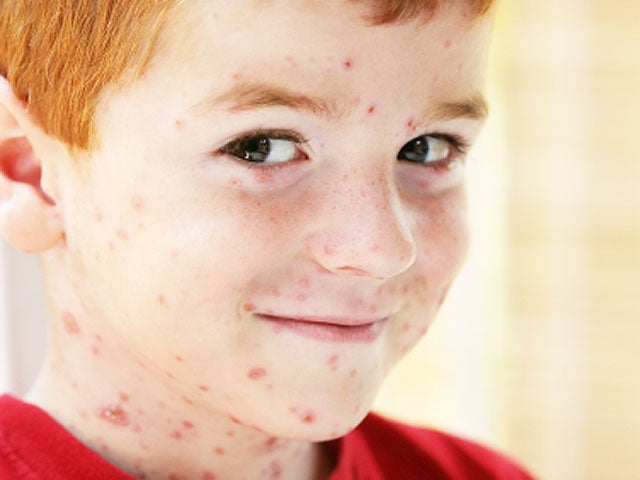 Mailing "chickenpox lollipops" called illegal, risky
(CBS/AP) Fear of childhood vaccinations has some parents paying to have a stranger send lollipops and other items purportedly licked by kids with chickenpox, but a federal prosecutor says that in addition to being a bad idea, it's illegal.

PICTURES: 10 deadly myths about childhood vaccines
Jerry Martin, U.S. attorney for the Middle District of Tennessee, made the comments after hearing reports this week from KPHO-TV in Phoenix and WSMV-TV in Nashville about people turning to Facebook to find lollipops, spit or other items from kids who have chickenpox.
"Can you imagine getting a package in the mail from this complete stranger that you know from Facebook because you joined a group, and say here, drink this purported spit from some other kid?" Martin told The Associated Press.
Isaac Thomsen, a pediatric infectious diseases specialist at Vanderbilt Children's Hospital, said it's unlikely the items will succeed in giving other children chickenpox.
"If there's a very high load on the virus and shipped very quickly, it's theoretically possible," he said. "But it's probably not an effective way to transmit it. It typically has to be inhaled."
But the lollipops could carry more dangerous viruses, including hepatitis, Thomsen warned.
Martin said it is a federal crime to send diseases or viruses across state lines, whether through the postal service or private services like FedEx. Sending the lollipops is illegal under the same law that makes it a crime to mail contagions like anthrax. onviction could lead to a sentence from less than a year to 20 years in prison, he said.
Martin said the items are sought by parents who don't want to give their children vaccines. He would neither confirm nor deny that his office is investigating or seeking charges against anyone.
TTV reports have said parents have turned to a Facebook group called "Find a Pox Party in Your Area" to link up people looking to share the virus.
One of the Facebook postings from Wendy Werkit of Nashville offered a "fresh batch of pox in Nashville shipping of suckers, spit and Q-tips available tomorrow 50 dollars via PayPal."
Werkit told WSMV that the money was used to pay the shipping costs of the lollipops had been licked by her children.
"They can't get (chickenpox) the normal way anymore of just naturally catching and just naturally getting the immunity for life," Werkit said.
Thomsen, the Vanderbilt physician, said he was even more concerned by a person in the KPHO report seeking items tainted with measles to avoid a school-required vaccination. Measles has a significant mortality rate, causes more complications and is very infectious compared with chickenpox, he said.
And law enforcement won't take any such cases lightly, Martin said.
"If you are engaged in this type of behavior, you're not only potentially exposing innocent people to dangerous viruses and illnesses and diseases, you're also exposing yourself potentially to federal criminal prosecution," he said.

Chickenpox is a viral infection that causes itchy blisters all over the body. It's caused by the varicella-zoster virus, the same one that causes herpes zoster (shingles) in adults.
Thanks for reading CBS NEWS.
Create your free account or log in
for more features.