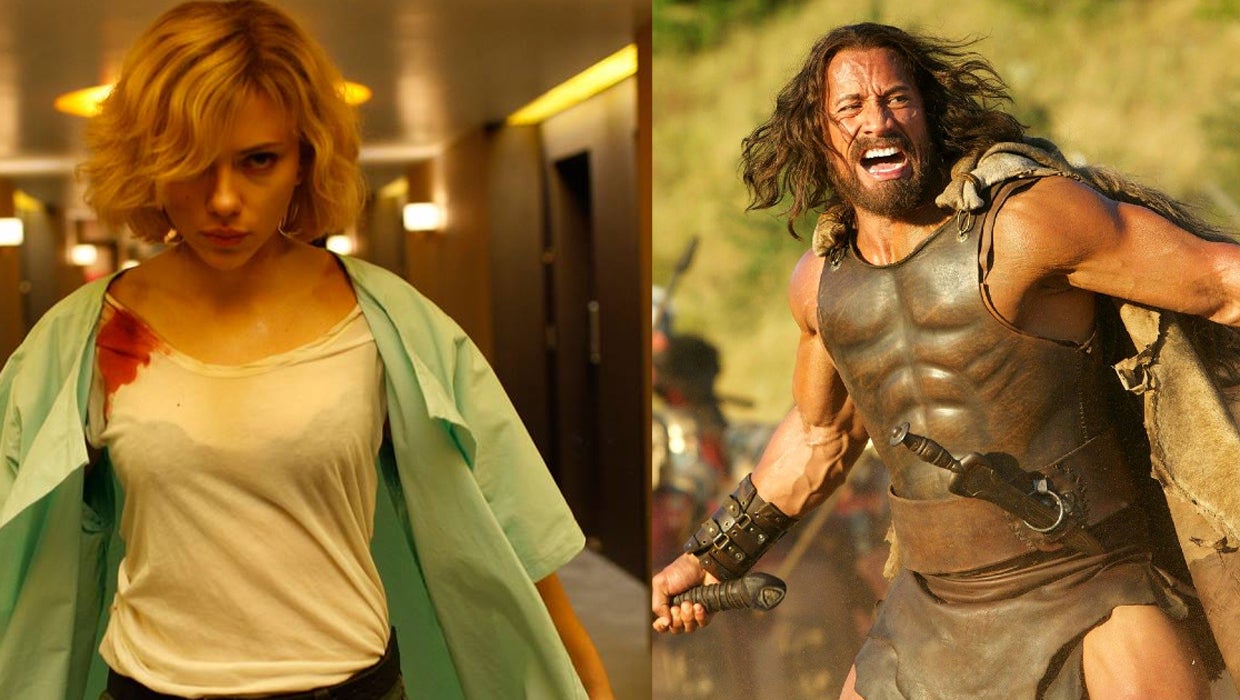 "Lucy," "Hercules" both get strength from critics
A Greek demigod and a super-human genius are about to battle it out at the box office.
The Scarlett Johansson-starring "Lucy" and Brett Ratner's "Hercules" are both making their debuts in cinemas this weekend, in a summer that's seen diminished ticket sales for Hollywood.
In "Lucy," Johannsson plays a drug mule who gains super-intelligence and increased strength after a medical procedure allows her to use more than 10 percent of her brain. Morgan Freeman co-stars as a professor in the film, which was written and directed by Luc Besson ("The Fifth Element," "La Femme Nikita.")
Former wrestling star Dwayne "The Rock" Johnson, meanwhile, is stepping into the role of Hercules, who goes on a mission to protect a kingdom from the powerful sorcerer Rhesus, played by Tobias Santelmann.
"Hercules" was not screened for critics in advance of its release, an indication that the distributors did not believe the film would be well-received. Now, having seen the film, many reviewers are left wondering why, as the reviews indicate that "Hercules" is one of Johnson's best works:
Scott Foundas, Variety: "'Hercules'' strongest asset is surely Johnson, who continues to foster one of the most affable, guileless screen personas in movies today."
Bilge Ebiri, New York Magazine: "'Hercules' has no right to be as entertaining as it is...It has a playful heart and spirited cast, and little else. But -- and maybe this is just what George W. Bush called 'the soft bigotry of low expectations' speaking -- that turns out to be (mostly) enough."
Tom Huddleston, Time Out: "Strap on your swordbelt, buckle your sandals and oil up your rippling six-pack, because here comes yet another interminable, CGI-drenched mythic mish-mash with far more money than brain cells."
Peter Keough, Boston Globe: "Less origin story than the deconstruction of one, 'Hercules' steals zestily from other films in this and other genres -- it has a 'Gladiator'-like back story that is disclosed in Hercules's periodic nightmares and visions, a cute and adoring kid straight out of 'Shane,' a moment of fatalistic idealism like that in 'The Wild Bunch' --- none of which, for the most part, does anyone take seriously."
Scott Bowles, USA Today: "Johnson was born for this kind of kick-butt-with-a-smirk role."
Stephen Farber, Hollywood Reporter: "Running just over 90 minutes, the movie is often clunky, but at least it's fast and unpretentious. And its likable star, Dwayne Johnson, manages to murder legions without ever seeming sadistic."
"Lucy," likewise, has been getting mostly love from reviewers:
Manohla Dargis, New York Times: "Buoyed by Ms. Johansson's presence, Mr. Besson keeps his entertainment machine purring. He may be a hack, but he's also a reliable entertainer, even when he's recycling other directors' ideas."
Justin Chang, Variety: "One reason 'Lucy' emerges an enjoyably nutty diversion rather than a self-important slog is that it pays deft, knowing homage to any number of Hollywood sci-fi head-trip classics, embedding its ideas in a dense labyrinth of cinematic references that somehow end up feeling sly rather than shopworn."
Moira MacDonald, Seattle Times: "Johansson, even as we watch Lucy's humanity fade away, anchors the film with her presence; fully committing to a ludicrous role that she somehow always makes believable."
John DeFore, Hollywood Reporter: "A fantasy about unlocking 100 percent of the brain's potential that expects viewers to be using just 2 or 3 percent of their own gray matter, Luc Besson's 'Lucy' plays more like a big dumb superhero flick than sci-fi."
Michael Phillips, Chicago Tribune: "[Johansson is] quite good in 'Lucy,' working both sides of the street: plausibly terrified victim in one section, unfeeling bad-ass the next. But before long it doesn't matter much, which isn't how star vehicles are supposed to operate."
Jeff Labrecque, Entertainment Weekly: "By the time the film exhausts itself--in a brisk 89 minutes--it feels like there's literally nowhere that Lucy and Besson can't go, no boundaries, no laws, no logic. Just go with it."
Richard Corliss TIME: "Be appreciative that, toward the end of a summer with a lot of meh action epics, one film has shown how the genre can accommodate a crazy-great movie. Thank you, Scarlett, Luc and Lucy."
"Lucy" and "Hercules" are now playing in theaters.
Thanks for reading CBS NEWS.
Create your free account or log in
for more features.