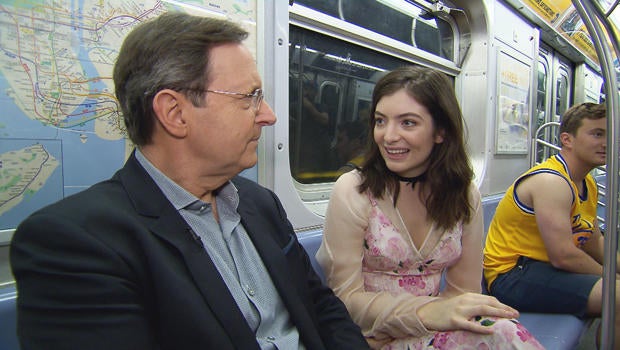 Lorde: I'm not good at being famous
Singer-songwriter Lorde has earned critical raves for her music and became a worldwide phenomenon with her megahit "Royals," but she's not very good at being famous, she tells Anthony Mason in an interview for CBS' "Sunday Morning," to be broadcast June 11.
Asked by Mason about her trouble dealing with fame, Lorde admits it can be a challenge.
"You don't win by being really famous -- I don't think that really helps make good work," she said. "And I've always been aware of that."
And neither is acting the part of celebrity: "It's hard. It's all body language -- the subtlety, the angles. I don't know the angles!"
Lorde, 20, hit it big when "Royals" was released in 2012; the song would go on to hit #1 on the Billboard charts and earn her two Grammys, as her debut album, "Pure Heroine," sold more than three million copies.
She learned to navigate fame, she tells Mason, by being true to herself.
"No one wants to see me try to be a cheerleader because I'm not that," she says. "I'm very comfortable at a library or a studio. Those are my places, so I think, just to keep the focus on the work and the words has always felt like the right thing to me."
Lorde also talks with Mason about her songwriting process, her new album, "Melodrama" (to be released June 16), and her career.
The new album, she tells Mason, was written while riding the F train in New York City's subway system.
"I thanked the subway in my album notes, because I wouldn't have been able to make the record without it," Lorde said. "I found it such an amazing space to kind of be around people."
To hear Lorde perform "Perfect Places," from her album "Melodrama," click on the video player below.
The Emmy Award-winning "CBS Sunday Morning," hosted by Jane Pauley, is broadcast on CBS Sundays beginning at 9:00 a.m. ET. Executive producer is Rand Morrison.
Follow the program on Twitter (@CBSSunday), Facebook, Instagram (#CBSSundayMorning) and at cbssundaymorning.com. "Sunday Morning" also streams on CBSN beginning at 9:30 a.m. ET, and is available on cbs.com, CBS All Access, and On Demand. You can also listen to "Sunday Morning" audio podcasts at Play.it.
For more info:
Thanks for reading CBS NEWS.
Create your free account or log in
for more features.