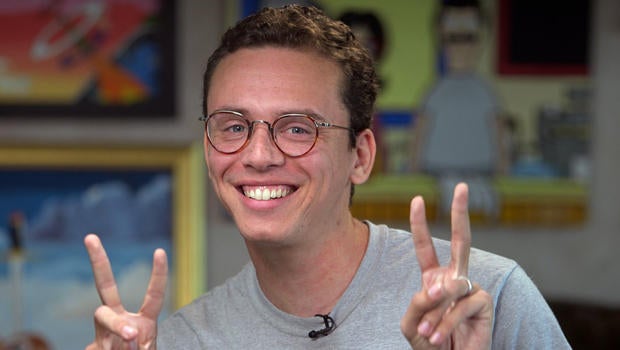 Logic says "Be happy to be you"
We TAKE NOTE this morning of a young rap artist who seems to have gained a wisdom beyond his years. And though his stage name is Logic, Michelle Miller tells us he has an emotional life story to tell:
When rapper-musician Logic takes the stage, he holds his audience right in the palms of his hands. Towards the end of every concert, he conducts the crowd not unlike a conductor leads a symphony.
But for fans, the spectacle is less important than the message. "Honestly, he's not like any other rapper," said fan Ashley Gonzales. "He's, like, such an inspiration to everybody. All the rappers talk about money, drugs and everything. No, he speaks for the people. He talks about all the social problems in the world."
And it's talking about social problems that has scored Logic two Grammy nominations for his triple-platinum hit, "1-800-273-8255."
The 27-year-old performed the breakout hit late this summer on MTV's Video Music Awards.
I know it, I know it, I know I'm hurting deep down but can't show it
I never had a place to call my own
I never had a home
Ain't nobody callin' my phone: Where you been? Where you at? What's on your mind?
They say every life precious but nobody care about mine
The song is named for the National Suicide Prevention Lifeline. Logic was flanked on stage with those that have survived attempted suicide, and those that lost loved ones to it.
"I want you to be alive
I want you to be alive
You don't gotta die today
You don't gotta die."
When asked if he'd ever thought about suicide, Logic said no.
"So why was it important for you to talk about it on this album?" asked Miller.
"I thought it was important to discuss because not only have I witnessed it with, like, people I love, or seen people going through it."
Ultimately it was his fans that convinced him to tackle such a difficult subject in song.
"They said, 'You saved my life.' Or, 'You changed my perspective on how I view the world.' And when they said that, I thought to myself, I wasn't even trying to do that! And if you really are telling me that? Man, could you imagine what I could do if I actually tried to save somebody's life?"
After the Video Music Awards, calls to the helpline jumped by 50%.
"I just wanted them to know that they really weren't alone. That's why I write songs like that. That's why I'm myself. That's why I walk around with fanny packs and love sci-fi and say it, because I want people to be themselves, no matter who they are or what they do."
Schoolboy looks aside, Logic's lyrics are often laced with the same hardcore language of many others in the rap genre, but always, he says, in the context of the stories he's telling … stories often born from his troubled childhood in Gaithersberg, Maryland.
"People look at me and look like I've never cooked crack on a stove before; I have," he said. "I come from a household where killers and murderers and robbers and thieves came from. I grew up on Section VIII Welfare, food stamps. You know, I came from nothing. I had nothing."
Logic's given name is Sir Robert Bryson Hall II. He was raised by his white mother who suffered from mental illness and addiction. His African-American father was incarcerated.
"My mother was addicted to drugs, pills. She was bipolar. She was an alcoholic," he said. "My father was addicted to crack cocaine."
Because of that, he left home at 17 -- and was taken in by his best friend's mom, Mary Jo LaFrance. It was the first stable home he'd ever known.
"He was always driven," LaFrance told Miller. "And he has a beautiful intellect that had not been watered like a garden. Because you don't learn very well when you're in a constant state of upset. And so when things calm down, he was able to express himself and write."
He never finished high school, but devoted himself to music full-time. The first show he sold out was at the rock club Reggie's in Chicago, in 2012. He was signed to the rap label Def Jam the very next year, and began touring almost continuously. His music has been streamed online more than 2.5 billion times.
Today he lives a version of the California dream. Married to singer Jessica Andrea, they have a house in the hills with its own home recording studio.
"It's wild. I sold more records than Harry Styles, I can't believe that!" Logic said. "That's, like, oh my God! Shout out to Harry Styles, but, like, that's crazy."
And if he seems in awe of it all, it's because in 2015, he almost lost it all. He developed a crippling form of anxiety called derealization disorder that left him hospitalized.
"It's an intense form of anxiety where you feel like you're almost separated, and there's a filter between you and reality at all times because you're hyper-analyzing the situations around you," he said.
"For a year, I was in the worst place in my life. I had made more money than I could've ever dreamed of. I bought this home that we're in right now. I was happily married. And yet, I was unhappy."
He turned that unhappiness into material for his album, "Everybody":
Along the way, he learned to play piano: "I just like a challenge. So it's a fun thing to learn how to do."
He spends at least four hours day, every day, at the piano. "Yeah, it's my baby right here!"
With his new music, it's clear Logic has found his voice, and is finally comfortable in his own skin.
"Not everybody's gonna like you," he said. "Not everybody's gonna agree with you. And that's fine. You don't have to agree with somebody, whether it's religion or politics or this or that. But, like, don't stone somebody to death. You know what I'm sayin'? Just, like, let 'em live. Like, just be yourself. Be happy to be you.
"And in spite of any negativity or hatred that you'll face -- and you will -- just remember that, like, you're special and you're beautiful."
You can stream Logic's album "Everybody" by clicking on the embed below (Free Spotify registration required to hear full tracks):

For more info:
Thanks for reading CBS NEWS.
Create your free account or log in
for more features.