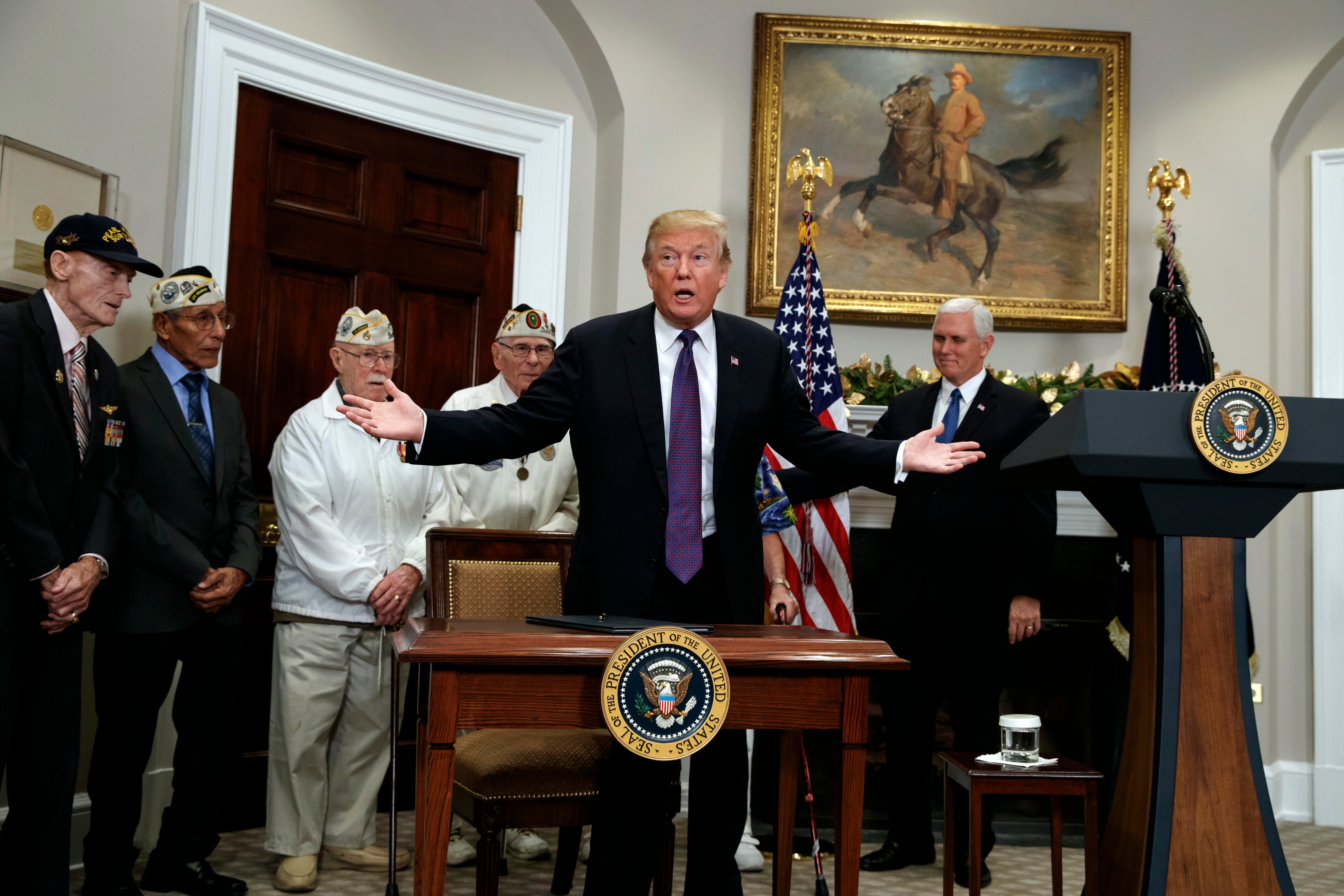 Trump signs National Pearl Harbor Remembrance Day proclamation
As six Pearl Harbor veterans stood by his side, President Trump signed a presidential proclamation from the White House Thursday recognizing December 7 as National Pearl Harbor Remembrance Day. One of the survivors of the surpise attack, Michael Ganitch, who was also wearing a bright Hawaiian shirt for the occasion, broke out into song with "Remember Pearl Harbor" during the president's remarks.
"What can I say? Wow that was good -- he's a very shy person too," Mr. Trump joked as Ganitch finished the song.
The president praised each of the six veterans as heroes, thanking them for their service and promising to build up the military under his administration. Mr. Trump also called the attacks on Pearl Harbor "a pretty wild scene."
"Today our entire nation pauses to remember Pearl Harbor and the brave warriors who on that day stood tall and fought for America," he said.
National Pearl Harbor Remembrance Day marks the anniversary of the Japanese aerial attack on the U.S. naval base Pearl Harbor in Hawaii. The attack killed more than 2,300 servicemen. In response, the United States and the United Kingdom declared war against Japan the following day. Thursday is the 76th anniversary of the attack.
At the end of the event, a reporter shouted a question about the resignation speech of Sen. Al Franken, D-Minnesota, in which he called out the president for his own sexual assault allegations.
"I, of all people, am aware that there is some irony in the fact that I am leaving while a man who has bragged on tape about his history of sexual assault sits in the Oval Office," Franken said on the Senate floor.
Mr. Trump said he didn't hear Franken's speech.
Thanks for reading CBS NEWS.
Create your free account or log in
for more features.