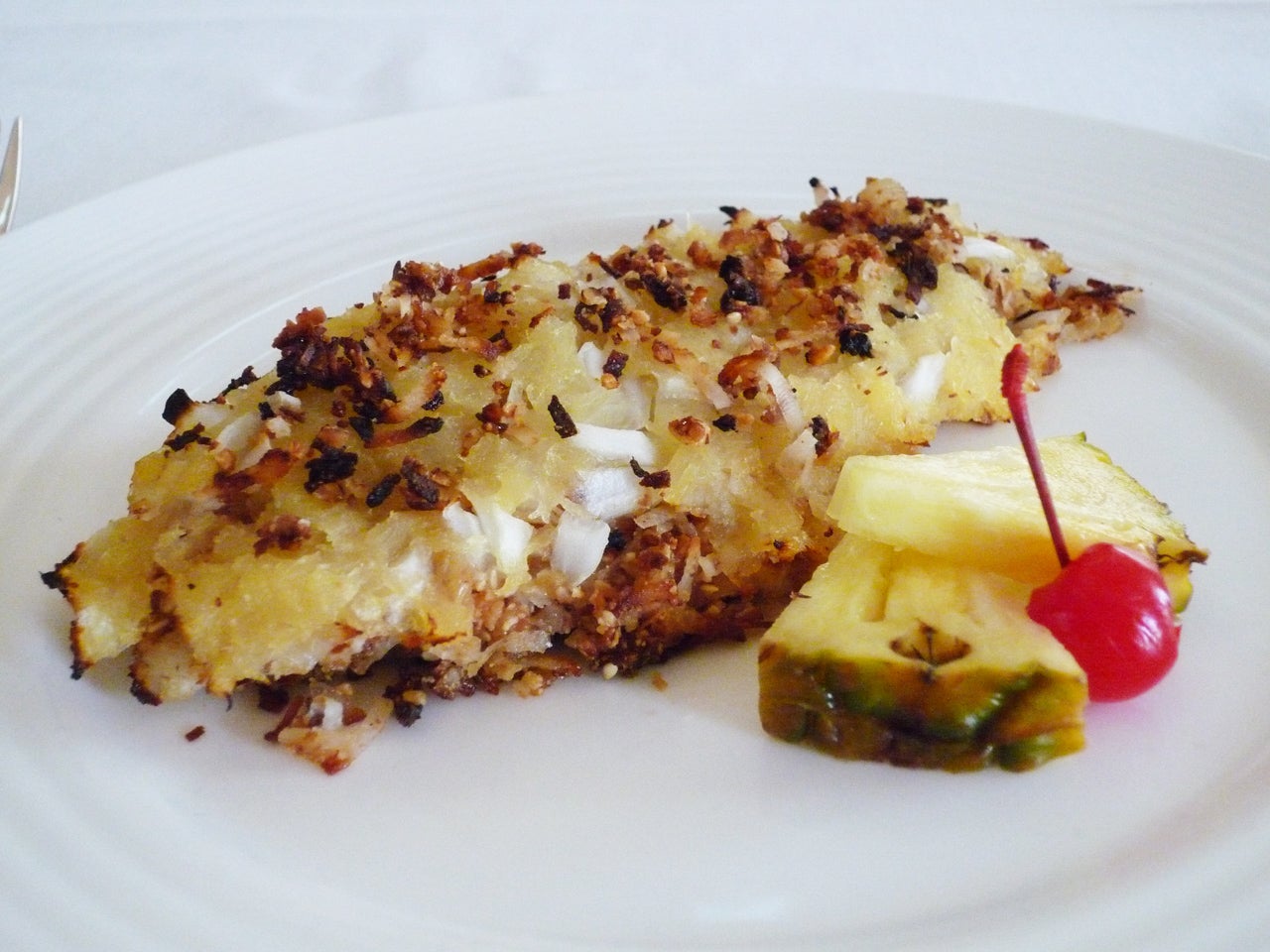 Lionfish are an invasive species, with no natural predators in the Atlantic and Caribbean. To fight their spread, environmentalists and chefs are advocating hunting them for the dinner plate.
Cut off the venomous spines, and lionfish go from malicious to delicious.
Recipes from "The Lionfish Cookbook" by Tricia Ferguson and Lad Akins, with photographs by David Stone (REEP Environmental Education Foundation).
Hawaiian Lionfish
Ingredients:
3 eggs, beaten
1 cup chopped toasted almonds
1 cup flaked coconut
1 tbsp. sesame seeds
1 tbsp. brown sugar
1 pinch nutmeg
1 (15 ounce) can crushed pineapple, drained
½ cup chopped onion
8 lionfish fillets
Directions:
Preheat oven to 350 degrees. Grease a large baking dish.
Place the beaten eggs in a shallow dish. Mix the almonds, coconut, sesame seeds, brown sugar, and nutmeg together in a mixing bowl. Stir the pineapple and onion together in a separate bowl.
Dip each lionfish fillet into the beaten egg, and then press into the almond mixture.
Place the coated lionfish into the prepared dish. Spread the pineapple mixture over the coated fillets. Bake until the fish flakes easily with a fork, about 40 minutes.

Beer-Battered Lionfish with Dill Tartar Sauce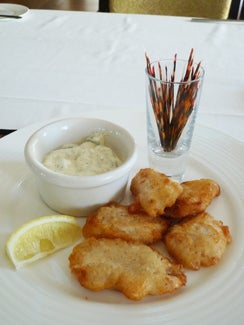 Ingredients:
1 ½ cups mayonnaise
2 tsp. dill pickle, minced
1 tbsp. lemon juice
1 tbsp. fresh dill
1 cup flour
1 cup beer
1 tsp. garlic powder
½ tsp. black pepper
8 fillets lionfish
Canola oil for frying
Directions:
Combine mayonnaise, dill pickle, lemon juice and fresh dill in bowl until blended.
Combine flour, beer, garlic powder and pepper in a separate bowl.
Cut lionfish fillets into strips. Heat oil in frying pan. When oil is hot, dredge fish through beer batter, covering all of the fish fillet.
Put fish into oil and cook until golden brown. Turn fish with spatula until other side is golden brown.
Transfer to a plate with paper towel until all fish is cooked.
Serve with dill tartar sauce.
Blackened Lionfish
Ingredients:
4 lionfish fillets
1 tbsp. paprika
1 tbsp. salt
1 ½ tbsp. black pepper
1 tsp. cayenne
1 ½ tsp. oregano
1 ½ tsp. onion powder
1 ½ tsp. garlic powder
¼ cup butter
Directions:
Mix together all dry ingredients. Pat onto fillets. Melt butter in a frying pan. Cook fish 2-3 minutes.
Lionfish with Avocado Salsa
Ingredients:
1 tomato, diced
1 avocado, cubed
1 onion, diced
4 limes, juiced
½ cup cilantro
1 jalapeno pepper, seeded and diced
2 tsp. salt
8 lionfish fillets
Juice of 2 limes
½ tsp. pepper
2 tsp. garlic powder
2 tbsp. olive oil
Directions:
Combine tomato, avocado, onion, lime juice, cilantro, jalapeno pepper and 1 tsp. salt in a bowl. Set aside.
Squeeze the juice of two limes over lionfish. Season lionfish with 1 tsp. salt, pepper and garlic powder.
Heat oil in pan. Cook fish for 2 minutes per side until golden. Transfer to serving dish and spoon avocado salsa over fish.
Thanks for reading CBS NEWS.
Create your free account or log in
for more features.