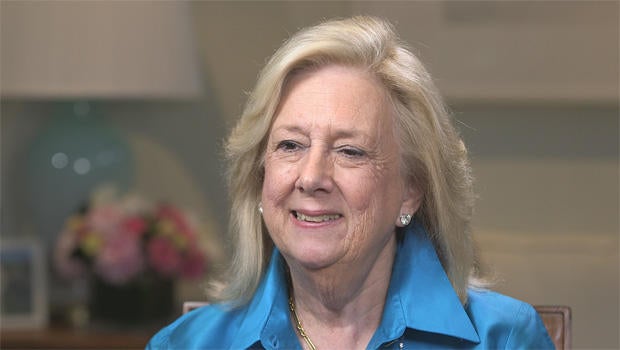 Linda Fairstein: Living the dream, one murder at a time
When it come to writing crime fiction, there are few who have written as many VOLUMES as Linda Fairstein. She writes what she knows, being a former prosecutor herself -- and the crimes just keep on coming, as Lesley Stahl of "60 Minutes" discovered:
Lesley Stahl was gobsmacked: "Wow. Clearly you like to work, or maybe need to work, in a mess here. Look at this!"
"Did you call it messy?" said Linda Fairstein.
"I did. I called it a total mess!"
Something said endearingly to a friend, who's into her second act in life as a bestselling author of crime fiction. It was an ambition Linda Fairstein had when she was 10 years old.
"Just don't give up your dreams," she said. "Even when people tell you you can't, if you hang onto it and find a way to come back to it, it's a great joy."
Fairstein did come back to writing, but after a long detour. She joined the Manhattan District Attorney's office right out of law school in 1972. She prosecuted sex crimes in New York City for 30 years.
"You saw the most gruesome crimes," Stahl said. "Nuns raped. Little kids who were tortured."
"It's nothing I set out to do," she replied. "And I really -- terrible word when I say I 'fell in love' with the work, [but] I loved the ability to do something to try and get justice for women who, because of American law, had never been allowed near the courtroom. So it was very richly rewarding, most days. And it was very, very dark other days."
Tough in the field and in the courtroom, Fairstein was called "hell on heels," as she took on the whole system that made it nearly impossible to prosecute someone for rape. "When I got to the office in 1972, the law was still so archaic that women reporting rape could not testify unless there were three elements of the crime proved by someone else," Fairstein said. "Someone had to either see the attacker going to the crime scene; witness the crime …"
"Who witnesses a rape?" Stahl asked.
"Almost nobody. [And] there had to be proof of the forcible nature of the attack."
She was a leader in the drive to change this law and others like it. She also pioneered the use of DNA, becoming one of the first prosecutors in the country to introduce it in court. It revolutionized the criminal justice system, she said. "Certainly for sexual assault. If you'd ever told me that science could do better than the best detectives I'd ever worked with, I wouldn't have believed you."
But science did do better. With the help of DNA, she prosecuted and supervised high-profile cases, like Robert Chambers (the so-called Preppy Murderer); and the controversial case of the Central Park Jogger.
Soon publishers came calling, asking her to write a book about sexual violence. She even became the inspiration for many tough prosecutors on TV, like Alexandra Cabot on "Law & Order: Special Victims Unit."
In the mid-1990s, Fairstein decided to go back to her original dream. She asked the DA's office for permission to write crime fiction. "And they said, 'As long as you do it on your own time, do it.' And the guy kind of brushed me off. He said, 'Lady, everybody thinks they can write a book!'"
But this lady did. She created a prosecutor, Alex Cooper, just like her (a "hell on heels"), and wrote five books while she still ran the sex crime unit. She left the DA's office in 2002, and became a full-time, prolific novelist. Her latest, "Deadfall," is her 19th in the Alex Cooper series.
Stahl horned in on Fairstein and her "partners in crime" -- Harlan Coben, Nelson DeMille and Susan Isaacs -- at their monthly dinner, a support group of sorts where successful mystery writers get together and talk shop.
"I'm a lazy researcher," Coben admitted. "My research is calling Linda and saying, 'Linda, …' (laughs). But not just about legal stuff now. I'm calling her about, like, airplane repairs. You know, she's an expert. She'll do the research for me."
Stahl asked, "Do you all reach into your personal lives for your characters?"
"A lot of times I don't want to admit it, but a lot of the heroes are me, with wish-fulfillment," Coben replied. "Might be better at this or better at that. but they're usually me in some form. But as I've gotten older I've realized so is the villains, so are the bad guys, so is everybody is a little bit of you."
"Is your guy bald?"
"No, he's got a full head of hair. That's what I'm talking about, the wish fulfillment part."
Jacobs noted that Fairstein's character gets "younger and blonder."
Fairstein spends her summers on Martha's Vineyard, as does her character Alex Cooper. She commutes down the hill, with her coffee, to her writing cottage, where she is detached from everything and everyone.
Stahl asked, "Your main character, Alexandra Cooper, is she you?"
"Well, there was a time when I started writing 19 books ago, that we were closer."
Age-wise? "Oh, and age-wise, yes. I've said many times she's younger, thinner, blonder than I am. She's been in 19 books, almost a book a year and she's only aged three years. So that would be a nice trick, right?"
When asked why she keeps going back to Alex Cooper, Fairstein said, "I think because, like so many of the people I read and respect and like, I want those characters back. I want that voice back. And people who come to read your books, they want to see your characters back, too. They might go somewhere else if they don't get them in a timely fashion."
She's always reading about crimes. She fills pages of notebooks, and sticks on post-its with her brainstorms that are often as dark and grisly as the rapes and murders she used to prosecute.
"So we've had shootings, stranglings, suffocation, defenestration (going out the window), I've done poison, I've done a drowning."
She always sets her crimes in a New York City landmark, like Grand Central Station, the American Museum of Natural History, and Central Park.
"I thought it would be more interesting for the reader to be in a book where they learn something about a place," she said. "And for me, the other half is it keeps me very interested. Each book is new; it takes me to a new place to learn something I didn't know before."
She's already researching her next book. And hard to believe, she has started a new series, this one for young readers, 8-to-12, about a Nancy Drew-like young detective, Devlin Quick. And that'll come out once a year as well.
"You are a full-time writer now -- you're living your dream?" Stahl asked.
"Yes, yes. And it came true. I pinch myself. It's a dream to have a career that I wanted all my life."

BOOK EXCERPT: Read the opening chapter from Fairstein's latest Alex Cooper mystery, "Deadfall"

For more info:
Thanks for reading CBS NEWS.
Create your free account or log in
for more features.