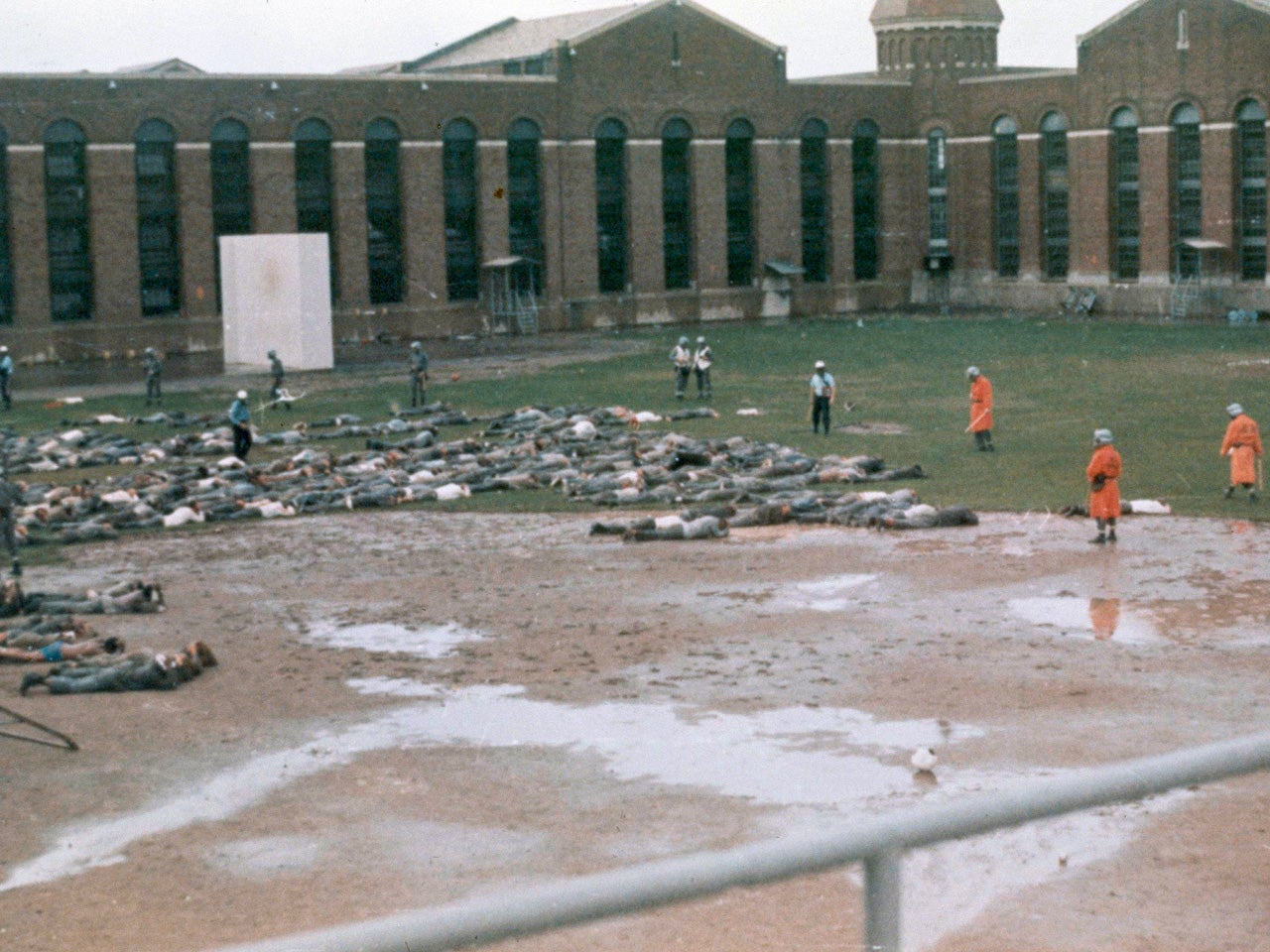 Likely Attica prison riot shooters named, 45 years later
ALBANY, New York - Almost 45 years after America's bloodiest prison rebellion, a historian's new account names troopers and Attica prison guards that investigators believed fatally shot hostages and many unarmed inmates.
Heather Ann Thompson also writes that authorities knew hostages would die, and details Gov. Nelson Rockefeller's secret efforts afterward to establish an acceptable narrative of what happened.
Rockefeller ordered the retaking of the maximum-security prison in western New York on Sept. 13, 1971. The 1,300 inmates who rioted over conditions four days earlier and controlled part of the prison had clubs, knives and makeshift weapons and threatened to kill hostages.
When state police and guards stormed the facility after negotiations stalled, they fatally shot 29 inmates and 10 hostages.
"They knew they were going to kill the hostages," Thompson told The Associated Press on Friday.
Details from the book were first published Saturday by the Rochester Democrat and Chronicle. Thompson's book quotes officials who were involved, acknowledging that in advance. Authorities also never gave the inmates ultimatums, deciding not to tell them they were coming with guns blazing if they didn't surrender, she said.
The University of Michigan historian cites from public archives and court documents, some never before public, in "Blood on the Water" scheduled for release later this month. She found a large cache in an Erie County court storage area a decade ago, no longer available, while getting repeatedly thwarted by state officials. They denied formal records requests on the ground that grand jury records are not public, though there are many other documents in the files, she said.
"This is hugely controversial even today," Thompson said. "There's no statute of limitations on murder. And there's no statute of limitations on the possibility of filing civil rights cases."
A particular document contains notes from a series of meetings held in the pool house of Rockefeller's mansion in the weeks afterward that were attended by the governor, his top aides, the assistant state attorney general in charge of the investigation and the state police and prison officials in charge of retaking the prison.
"These potential indictees were now at the home of the governor of New York working with the head of the Attica investigation to get a formal narrative of what happened at Attica secured," Thompson wrote. "Also there to help do this were other members of the State Police who had firsthand knowledge of exactly what had gone down."
Among the topics discussed was one particular trooper who had shot with his own .357 magnum at close range at an inmate whose skull was riddled with bullets, Thompson wrote. According to an internal police memo, he was asked to resign four days later, told he wouldn't then be prosecuted.
One hostage was killed by a .44 Magnum rifle, eventually recovered from a prison guard, she wrote. "Numerous documents from the Attica investigation indicated that everyone knew exactly who had killed John Monteleone - everyone but John Monteleone's family."
New York Attorney General Eric Schneiderman recently sought public disclosure of long hidden records of one Attica investigation, prompted by families of the slain hostages, resulting in the release last year of 46 pages. They included accounts from two National Guardsmen and a doctor who said they saw injured inmates beaten with clubs and others with wounds indicating they'd been tortured as troopers and guards retook control.
Ex-prosecutor Malcolm Bell, who joined the criminal investigation in 1973, wrote an earlier book describing how he spent the next year building grand jury cases toward indicting a half-dozen state troopers for murder or manslaughter, 60 or 70 for reckless endangerment, and several ranking officers for what he believed was a cover-up. He was taken off the case. One trooper was later indicted for reckless endangerment.
Bell didn't name shooters in his book and said Thompson shouldn't have published the names. Her sources included investigators' documents and statements given by troopers themselves.
"What's important about those memos is they were works in progress," Bell said. "I think she has a good book there that has this small but serious flaw, serious in terms of those people involved."
Thompson said it's important to note that she does not anywhere call anyone a murderer, which would require a court ruling, very unlikely 45 years later, though it was clear authorities believed troopers fired recklessly and criminally. She felt obliged as a historian to keep names in, she said.
The AP obtained a copy of the book Friday. It couldn't independently determine the names of the 14 troopers and six correction officers identified by investigators as shooters and has decided not to identify them.
Thanks for reading CBS NEWS.
Create your free account or log in
for more features.