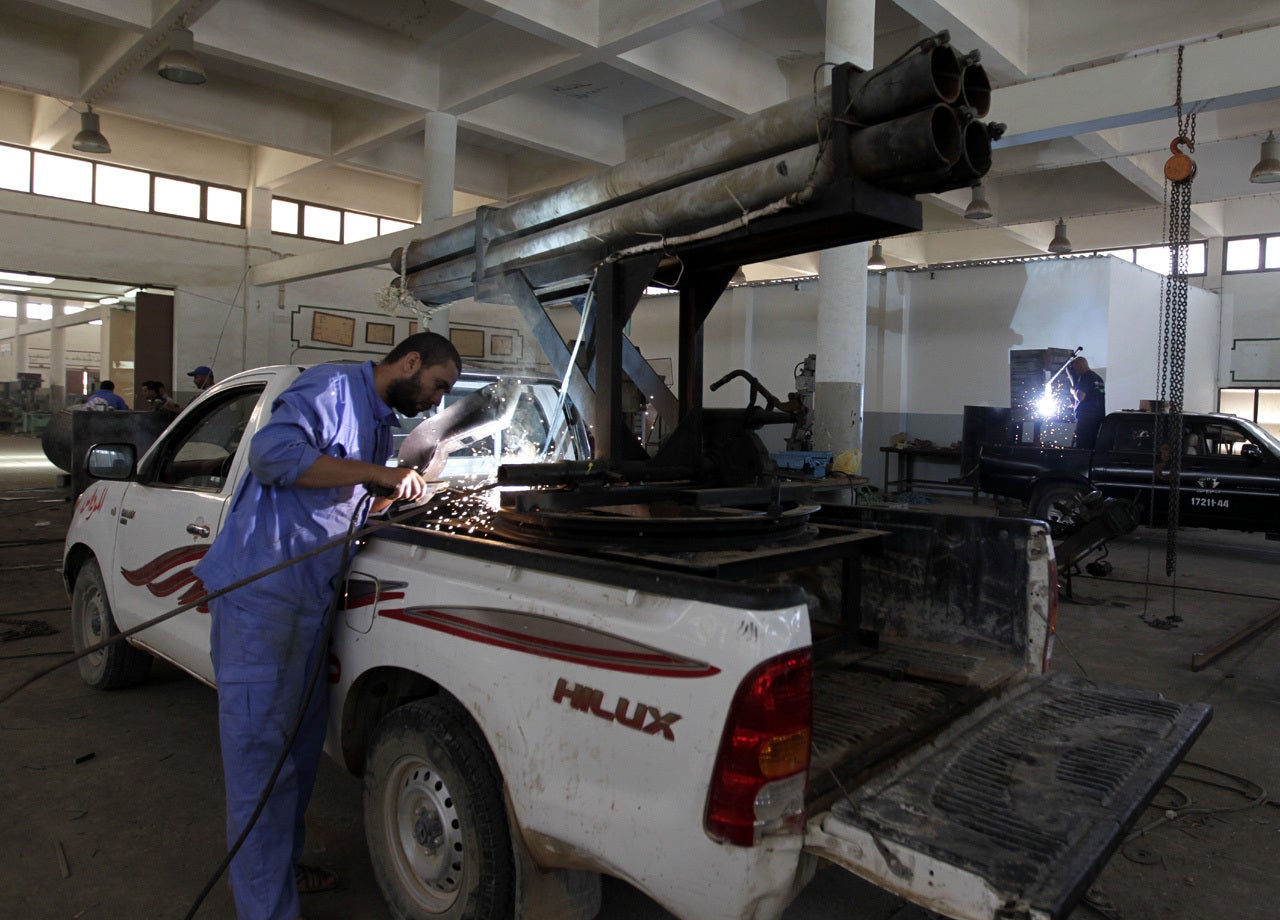 Libyan civilians build weapons of rebellion
MISRATA, Libya — Aref Abu Zeid used to be a heavy equipment engineer at the Libya Steel Company. Now he runs an 80-man team working 12 hours a day turning out rockets and weapons to fight Muammar Qadaffi's forces.
In this rebel stronghold in western Libya, civilian engineers, mechanics and tradesmen are pumping out materiel to arm the uprising against Qadaffi's rule that has become a civil war.
"None of us here have anything to do with the military," said Abu Zeid, 50, a short man with a thick salt and pepper beard and an easy smile. "Our need to protect our homes, our lives and our city forced us into this war work."
Photo: Building arms for Libyan rebels
Misrata, the country's third-largest city located 125 miles southeast of the capital, is home to the largest steel company in the country and metal is always available here.
"Owners of carpentry and mechanical supply warehouses would just open their doors," Abu Zeid said. "They told us 'Take what you want.' Others bring us piles of money to buy what we need."
Complete coverage: Anger in the Arab World
At the beginning of the war in Misrata, mechanics were repairing arms in their homes and garages. But as it raged on, the engineers realized they needed bigger operations and a more organized force.
That's when about eight schools across the city turned into weapons' workshops. Volunteers flooded in to help.
Abu Zeid's operation — the Complete Industrial Skills College — is a sprawling campus with shops fitted with welding gear and machinery where youngsters formerly learned engineering and machine making.
Now the weapons-making crews receive request forms from the front lines that ask for specific machinery and weapons.
Clanging metal and sparking welders fill the main workshop. The floor is strewn with electrical wiring and scrap metal. Old instructional and safety posters still hang on the walls, a reminder that this was once a school.
Two men worked on installing Grad rockets onto the back of a pickup truck. Scavenged car parts, scrap metal and captured rocket launchers made up the rest of the project.
The truck itself was one of hundreds the rebels found stored in Qadaffi's government and military buildings. They are Chinese knockoffs of a popular Toyota 4-wheel drive called the Chao Yung Highlander.
"Without these Chinese cars we wouldn't have won this war in Misrata," said Abu Zeid. He caressed the side of the truck.
Once fitted with a weapon, the truck is painted black — the words "Feb 17 Revolution" spray- painted in white. The tricolor rebel flag emblazons the side of the vehicle.
In another workshop, the wooden butts of AK-47 automatic rifles are repaired and replaced.
Across the workshops, there are mechanics, engineers, and welders who've been tested as they turn their civilian knowledge into weapons and ammunition design and the trajectory of rockets.
Homemade, rust-brown steel rockets lean in a pile against a wall. Near them are rockets captured from Qadaffi troops.
"We had no time to learn, we had to just become creative," said Ali Ibrahim, who used to drive trucks and now builds rockets.
He said that at the beginning, rebel weapons makers were just working from intuition. Now they can copy and take ideas from the old Soviet and former East Bloc weapons taken from Qadaffi soldiers.
But many of the men at this workshop have nothing to do with mechanics or engineering at all.
Before the war started, Mohammed al-Ahmar ran a women's clothing store called 'The Princesses' Palace' off Tripoli Street. Some of the fiercest battles between Libyan rebels and Qadaffi's army rattled along that street for days.
"Qadaffi's troops destroyed my shop and I lost 12 friends in the fighting," he said. "How could I just repair and open my shop again and go back to business?" he asked.
Al-Ahmar, 38, said he wanted to honor the memory of his dead friends. So he showed up one day at the college where he heard mechanics and engineers were maintaining weapons.
Today, wearing a gray mechanic's uniform, he balanced a cigarette between his lips as bored a hole into a slab of metal. It's destined to be part of a machine gun.
"The guys here are easy on me. They know my skills are limited in this kind of work, so they teach me something new every day. I do small things like weld and cut metal," he said. "I am definitely going back to the clothing business as soon as Qadaffi falls."
Thanks for reading CBS NEWS.
Create your free account or log in
for more features.