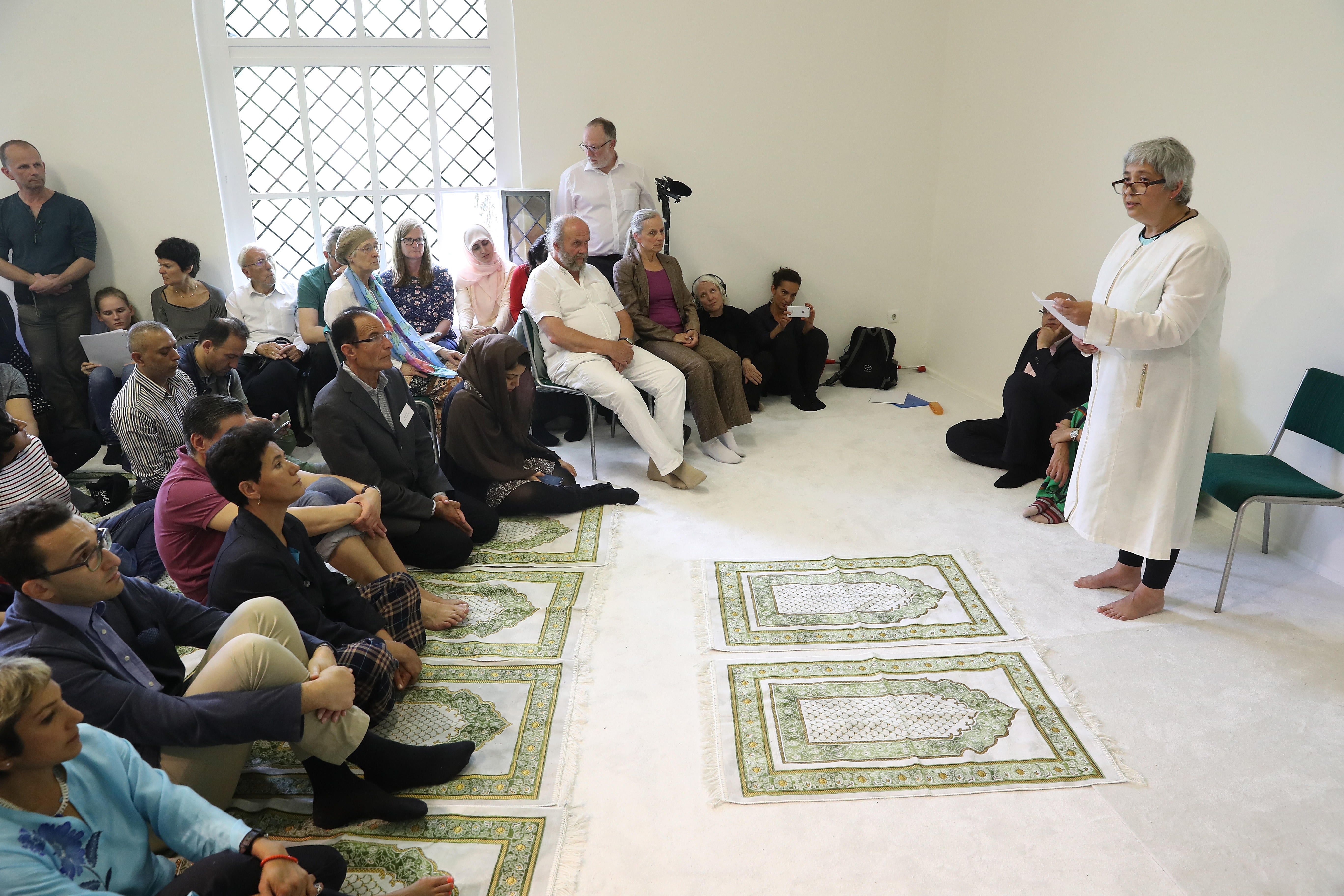 "Death threats every day" for woman behind new liberal mosque
BERLIN -- The opening of a new mosque this month in Berlin further strained already-tense relations between Germany and Turkey, and has caused outrage in various corners of the Muslim world -- even prompting religious authorities in Egypt to issue a decree condemning the mosque as un-Islamic.
But despite recieving hundreds of death threats, the mosque's founder, Seyran Ateş, says she'll continue to fight for her cause.
That cause, and the principle behind the Ibn-Rushd-Goethe mosque, is that Muslims from all of the religion's many sects are welcome to worship. Named after medieval Islamic scholar Ibn Rushd and German writer Johann Wolfgang Goethe, the mosque holds prayers every Friday in space rented inside a Lutheran church.
Ateş wanted to create a place where Sunni and Shiite, Alawite and Sufi Muslims, men and women -- and members of the LGBTQ community -- could pray side by side. The 54-year-old lawyer and women's rights activist of Turkish origin has a long history of challenging conservative interpretations of her religion, which she believes are no longer compatible with modern-day life.
The progressive house of prayer offers a platform for female imams like Ani Zonneveld, from the U.S., who gave the call to prayer for the mosque's inauguration. House rules state that female visitors not wear full-body garments like the burka or niqab, as it "would only send a political statement."
While liberal Muslims who feel restricted by mainstream Islam cherish Ateş' project, conservative worshippers have expressed outrage, calling it "disgusting and sinful," as it "disrespects the key elements of Islamic faith." Egypt's Dar al-Ifta al-Masriyyah, a state-run religious authority, issued a "fatwa" or official decree labelling the Ibn-Rushd-Goethe mosque an "attack on Islam."
The Egypt-based Al-Azhar, the most prestigious Sunni institution in the world, called the mosque, "religious innovation that is not approved by Islamic Sharia".
"I receive hundreds of death threats every day. I rely on personal protection, but I will continue to stand up for my organisation. Islam needs a change, and together with our supporters across the world we can make a difference," Ateş told CBS News.
After Turkey's religious affairs agency Diyanet commented on the new mosque, the case became yet another point of contention between the German and Turkish governments.
The mosque's practices "do not align with Islam's fundamental resources, principles of worship, methodology or experience of more than 14 centuries, and are experiments aimed at nothing more than depraving and ruining religion. We are convinced that all fellow believers will keep their distance from such provocations," said Diyanet in a statement.
German officials were "very surprised" by Diyanet's stance. German Foreign Ministry spokesman Martin Schäfer defended one of Germany's fundamental rights; "I want to be very clear in rejecting all comments that clearly intend to deprive people in Germany of their right to freely exercise their religion and to limit the right to free expression of opinion."
Diyanet and a number of pro-government newspapers in Turkey went further, linking the Ibn-Rush-Goethe mosque to U.S.-based cleric Fethullah Gulen and his supporters, whom the Turkish government blames for a failed military coup in July 2016 and wants sent to Turkey to face prosection.
Ateş told CBS News that she never expected to be accused of working alongside Gulen.
"It's getting more and more ridiculous. It's no longer a religious matter, it's about Erdogan and his aim to oppress progressive, liberal Turks," she said, referring to Turkish President Recep Tayyip Erdogan.
Ateş, who is training to become an imam, sought talks with the conservative Ditib organisation which manages a few hundred mosques throughout Germany.
"Over the past few years I would approach conservative Islamic organisations with the aim to cooperate, but instead of a peaceful dialogue they accuse me of being a member of the Gulen movement," she told CBS News.
Germany, which has a Turkish population so large it represents Erdogan's 4th biggest constituency, was already on bad terms with the Turkish government over a number of diplomatic disputes, including the arrest of a German-Turkish journalist, Turkey's barring of German politicians from visiting an air force base hosting German planes, and Germany's refusal to allow Turkish election campaigning in German cities.
Thanks for reading CBS NEWS.
Create your free account or log in
for more features.