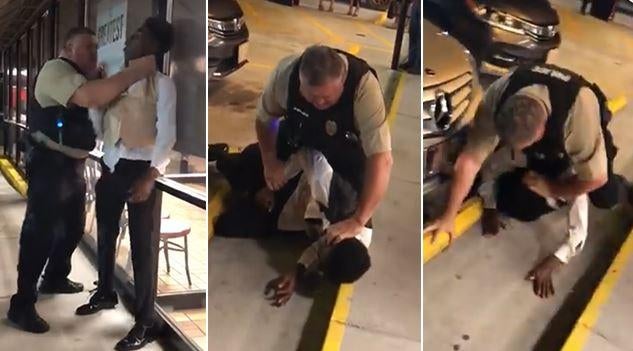 Lawyer vows to investigate Waffle House over alleged discrimination after controversial arrests
CUMBERLAND COUNTY, S.C. -- A high-profile civil rights attorney vowed to investigate Waffle House for a pattern of discrimination after controversial arrests seen on video drew national outrage. Benjamin Crump said Monday he is joining the team representing Anthony Wall, a black man who was seen on video being choked by a police officer during an arrest at a South Carolina Waffle House May 4.
Speaking Monday, Crump said Wall was called homophobic slurs by a Waffle House employee before staff there called police. Crump says he is investigating whether the corporation discriminates against the LGBTQ community and African Americans after Wall's arrest and several other incidents across the country, including a video last month showing white officers throwing a black woman to the floor at an Alabama Waffle House.
"This is a national, corporate issue they need to address," Crump said.
Wall had just taken his teen sister to the prom and was at the Warsaw Waffle House with a large group of people when Crump said a white employee berated them for sitting down at a table that hadn't yet been cleaned. Crump said the employee used an anti-gay slur to refer to Wall and that's when Wall got into an argument with him. Another Waffle House employee then called police.
Crump said the Waffle House employees were the ones who escalated the situation.
"It was the Waffle House employees that were the intimidators and aggressors," Crump said. "It was the Waffle House employees who were unprofessional to their customers. It was the Waffle House employees who used homophobic slurs towards Anthony Wall, and this here is unacceptable."
When Warsaw police responded, Crump and Wall's attorney Alan Rogers said Wall had his hands up and wasn't resisting when an officer choked him and slammed him to the ground. Wall said he only resisted the officer to try and get his hands off his throat.
Wall said he was "terrified."
"He doesn't seem to be a threat to this officer ever, but yet he is brutalized and excessive force is used against him," Crump said.
The video doesn't show the moments that led up to the violent encounter.
Crump and Rogers said the officer then placed Wall under arrest and transported him in a police van while a K-9 who was unsecured inside snapped at him. Rogers said he plans to ask Warsaw police about their transport policy, calling the arresting officer a "bully cop."
Waffle House and the Warsaw mayor have both defended the arrest.
"I can assure you, this is not a racially motivated situation," said Mayor A.J. Connors in a Facebook post on May 11.
Connors praised the arrest, and twice denied that race played a role.
"We must understand that this young man broke the law," Connors said. "He was there. He started a fight -- this officer did what he had to do."
Waffle House, echoing the mayor, said in a statement that it did not believe race was a factor and that there is "more to these stories than the short videos that have been posted might suggest."
In a statement from the police department, investigators say they didn't know how rough the arrest was until Wednesday, when the video was getting national attention, according to CBS affiliate WNCT. They said state investigators and the FBI are investigating and the officer involved has been placed on administrative leave.
Rogers and Crump both blasted the mayor's claim that race wasn't a factor.
"When [Connors] says this had nothing to do with racism, it's very difficult to accept that when these young people felt that's exactly what it had to deal with, number one," Crump said. "And number two, we haven't seen any videos of young white people assaulted and battered in a Waffle House. Why is it only African Americans that are being assaulted and battered?"
Crump argued a white man suspected of killing four in a Tennessee Waffle House last month was treated with more respect by law enforcement than Wall. Travis Reinking was arrested without incident in the April mass shooting following a manhunt.
Wall is facing counts of disorderly conduct and resisting arrest, charges Crump called "trumped up" to justify the violent arrest. Rogers and Crump called for the bodycam video of the officer who arrested Wall and surveillance video from inside the Waffle House to be released.
Dr. Bernice King, the daughter of late civil rights leader Martin Luther King, Jr., has called for a boycott of Waffle House.
Thanks for reading CBS NEWS.
Create your free account or log in
for more features.