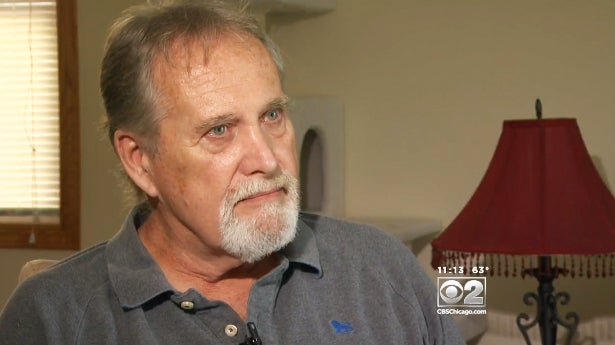 Lawsuit challenges safety of testosterone drugs
Millions of men now take testosterone therapy to reduce fatigue, increase their sex drive and feel younger. But is the hormone harming them or helping them?
The debate involving thousands of men is about to be in the spotlight in a Chicago courtroom, where cases from around the country have been consolidated.
"I was extremely tired and run down. I felt horrible," plaintiff Robert Knapik told CBS Chicago investigative reporter Pam Zekman.
He said his doctor diagnosed him with low testosterone levels and determined that testosterone therapy might help.
"I thought I was going to be able to run around the block," Knapik says.
But, after just 3 months of using the testosterone drug, Axiron, he felt pain in his arm and chest while visiting his sister.
"She goes, 'You're having a heart attack,'" Knapik recalls.
Attorney Brian Perkins, who represents Knapik and hundreds of others suing drug manufacturers, says some have died of heart attacks or strokes as a result of taking the drug. Those side effects have been linked to testosterone in several studies.
"These companies are playing on everybody's desire to find the fountain of youth," Perkins claims.
But now several recent studies suggest that testosterone treatments don't increase heart risks and may even lower them.
Dr. Mark Molitch, a Northwestern Medicine endocrinologist, is involved in a large nationwide study on the drugs, with results expected soon.
"I think the results will probably influence the way patients and physicians feel about the benefits and the safety of testosterone therapy," Molitch told CBS Chicago.
He believes the treatments can benefit some men but says patients have to be screened with blood tests to make sure they have low testosterone levels.
"It does improve sexual performance. It can improve exercise capacity, so there can be a real reason to get testosterone if the levels are low," Molitch says.
The medical debate will now heat up in court, where lawsuits have been filed against other companies that make testosterone products.
Attorneys say they hope to learn from pretrial discovery motions and statements to be taken from company officials about what they took into consideration before heavily marketing testosterone products. The case could have broader effects on pharmaceutical companies promoting drugs "off label," meaning for treatment of conditions not specifically approved by the Food and Drug Administration.
"The pharmaceutical companies these days are willing to take the chance and promote drugs off-label when they do not know the risks and benefits for that," Perkins said.
Robert Knapik says he did not know about the risks of taking testosterone.
"I didn't feel great then. But I feel worse now," Knapik says. "So it's definitely not a miracle cure, that's for sure."
A spokesman for Axiron says the company does not comment on pending litigation.
Recently, the FDA warned against using testosterone therapy for men with low levels due to aging -- and required labels to include information about the risk of heart attacks, strokes and blood clots.
Thanks for reading CBS NEWS.
Create your free account or log in
for more features.