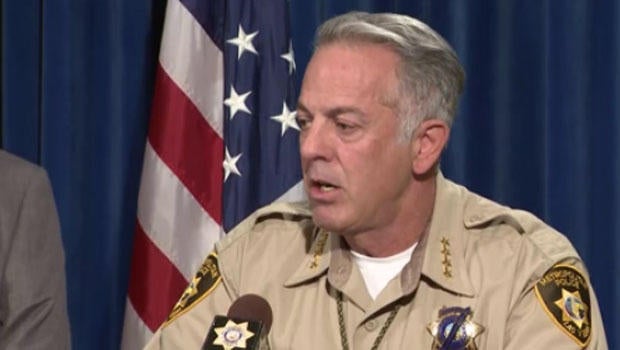 Las Vegas police shift timeline again in concert massacre
LAS VEGAS -- Nearly two weeks after the deadliest shooting in modern U.S. history, authorities are still sorting out the timeline of events before a high-stakes video poker player who killed 58 people from his high-rise hotel room in Las Vegas.
What drove Stephen Paddock to open fire on the country music festival? Police and the FBI say they're still at a loss to explain his motive.
Why did Paddock stop firing into the concert? Authorities do not know, but police apparently had not reached his Mandalay Bay hotel room by that point.
When did he fire his first shots in his hotel room? Las Vegas police released new information about the case Friday after a week that has seen the shooting timeline change almost daily.
In a chronology of events provided Monday, Sheriff Joe Lombardo said Paddock started spraying 200 rounds from his suite into the hallway of the Mandalay Bay at 9:59 p.m. Oct. 1, wounding an unarmed security guard in the leg.
Six minutes later, the gunman unleashed a barrage of bullets on the festival crowd, according to that police timeline. Then he killed himself with a gunshot to the head.
Friday, however, Lombardo said that he now believes the security guard received his wounds close to the time the shooter started firing. Lombardo said Friday that the initial time he gave of 9:59 was when the security guard attempted to breach a door nearby the shooter's.
Lombardo said he cautioned from the beginning that information surrounding such a large investigation is always subject to change.
"I still stand by the [9:59] time ... It wasn't inaccurate when I provided it to you," Lombardo said. "The circumstances associated with it is inaccurate."
This comes after Mandalay Bay officials on Thursday disputed the timeline and whether six minutes actually passed between the first gunfire in the hallway and the start of the concert rampage. They said Paddock may have wounded the security guard within 40 seconds of firing into the crowd.
The 64-year-old real estate investor and retired accountant began his 10-minute attack on the crowd at 10:05 p.m., firing more than 1,000 rounds from two bashed-out windows, police said. Police didn't arrive on the 32nd floor until 10:17 p.m., two minutes after he had stopped shooting, according to Lombardo.
In a statement Thursday, MGM Resorts International, which owns the Mandalay Bay, said the 9:59 p.m. reported time of the hallway shooting came from a report that was manually created after the massacre.
"We are now confident that the time stated in this report is not accurate," the statement said.
Lombardo said he "agreed" with the MGM statement.
Jesus Campos, the wounded guard, used his radio to call for help, the statement said. A maintenance worker, Stephen Schuck, has said he also called for help on his radio, asking a dispatcher to call the police because someone was shooting a rifle on the 32nd floor.
It's not clear what Mandalay Bay maintenance and security workers did with those messages by the guard and maintenance worker.
The initial timeline laid out by Lombardo last week was that Paddock wounded Campos after he had opened fire on the crowd. Campos was called a hero whose presence outside Paddock's suite stopped the concert carnage.
Lombardo on Friday released other new information regarding the investigation. Paddock shot at the fuel tanks at McCarran International Airport during the rampage, and Lombardo said Friday investigators now believe he did so "with intent."
The airport is reviewing safety measures and has contacted experts in fuel storage but that there's a low probability aviation fuel could be ignited by gunfire, Lombardo said.
Lombardo also provided details Friday of the autopsy that was performed on Paddock. A medical examiner found nothing unusual during a visual inspection, but his brain was shipped to a facility to look for any minute problems.
Of the 546 injured in the mass shooting, 501 have been discharged and 45 remain hospitalized, Lombardo said. The number of dead remains at 58, but he said that number may rise.
Lombardo was emotional as he spoke Friday, recalling the efforts of law enforcement to help those who had been wounded. One of his officers suffered four gunshot wounds, yet still helped others at the scene. The officer was wounded in the bicep, chest and back when the shooter targeted responding police vehicles, Lombardo said.
The officer is already eager to return to work.
"He asked if he could go back to work today," Lombardo said.
Another responding officer immediately began to triage the wounded, treating 50 people and loading them onto trucks to be taken to hospitals, Lombardo said.
FBI Director Christopher Wray said Thursday that investigators haven't determined a motive, but they're still digging.
"There's a lot of effort being put into unraveling this horrific act," Wray told reporters after a ribbon-cutting for the FBI's new Atlanta building. "We don't know yet what the motive is, but that's not for lack of trying, and if you know anything about the bureau, we don't give up easy."
Aaron Rouse, special agent in charge of the FBI's Las Vegas division, said Friday that hundreds of agents are poring over every facet of the investigation. So far, they've found no sign that Paddock was affiliated with any particular group or ideology.
They've conducted hundreds of interviews, run down over 2,000 leads, conducted an extensive review of digital media on multiple devices, analyzed about 1,000 pieces of evidence, reviewed hundreds of hours of video and completed over 1,800 victim questionnaires, Rouse said.
Court officials on Thursday released copies of two search warrant applications that police submitted to a judge who approved a raid on Paddock's home in a retirement community in Mesquite, Nevada. The documents list items that investigators were seeking, including guns, explosives, computers, medications and personal records.
Thanks for reading CBS NEWS.
Create your free account or log in
for more features.