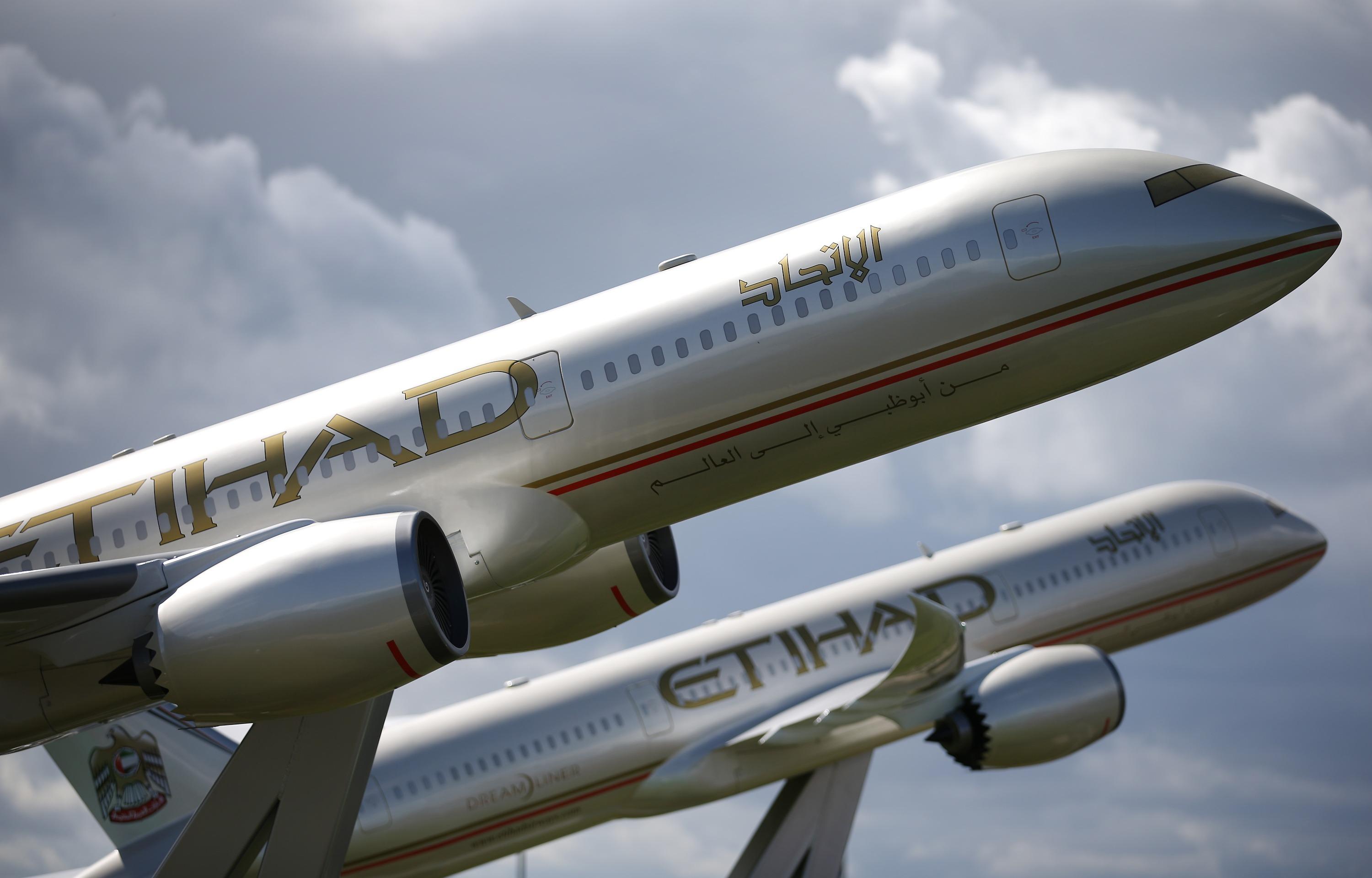 Laptop ban on Etihad flights from Abu Dhabi lifted
The Department of Homeland Security has removed one city and airline from the electronics ban after Abu Dhabi International Airport and Etihad met the new elevated security standards that the department announced last week, CBS News transportation correspondent Kris Van Cleave reports.
In a statement, the Department of Homeland Security said Etihad Airways has been "granted approval to allow personal electronic devices in the cabin of the aircraft on U.S. bound flights from Abu Dhabi International Airport."
"This approval is verified with visual confirmation by TSA officials ensuring the measures have been implemented correctly and to the full extent required," the statement read. "Following the initial visit, TSA officials will resume their regularly scheduled visits to observe operations."
Long-haul airline Etihad said it welcomed Homeland Security's decision, which comes "subject to enhanced security measures" at Abu Dhabi International Airport. That airport already has a U.S. Customs and Border Protection facility that allows passengers to clear screening they'd otherwise have to go through when landing in America.
Etihad did not elaborate on what additional security measures passengers would face to be allowed to have their laptops, tablets and other electronics with them on their flights. Neither Abu Dhabi International Airport nor Homeland Security immediately responded to a request for comment.
Following the decision, Etihad sent out emails to customers that read: "If you are planning to travel to the U.S. in the near future, we wanted to let you know that you can now take all your electronic devices on board our U.S. flights from Abu Dhabi."
The email adds, "with the additional security checks in place, you can now take all your electronic devices safely on board with you."
The U.S. ban, first announced in March, now applies to nonstop U.S.-bound flights from nine international airports in Amman, Jordan; Kuwait City; Cairo; Istanbul; Jeddah and Riyadh, Saudi Arabia; Casablanca, Morocco; Doha, Qatar; and Dubai in the UAE.
In late May, Homeland Security Secretary John Kelly said he was considering banning laptops from the passenger cabins of all international flights to and from the U.S. Kelly's comments came after President Trump shared highly classified intelligence about the Islamic State of Iraq and Syria (ISIS) wanting to use laptops to target aircraft with senior Russian officials visiting the White House.
U.S. officials are increasingly concerned about the possibility of terrorists targeting commercial airliners, CBS News' Jeff Pegues reported. An official with knowledge of the threat said last month that it is evolving rapidly, and more terrorists are gaining the knowledge necessary to build a laptop bomb.
The laptop ban, as well as a Trump administration travel ban on six predominantly Muslim nations, has hurt Gulf long-haul carriers. Emirates, the long-haul carrier based in Dubai, has slashed 20 percent of its flights to America in the wake of those decisions. The airline also has been trying to get the ban lifted for its direct flights to the U.S. It did not immediately respond to a request for comment.
Dubai International Airport, Emirates' home, is the world's busiest international air travel hub. Meanwhile, long-haul carrier Qatar Airways has been hurt amid a diplomatic dispute with Arab nations that has seen its own routes in the region cut off.
Thanks for reading CBS NEWS.
Create your free account or log in
for more features.