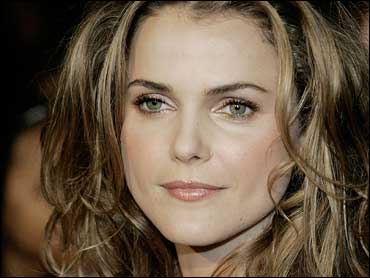 Keri Russell Is New CoverGirl
Keri Russell may have been a tomboy growing up, and TV audiences know her as a college coed on the TV series "Felicity." But now she's gone glam as a CoverGirl.
The 30-year-old actress joins Christie Brinkley and Queen Latifah as a spokesmodel for the venerable beauty brand. The TV commercial for Outlast Double Lipshine debuts this month, and the print ad will be in August magazines.
Being a makeup model isn't what Russell expected in her career. This is only the second commercial she has starred in, other than promotions for her various movie and television roles.
"When I first started, I did do a commercial for a deodorant or something. I don't even think it aired. This is the first thing I've done like this. It's a lot less stressful than doing a film. This take two days, not a few months or the whole year of a television show," she told The Associated Press recently.
But the CoverGirl shoot wasn't just about looking pretty. Russell describes the TV ad more as a mini action movie, in which she fights a group of ninjas. Looking pretty, of course.
Thanks to her role in "Mission: Impossible III," Russell says, she probably knew more about the stunts than applying makeup.
Brinkley, a CoverGirl for 30 years, is in some ways her role model in the beauty world, Russell says. "Fresh and natural - it's what she is, too. ... I'm not really the sexy vixen type."
She'd rather be in jeans and sneakers than the stream of designer evening gowns she wears on the red carpet. "When I find a dress I really like, I say, 'Can't I wear this dress again? It's
really pretty.' I guess it doesn't work like that. I'm learning."
Thanks for reading CBS NEWS.
Create your free account or log in
for more features.