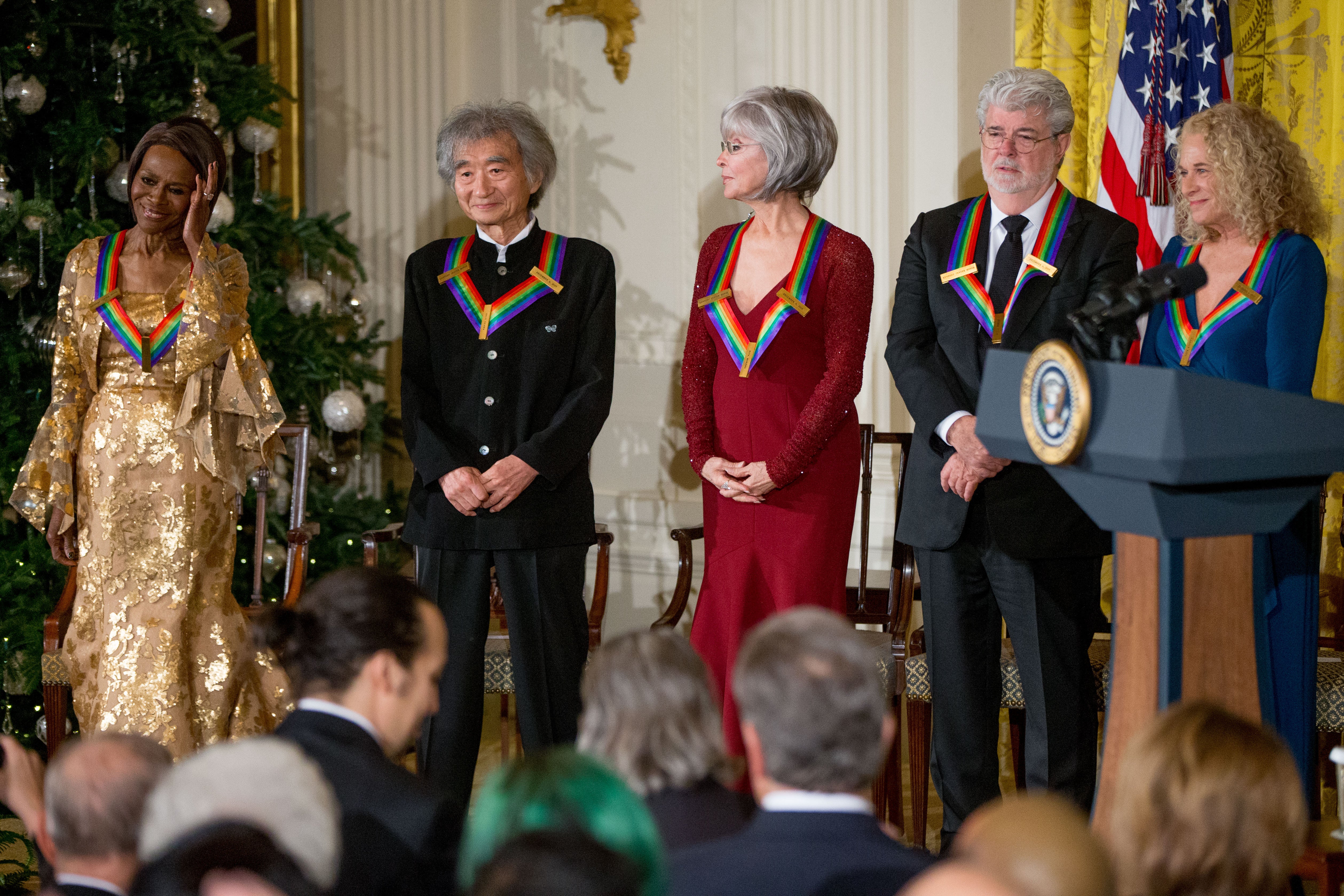 "Born storyteller" George Lucas among Kennedy Center honorees
Thousands arrived in Washington D.C. Sunday night for the coveted Kennedy Center Honors ceremony, where this year's honorees were celebrated for their lifetime contributions to American culture.
The chosen few included songwriter Carole King, actress and singer Rita Moreno, conductor Seiji Ozawa, Broadway star Cicely Tyson and filmmaker George Lucas, reports "CBS This Morning" co-host Charlie Rose.
Less than two weeks before the release of the new "Star Wars" movie, George Lucas -- the mastermind behind the franchise and that of "Indiana Jones" -- was praised as a pioneer and pathfinder by Hollywood heavyweights, Steven Spielberg and Martin Scorsece.
"Like Edison and Bell and Tesla and Jobs, George Lucas's 'Star Wars' changed movies absolutely forever," Spielberg said.
"He's a born storyteller," Scorsece added.
For the second year in a row, Stephen Colbert hosted the star-studded event.
Traditionally, the honorees sit with the president and first lady, but President Obama's seat remained empty for the first part of the event.
The president has never missed the Kennedy Center Honors, but he arrived after a short intermission, less than half an hour after his televised Oval Office address on terror.
Actress and singer Rita Moreno, a native Puerto Rican, was lauded for breaking ground for Latinos.
"She takes the stage, she commands attention, she speaks for us and she tells the truth," said actor Lin-Manuel Miranda.
The 83-year-old first dazzled fans on the screen adaptation of "West Side Story" before going on to win all four of the biggest prizes in show business over her career -- the Oscar, the Tony, two Emmys and a Grammy.
Talented conductor Seiji Ozawa was honored for his 29-year leadership of the Boston Symphony.
Cicely Tyson's long career helped pave the way for African Americans in the industry. At age 90, she's starring on Broadway alongside James Earl Jones in "The Gin Game."
"She turned down more roles than you could imagine because they didn't lift or serve us as a people," Tyler Perry said. "For six decades, she has been diligent in her pursuit to better us all."
Singer-songwriter Carole King was inducted into the Songwriters' Hall of Fame nearly 30 years ago for her influence on music. She has written more than 100 hit singles.
Aretha Franklin brought the house down in her closing performance of the song she immortalized, "Natural Woman." King was visibly moved by the powerhouse and the performance brought tears to the eyes of the president.
Classic rock legends The Eagles were supposed to be part of the 2015 celebration, but the health of founder Glenn Frey forced them to postpone their participation until next year.
The Kennedy Center Honors will be broadcast on CBS on December 29.
Thanks for reading CBS NEWS.
Create your free account or log in
for more features.