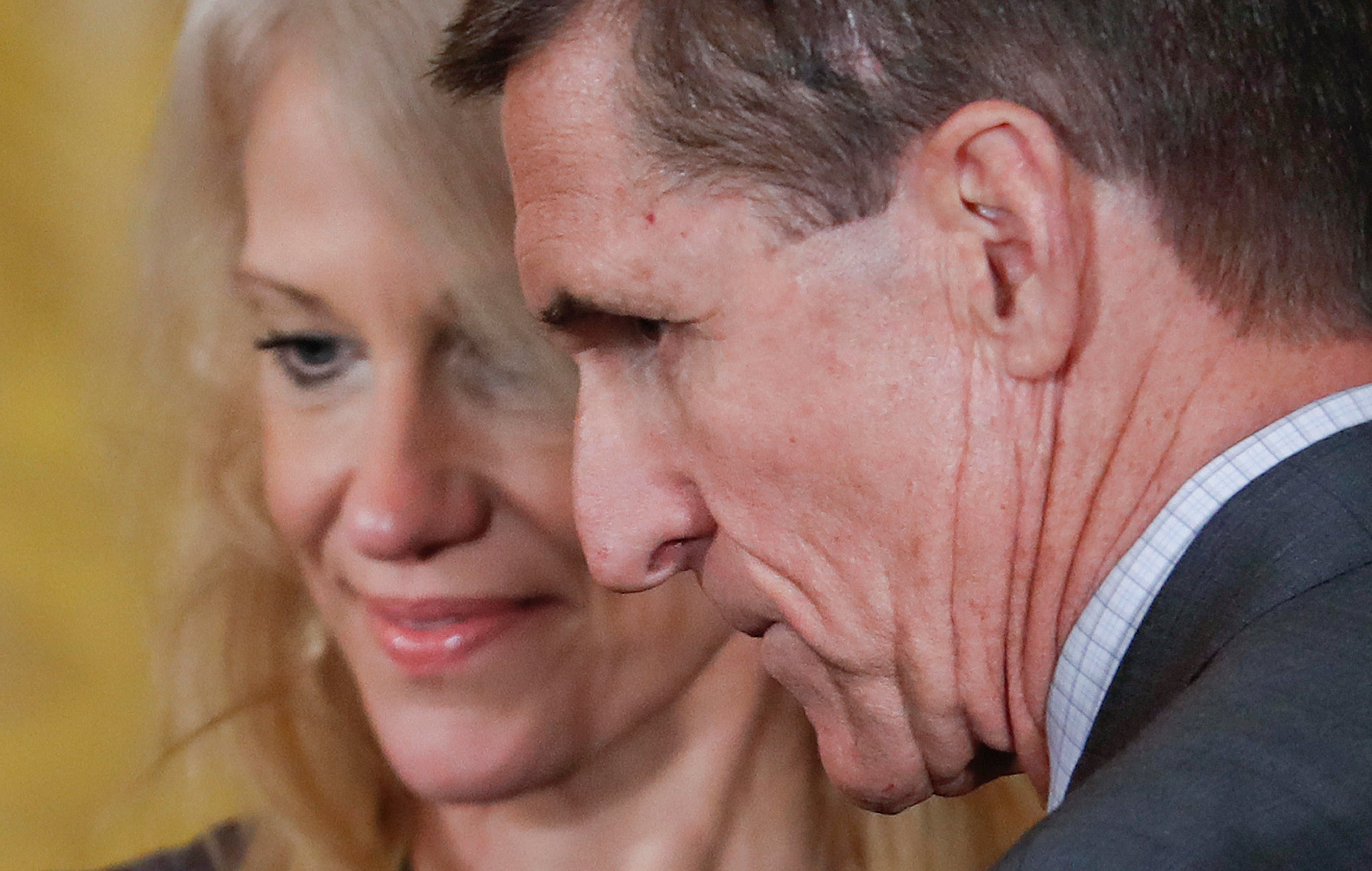 Kellyanne Conway explains why Michael Flynn decided to resign
A top aide to President Trump said Tuesday that Gen. Michael Flynn's resignation as national security adviser and his apology to Mr. Trump can be seen as proof that the president felt he was personally misled about Flynn's contacts with Russia.
Kellyanne Conway also said Flynn had misled Vice President Pence about phone conversations he had with a Russian official about U.S. sanctions against Russia.
"I think misleading the vice president really was the key here," she said in an interview on NBC's "Today" show. "That fact is what made the situation unsustainable, actually."
Conway claimed that Flynn made the decision to resign himself and that Mr. Trump accepted it. During the interview, Conway wouldn't explain why the resignation suddenly happened now since the Justice Department warned the White House weeks ago that Flynn had misled the White House and was susceptible to Russian blackmail, according to The Washington Post.
In an interview on ABC's "Good Morning America," she was pressed on the alert, which the White House received three weeks ago.
"I can't reveal what the White House knew or didn't know and who in the White House knew or didn't know," she said. "Gen. Flynn, in the end, decided he was a lightning rod. He did not want to be a distraction and he tendered his resignation last night because…because what he had provided the vice president either was a product of misleading information or forgetfulness and neither one was sustainable long-term."
Fran Townsend, CBS News senior national security analyst and former homeland security adviser to President George W. Bush, told "CBS This Morning" on Tuesday that "it's hard to imagine that Mike Flynn would have intentionally deceived" the FBI and Justice Department.
"Even allowing for that, assuming the best, you know, if you're the vice president and the president, you cannot have somebody working for you, advising you that you don't -- you have to question their trust and credibility," she said. "There's no room for that."
Before Flynn's resignation Monday night, the Post had reported that Sally Yates, who served as acting attorney general until she was fired last month, informed the White House that she believed Flynn had misled senior administration officials about what he discussed with the Russian ambassador to the U.S. before Mr. Trump was sworn into office and that Flynn was potentially vulnerable to Russian blackmail.
Vice President Mike Pence had gone on CBS's "Face the Nation" last month, defending Flynn and denying accusations that he had discussed sanctions.
"They did not discuss anything having to do with the United States' decision to expel diplomats or impose censure against Russia," Pence said.
Speaking to reporters off-camera Tuesday morning, Conway said she spoke to Mr. Trump and that the media should understand Flynn's apology to the president in his resignation letter as proof that the president himself felt he was personally misled. Conway said she was unsure about reports that Steve Bannon requested the resignation.
Conway also said she wasn't sure when Mr. Trump was informed about the Justice Department alerting the White House counsel about Flynn's communications.
As for Flynn's replacement, Conway said on "Today," that "there are three candidates, very strong candidates that will be considered for a permanent position here."
In the meantime, the president named retired Lt. General Joseph Keith Kellogg, Jr., "a decorated veteran of the United States Army," as acting national security adviser following Flynn's resignation, the White House said in a statement.
CBS News' Margaret Brennan, Mark Knoller and Arden Farhi contributed to this report.
Thanks for reading CBS NEWS.
Create your free account or log in
for more features.