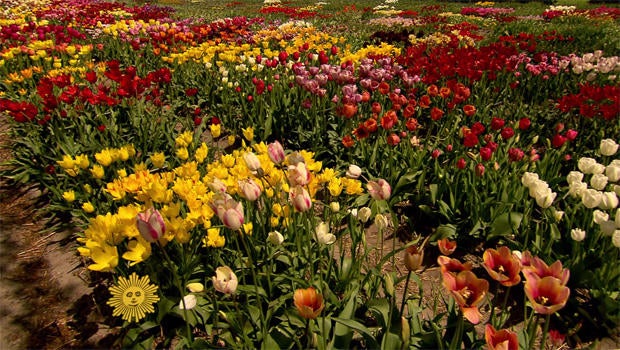 Keeping Holland's fabled tulips alive
Jane Pauley visits a place where one of the Netherlands' most recognizable hallmarks is lovingly preserved:
The church bells in the Dutch village of Limmen have been ringing on Sundays since the 13th century. And hidden in the shadow of a Protestant Reformed Church is another piece of this country's rich history, dating back 400 years: More than 2,500 varieties of tulips, of all shapes and colors, dancing quietly in neat lines.
Hortus Bulborum was established in the 1920s by Peter Boschman, a tulip enthusiast and teacher at the church's school. He bought old and rare types of tulips and planted them, determined to not let them become extinct.
"The tulip can survive 400 years without use of any chemicals, and that's very important that we can bring back the old strength," said Henk Stuifbergen, one of the garden's volunteer caretakers.
The oldest tulip in their collection dates from 1595, a variety by the name of Duc van Tol -- Red and Yellow.
During the Dutch Golden Age, tulips were so rare they became a symbol of wealth. Their value reached an all-time high during the period known as "Tulipmania" in the 1630s, when a single tulip cost as much as 10 times the annual salary of a skilled craftsman.
"People were crazy about them," Stuifbergen said. "It was the status. You had a tulip, and you were a rich man because you could afford a tulip!"
And they inspired Dutch artists like Rembrandt. The master painter had a tulip first named after him in 1620 (pictured left).
Today, 90 percent of the tulips on these four acres are no longer commercially grown. And their beauty is fleeting -- visitors can only marvel for six weeks each April and May during peak season. Soon after, every flower is dug up, with new baby bulbs preserved and stored away until they're planted again in October.
Henry Charbonneau came all the way from Canada to Hortus Bulborum just to wander through it all. "I made the trip especially to see this," he said. "It touches the heart and mind and soul of people. It is like a creation of man but also of nature. All this multitude of colors, shapes, sizes. It's like a masterwork."
At this hidden garden in this little village beside this ancient church, the flower that's been the pride of the Dutch for centuries is alive and growing. "It's part of the Dutch history to have the tulips around," said Stuifbergen. "That's what we have to maintain."

For more info:
Thanks for reading CBS NEWS.
Create your free account or log in
for more features.