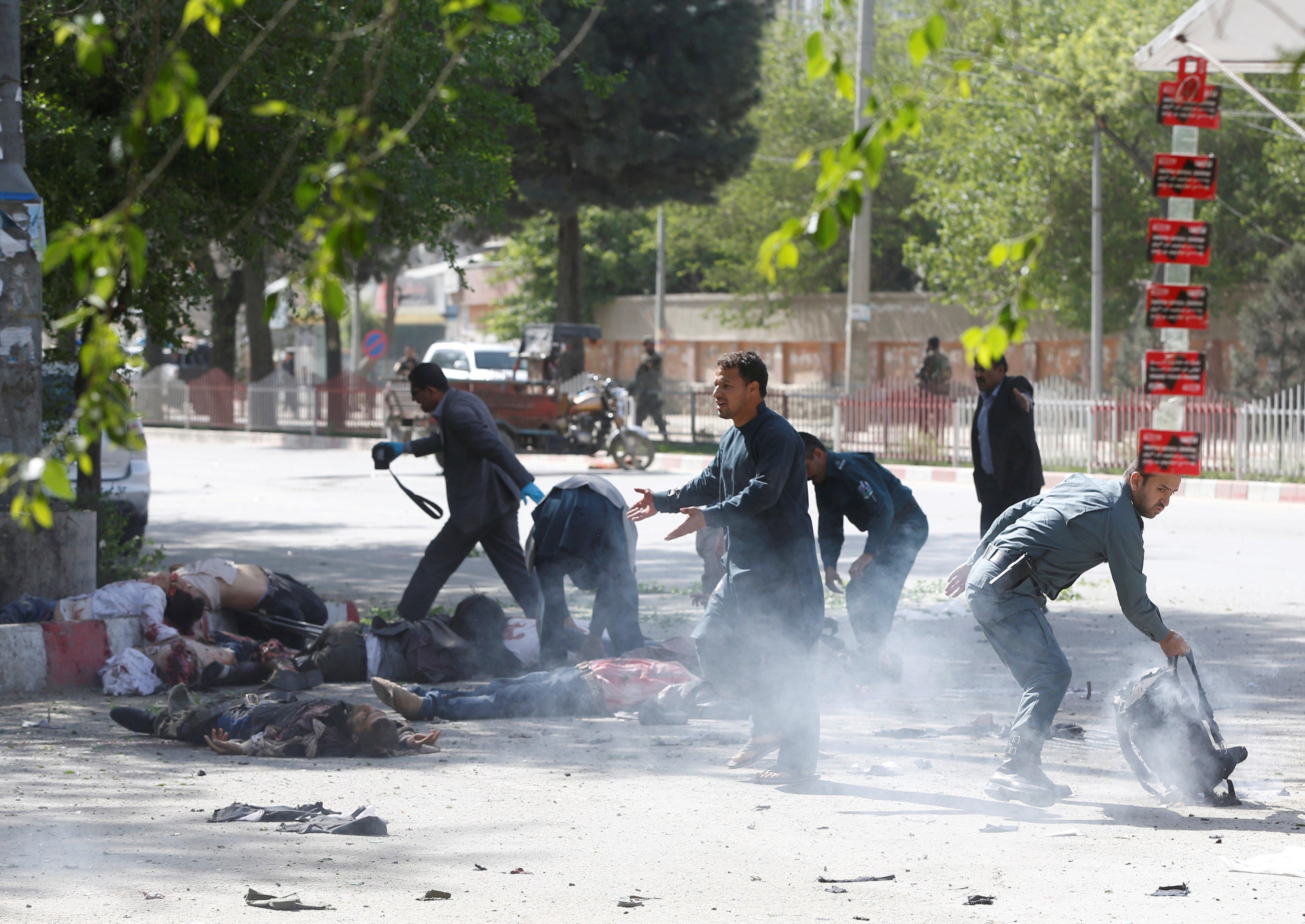 Kabul, Afghanistan suicide bombings kill dozens, including journalists
KABUL, Afghanistan -- A coordinated double suicide bombing hit central Kabul on Monday morning, killing at least 25 people, including journalists, officials said. At least 45 more people were left wounded.
Agence France-Presse, the AFP, reported that the news agency's chief photographer in Kabul, Shah Marai, was among those killed. AFP said Marai died in a blast that targeted a group of journalists who had rushed to the scene of the earlier suicide attack in the Afghan capital.
The affiliate of the Islamic State of Iraq and Syria (ISIS) in Afghanistan claimed responsibility for the attack in a statement posted online, and the Taliban denied any involvement.
Sediqullah Tawhidi, an official form the Afghan Journalist Safety Committee, said a cameraman from the local TOLO TV was among those killed. Nine journalists in total, including one woman, were killed in the second blast, Hujatullah Majidi, deputy at the Afghan Journalists Safety Committee, told CBS News.
It was the deadliest attack on journalists in Afghanistan since the 2001 U.S.-led invasion of the country to topple the Taliban government.
Interior Ministry spokesman Najib Danish told CBS News partner network BBC News that four police officers were also among the dead.
Kabul police spokesman Hashmat Stanekzai said the first suicide bomber was on a motor bike and the second attacker was among the crowd of reporters who rushed to the scene of the first attack. Stanekzai said the second attacker pretended to be one of the media members, then detonated his explosives while still among the reporters.
The suicide attacks took place in the central Shash Darak area, which is home to the NATO headquarters and a number of embassies in Afghanistan. The second was meant to hit those rushing to the scene of the attack to help the victims of the first blast.
The BBC said, meanwhile, that one of its Afghan reporters was killed in a separate attack in the eastern Khost province on Monday. The broadcaster said Ahmad Shah, 29, had worked for its Afghan service for more than a year and "had already established himself as a highly capable journalist who was a respected and popular member of the team."
BBC World Service Director Jamie Angus called it a "devastating loss" and sent his "sincere condolences to Ahmad Shah's friends and family and the whole BBC Afghan team." He says "we are doing all we can to support his family at this very difficult time."
Talib Mangal, spokesman for the provincial governor in Khost, said Shah was shot dead, without providing further details.
The local ISIS affiliate and the more firmly established Taliban carry out regular attacks around the country, with the Taliban usually targeting the government and security forces and ISIS often targeting the Shiite minority. Both groups want to establish strict Islamic rule in Afghanistan.
Thanks for reading CBS NEWS.
Create your free account or log in
for more features.